You've finally decided to take a look at the quirky mini-town of Coober Pedy in South Australia's outback, and now you need to find a place to stay. Here are my recommendations for Coober Pedy accommodation for all types of travellers and budgets.
---
Have Questions? – Come and join the Facebook Group and ask any questions you may have about travel in South Australia. We can provide answers, make further suggestions and update you with the latest information. Click here to join now.
---
What to Look for When Booking Your Coober Pedy Accommodation
When looking at where to stay in Coober Pedy, there are some things to think about.
The town is famous for its underground homes and hotels, but not all accommodation in Coober Pedy is underground, so if you do want to try it out, make sure you check for that when booking.
It's not a big town, and most places to stay in Coober Pedy are right in the centre of town, but be careful, don't assume all accommodation is that close.
There are some that are on the outskirts of the town area, and you will need transport to reach them.
There are no taxis in Coober Pedy, so don't assume you will be able to arrive at the airport and get into town. Make sure you have arranged a pickup with your accommodation in advance. Many places do this free as part of the package.
Suggested Accommodation in Coober Pedy
Here are the places I suggest taking a look at when you are booking your accommodation.
Riba's Underground Camping & Caravan Park
This is where we stayed, so I will start here. I chose Riba's because I was looking for budget accommodation in Coober Pedy, but I also wanted to sleep underground. Here there is a great compromise – an underground camping area!
There is an area underground with alcoves dug out of the rock, the perfect size for pitching our tent. Other people simply rolled out their swags, doing away with the tent altogether.
The good part of this is that underground accommodation in Coober Pedy stays at a constant 22 degrees all year round. During our visit it was cold and raining above ground, but we were warm and toasty and dry.
We had a conversation with someone also staying underground and we agreed we had to best location for the weather.
The downside to camping underground is that the cave-like structure is very echo-y. We had a few groups there on the first night, and it was easy to hear snoring from other groups and when people talked or moved around there was noise.
We had a good group with us though, everyone was really considerate and the noise was all very bearable. I'm a light sleeper, and it didn't keep me awake.
Now if I had a loud snorer in the alcove next to me, maybe that would be different!
If camping underground is not your thing, Riba's also has some budget underground rooms, as well as plenty of powered and unpowered sites for camping, caravans and campers.
Riba's has good facilities including nice hot showers, a clean and tidy camp kitchen, a warm (or cool!) underground tv room with free wifi, and on-site mine tours each evening.
CLICK HERE FOR AVAILABILITY & PRICES FOR YOUR STAY
Big 4 Stuart Range Outback Resort
Big4 Stuart Range Outback Resort is a great option for a Coober Pedy caravan park. They have plenty of options for those travelling with tents, caravans, RVs and campers.
They also have a range of modern apartment-style accommodation, from studios to two bedrooms, sleeping up to four people. The apartments have private bathrooms, a fully equipped kitchen, a TV and some even have a spa.
All guests have access to the gardens and BBQ area, communal camp kitchen and playground.
Camping and caravan guests are welcome to bring their dogs along too. Airport transfers can be arranged. Even this Outback Resort has its own on-site opal shop
Over the peak winter months, Big4 Stuart Range Outback Resort runs its own bus tours of the area, and its onsite pizzeria is open for business.
CLICK HERE FOR AVAILABILITY & PRICES FOR YOUR STAY
Radeka Downunder Underground Motel
Radeka Downunder is Coober Pedy's offer Coober Pedy's only hostel accommodation, along with budget rooms and motel rooms. The dorm rooms range from 4-bed to 20-bed and are all underground, as are the budget rooms. These all use communal bathrooms.
There are some underground motel rooms and some above ground, all with private bathrooms. For families, there are rooms available that sleep to six people.
All guests have access to the huge communal kitchen, a games room and an onsite bar. Like almost every property in Coober Pedy, there is an opal shop here too, for picking up your opal and souvenirs.
Free wifi and TV are provided. If you are flying into Coober Pedy, Radeka has a courtesy bus that will pick you up and return you to the airport.
CLICK HERE FOR AVAILABILITY & PRICES FOR YOUR STAY
Desert Cave Hotel

If it's comfort with a touch of luxury you are after, this is the pick of the accommodation Coober Pedy has to offer. Desert Cave Hotel is arguably the best Coober Pedy hotel.
It proclaims itself to be an "international class underground hotel" offering "full-service accommodation".
It is perfectly located right in the middle of town and offers hotel rooms both underground and above ground. The rooms all have private bathrooms, flat-screen TVs, minibars, free wifi and room service.
The whole complex includes shops, an underground museum, the only underground bar in the world, a restaurant and a cafe. Desert Cave Hotel runs its own tours of Coober Pedy and the surrounding areas.
There is plenty of free parking and an outside pool to relax in at the end of the day.
Airport transfers can be arranged on request.
CLICK HERE FOR AVAILABILITY & PRICES FOR YOUR STAY
Comfort Inn Coober Pedy Experience
The Comfort Inn Coober Pedy Experience has only underground rooms. It is dug entirely into the side of a hill and was originally an opal mine that has now been turned into a hotel.
The hotel rooms range from simple twin rooms to two-bedroom apartments sleeping up to eight people. Each room includes a kitchenette, with a fridge and a microwave for preparing meals.
Some rooms are fully accessible with wheelchair access.
This is the best business hotel in Coober Pedy with a unique underground meeting space and business services available.
The onsite Soft Rock Cafe serves coffee, cake and snacks throughout the day, and guests can enjoy free wifi, a book swap and board games. There is plenty of free parking on-site, and free airport pickups are available too.
The reception desk can help to organise your tours in and around Coober Pedy during your stay. As usual, guests will find an opal and souvenir shop too.
CLICK HERE FOR AVAILABILITY & PRICES FOR YOUR STAY
Di's Place
If you prefer a holiday home in Coober Pedy, then Di's Place is perfect. This highly rated house is located just outside the centre of Coober Pedy and is a lovely underground home.
Stay here to experience living in Coober Pedy the way the locals do.
Di's Place is a three-bedroom, two-bathroom bungalow that can sleep up to nine people, so it's great for large families or groups of friends.
It comes with everything you would expect from a holiday rental, including a full kitchen with all the modern conveniences.
There's a laundry, a flatscreen TV, a DVD player and free wifi.
If being underground gets too much, there's a large outdoor verandah and BBQ area to escape to. There's even a fireplace for the rare occasion it happens to get cold.
There's plenty of free parking, and if you don't have a car, airport pickup can be arranged.
CLICK HERE FOR AVAILABILITY & PRICES FOR YOUR STAY
Dug Out B&B Apartments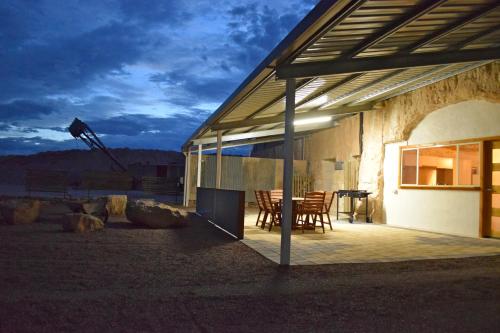 Located slightly out of town, the Dug Out B&B Apartments have a true feeling of living like a local out amongst the opal mines. Sit out on the verandah and enjoy the serenity and views over the desert as the sun goes down.
These spacious 1, 2 or 3-bedroom apartments are fully self-contained with everything needed for your stay.
Each apartment has a full kitchen and living area with a flat-screen tv. An airport shuttle is available, and a car hire service is also possible upon request from the owners.
CLICK HERE FOR AVAILABILITY & PRICES FOR YOUR STAY
Mud Hut Motel
The Mud Hut Motel is one of the few Coober Pedy hotels that is entirely above ground. The rooms are made from rammed earth and are air-conditioned to allow for the heat.
Each of the motel rooms is at ground level, with parking right outside the door for easy access.
There are standard double, twin and queen motel rooms, and also family rooms or two-bedroom apartments.
The onsite restaurant is open each morning to provide breakfast and each room has a fridge, microwave and coffee & tea facilities.
The apartments have a full kitchen allowing you to prepare meals yourself, but if you prefer, the central location of the Mud Hut Motel means it's just a walk across the road to the popular Outback Bar & Grill.
CLICK HERE FOR AVAILABILITY & PRICES FOR YOUR STAY
Zen Underground B&B
For pet-friendly Coober Pedy accommodation, try the Zen Underground B&B. Located a little out of town, enjoy the space that affords.
This holiday house can sleep up to eight people in various configurations, so this would be ideal for larger families or a group of friends.
The full kitchen is great for preparing meals and the bathroom is spacious and modern. Wifi is included, and breakfast supplies can be ordered in advance.
CLICK HERE FOR AVAILABILITY & PRICES FOR YOUR STAY
Looking for more great posts on the Outback? Try these.
Flight over Lake Eyre from William Creek
Coober Pedy Town and Breakaways Tour Review
Things to do in Coober Pedy
---
Don't forget to come on over and join the Facebook group for more South Australian inspiration and to get all your questions answered. Click here to join now.
---
Please share this post with your friends and pin for later