The Flinders Ranges covers a huge area of South Australia, and there are many attractions from one end to the other. It's not always practical to drive hours every day though, so this post will cover only those things to do in WIlpena Pound.
All of these attractions are within one hour of Wilpena Pound Resort, making them convenient for those who choose this as their Flinders Ranges accommodation.
Photo Credit for feature image: South Australian Tourism Commission, Bush Pilots Scenic Flight, Wilpena Pound, Flinders Ranges & Outback
---
Have Questions? – Come and join the Facebook Group and ask any questions you may have about travel in South Australia. We can provide answers, make further suggestions and update you with the latest information. Click here to join now.
---
About Wilpena Pound Accommodation
Wilpena Pound Resort is not the only accommodation option in this area, but it has been here the longest and arguably offers the most options. It is where I have stayed over and over again.
(Although just outside the pound, Rawnsley Park Station is a very close second and would be another good option to consider.)
It is convenient, just off the highway and has accommodation from resort facilities and glamping tents to basic bush camping sites. You do not need 4WD to access it.
It's large, so perfect for groups, and has extra facilities such as a swimming pool, a small store, an information service and the ability to buy fuel.
Looking for more Flinders Ranges accommodation options? See some of the Station Stays here.
Things to Do In and Around Wilpena Pound
The Flinders Ranges stretch for 430km through the middle of South Australia. That could be a long way to drive if you choose an activity in the wrong area.
Wilpena Pound Resort is towards the northern end of the Flinders Ranges, just under 450km, or five hours driving, from Adelaide. (For more information on the drive to Wilpena, see my road trip post here)
When staying at Wilpena Pound Resort, you will find all of these attractions within an hour.
Welcome to Country
On your first night at Wilpena Pound Resort, make your way over to the area in front of the resort reception and experience a traditional "welcome to Country" ceremony performed by a local Yura (the term for a person from the Adnyamathanha nation) man.
The ceremony is done in the Yura Ngawarla language but translated into English. You will also hear some traditional stories and learn a little about the Adnyamathanha people.
The Welcome to Country is free, and even those not staying at Wilpena Pound Resort are welcome to attend.
During the summer months, December to February, it happens at 6 pm, for the rest of the year it is at 4:40 pm. No booking is required.
Take a Scenic Flight over Wilpena Pound
I was lucky enough to do this on my very first visit to the Flinders Ranges when I was a child. I think it is a must for everyone so that you can really understand the formation of Wilpena Pound and why it is so special.
Wilpena Pound (or Ikara as it is known by the traditional owners, the Adnyamathanha people) is an incredible natural amphitheatre and it really is best appreciated from the air.
The above video by one of the local operators, Chinta Air, gives you an idea of what you will see on the scenic flight.
You can book directly through the Wilpena Pound Resort for flights that take off and the airstrip nearby. Also, take a look at the Wrightsair website for options.
Hiking in Wilpena Pound
There is a good selection of Flinders Ranges hikes available in and around Wilpena Pound. There are a handful of short, discovery walks with information boards around the Wilpena Pound Resort that are great to do with kids.
There is also a moderate hike to the Wangara Lookout which has some great views over the inside of the pound.
For the keen hikers looking for a challenge, there are some much more serious hikes too, like the one to St Mary Peak, which at 1168m is the highest point in the Flinders Ranges.
It's not recommended that you hike to the top of the peak though, but stop just a little short of it at the Tanderra Saddle so that the wishes of the local Adnyamathanha people are respected. St Mary Peak is a significant sacred site for them.
The whole hike will take around nine hours.
Another challenging hike is across the floor of the pound to Bridle Gap on the other side (photo above). This one does not have so much of an elevation change, but at more than 19km return, it is lengthy.
This is also a section of the iconic Heysen Trail walk, which ends just a little further north of Wilpena after winding all the way from Cape Jervis on the Fleurieu Peninsula.
Do a Tour with an Adnyamathanha (Yura) Guide
There are some great tours run by Wilpena Pound Resort that will really allow you to get some insight into the local Adnyamathanha people, their beliefs, lifestyle and history.
Choose from a walking tour into Wilpena Pound, a sunset tour to watch the colours changes over the Flinders Ranges, a tour to the otherwise inaccessible Sacred Canyon or a tour through the nearby gorges.
The tours all leave from the resort, and you can find more information on their website here.
Hike to Arkaroo Rock
If you would like to see a little Aboriginal Rock Art but can't join in the tour to Sacred Canyon, there is a nearby walk to Arkaroo Rock that will allow you to see a sample of the art.
The walk starts from the main highway around 15km south of Wilpena Pound Resort towards Hawker. There is a car park and plenty of signage to show you the way. The hike itself is about 3km long.
The path is quite rocky and a little uphill, but worth the effort, not just for the rock paintings, but for the views over the nearby Chace Range too.
You will have a dilemma when deciding to come here though – the rock art is best seen in the morning light, but the best views over the Chace Range are at sunset! Perhaps you will need to visit twice!
Visit Blinman
Around 60km to the north of Wilpena is the tiny town of Blinman. This was once a mining town, with copper discovered there at the end of the nineteenth century.
The mining stopped in 1907, and the town of 1,500 residents has dwindled over time down to just a handful of permanent residents today.
You won't find a whole lot in Blinman, but in 2011 the Blinman Heritage Tourist Mine was opened, with a small museum in town and the option to go on a tour of the mine site with one of the locals.
The tour is somewhere between a historical tour and a dramatic reenactment, with sounds and light effects to add to the atmosphere. Find out why there is a face on the walls in the back of the cave during the tour.
If you want something special, ghost tours are also occasionally run in the evenings to give the mine site a whole new atmosphere.
To see more details and to book, see the Blinman Mine website here
After the tour (or before!) make sure you grab a meal at the local pub – they do one of the best meat pies we've ever tasted, made right here on site.
Or for something unique, go over to The Miners' Crib and try one of their traditional Cornish pasties. They are made in the old way, with both the main meal and dessert all in one convenient pastry package!
Take a Detour to Wadna
In September 2020, Kristian & Gabrielle Coulthard built a shed on their property just 2km outside of Blinman (follow the signs).
This shed has become a showroom for not only Kristian's art and carvings but the art from many other Adnyamathanha people too.
There are also lots of non-traditional products made either from local ingredients or by the local people, like teas, honey, skin care products and souvenirs.
During our visit, we really enjoyed chatting with both Kristian and Gaby, watching Kristian at work carving, and admiring some of the incredible Aboriginal art.
Kristian also does cultural awareness tours and can do tours to places the Adnyamathanha people have closed off to the public, such as Sacred Canyon.
If you are interested in a tour, take a look at their website, or call in and have a chat.
If you don't have time for a tour, calling into Wadna is just a small way to learn a little about the local people and their artwork, and take home a meaningful souvenir.
Wadna is especially great to visit during local events or long weekends. They will often have food trucks with local bush tucker, entertainment and more to enjoy too.
Find a Viewpoint for Sunset
Sunsets over the Flinders Ranges are just awesome. Watch as the colours of the hills change and the sun sinks. There are many viewpoints that are just perfect for watching this nightly spectacle.
Choose one, or pick out a different one for every night of your visit.
Here are a few suggestions:
Pugilist Hill Lookout
Station Hill Lookout (on Rawnsley Park Station, but open to visitors)
Stoke's Hill Lookout
Huck's Lookout
Razorback Lookout
Be careful on your way back to Wilpena Pound Resort after the sun has gone down. Wildlife on the roads is common, and there are many endangered species living here in the Ikara-Flinders Ranges National Park.
Take a Scenic Drive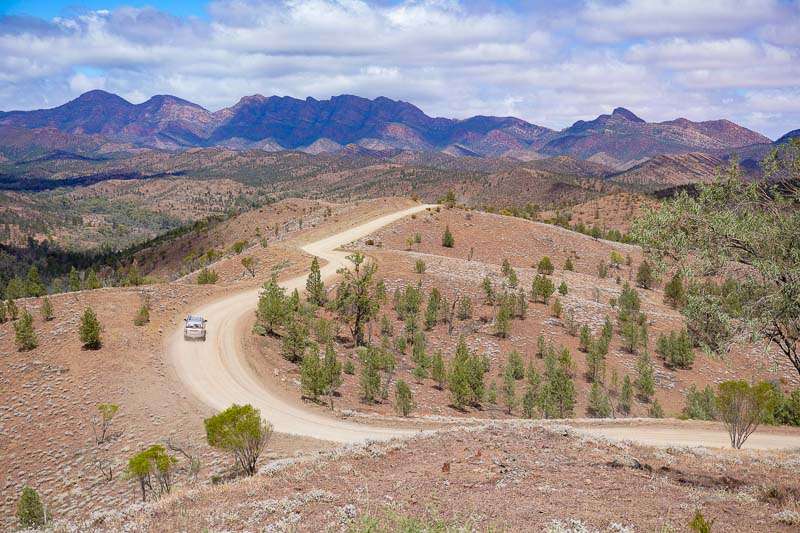 There are many drives in the Flinders Ranges, but they can often be on private land and require 4WD. There are three drives though that can be done (carefully) without a 4WD if the roads are good.
If there has been rain, check with the locals to see what they recommend if you do not have a 4WD.
There is a loop that will take in both the Bunyeroo and Brachina drives to the north of Wilpena Pound Resort.
These drives take you through ancient landscapes and scenic gorges, you may even see one of the elusive yellow-footed rock wallabies they are reclaiming this territory after their numbers seriously declined.
The Moralana Scenic Drive is to the south of Wilpena Pound Resort, winding its way between the Pound and the Elder Range. Halfway along the drive take the detour to Black Gap Lookout for great views in both directions.
This road is definitely one to avoid in wet weather.
Explore Hawker
If you didn't stop and explore Hawker on the way to Wilpena Pound Resort, it's only about a 45-minute drive to go back and have a look.
Take a walk up to the Jarvis Hill Lookout (a short but rocky path) for views over the town, see the incredible 360-degree panorama at the Jeff Morgan Gallery and have lunch at the Flinders Food Co (but be warned, every time I've been there I've run into someone I know!)
Important Wilpena Pound Information
You will need a National Parks pass for the Ikara – Flinders Ranges National Park.
Day passes are available for $12.50 and can either be picked up from the Wilpena Pound Resort Visitor Information Centre or purchased online in advance from the National Parks website here.
If you are a regular visitor to South Australia's National Parks, I recommend getting an annual pass – again available from the website.
There are many roads once you reach the Flinders Ranges that are unsealed and are therefore subject to flooding and other issues in bad weather.
To find out the current road conditions, refer to the Outback Road Warnings on the Department of Transport website here.
Try to stick to driving in the Flinders Ranges only during daylight hours. Once the sun goes down – and especially during those dawn and twilight times – there will be a lot of wildlife around.
This an issue for wildlife, particularly those endangered species such as the Quoll and the Yellow-Footed Rock Wallaby, but also for yourself.
If you do happen to hit a large kangaroo, your car may be un-drivable in an area where there is no phone reception and little passing traffic.
Mobile phone coverage is not great throughout this remote area so it is best to assume you will not have any coverage. During my last visit to Wilpena Pound Resort, my phone using the Optus network did not have service.
My husband's phone on the Telstra network did have some service. Wi-Fi is available only to those who stay in the motel/hotel-style accommodation, but there is also a Wi-Fi zone around the Visitor Information Centre for general use.
Once north of Port Augusta services are limited to the basics. Most towns will have a small supermarket for supplies and somewhere to buy fuel.
Other than that, assume there is little else and you will instead perhaps be surprised. There is also the small Wilpena Pound IGA located at the Wilpena Pound Resort which also has some supplies. Fuel is also available here.
Be aware that the Flinders Ranges can get very hot during the summer months. By hot I mean temperatures well into the 40's (Celcius). Some areas are also very prone to bushfires at this time of year.
Combine this with how remote the area is and the lack of phone coverage, it can become dangerous.
Since most Flinders Ranges activities are outside, I would not recommend visiting from November to February unless it's a last-minute option and the weather is going to be a little milder.
Looking for more things to do in the Flinders Ranges? Try these posts
Eating Flinders Feral Food at the Prairie Hotel, Parachilna
Riding the Pichi Richi Railway
Visiting Quorn
---
Don't forget to come on over and join the Facebook group for more South Australian inspiration and to get all your questions answered. Click here to join now.
---
Please share this post and pin it for later