When I think of Dhilba Guuranda-Innes National Park I think of wide blue skies over dramatic cliffs, endless beaches with perfect pounding waves and papa emu with his chicks wandering aimlessly across the road.
It's a place to explore and relax and to appreciate the enormous power of nature. Read on to learn about all the Dhilba Guuranda-Innes National Park things to do and see.
---
Have Questions? – Come and join the Facebook Group and ask any questions you may have about travel in South Australia. We can provide answers, make further suggestions and update you with the latest information. Click here to join now.
---
About Dhilba Guuranda-Innes National Park
Located on Narungga land at the very tip of Yorke Peninsula, the national park had the traditional name of Dhilba Guuranda added to Innes National Park in November 2020 to create the mouthful it is today.
To make it easier for you to read, I am just going to call it Innes throughout this post.
The entrance to the national park is 286km from the Adelaide City centre and will take a little over three hours to reach by car. You will need a car to get around while you are there too.
While there are quite possibly some areas that require 4WD, I didn't come across any of them during my visits, so you will be okay visiting in a 2WD.
The main road through the park is bituminised, with just some of the smaller tracks being dirt roads.
Need a rental car? I use and recommend RentalCars.com where just one search compares cars across many of the top car hire companies.
CLICK HERE TO SEARCH FOR YOUR RENTAL CAR
Don't have a car but still want to explore Innes National Park? Take a look at this fab Yorke Peninsula Tour from the folks at SA Eco Tours.
The tours leave from Adelaide and you will spend three days exploring the Yorke Peninsula, including Innes National Park.
To visit Innes, you will need to have a South Australian National Parks Pass.
They can be purchased at the visitor information centre near the entrance to the park, but it's easier to purchase one in advance online from the National Parks website here.
There are a number of different passes available, from single-day passes to multi-park passes, annual passes, and ones that include camping. You can have a look at all the options to decide which one is best for your circumstances.
Dhilba Guuranda – Innes National Park Things to Do & See
When coming to Innes you are not going to find an abundance of activities, organised tours or attractions. You really are here to enjoy the natural surroundings with a little bit of history thrown in.
Expect to spend your time here driving around, checking out some awesome views, walking in the bush, and perhaps taking a dip in the pristine water.
Soak up Some History at Inneston Historic Village
While today Innes is mostly bushland, back in the 1880s gypsum was found here and the town of Inneston sprung up to support the mines.
Over the years the town got to as many as 500 residents, but by the 1970s, mining had ceased and the town had become deserted. Now the buildings in the township are being preserved.
Take a walk around the town to see the buildings and learn about some of the industries in town, including a chalk factory that made those little coloured sticks we all used at school. The cricket oval is also another highlight.
Some of the buildings are available to stay in too! We learnt this during our visit when we heard a shout from a verandah.
I hadn't noticed a person was sitting there in her pjs, enjoying a late morning coffee in the sun, right as I was photographing. And no, those photos do not get shared!
For more information on the accommodation, see the National Park website.
Admire the Lighthouses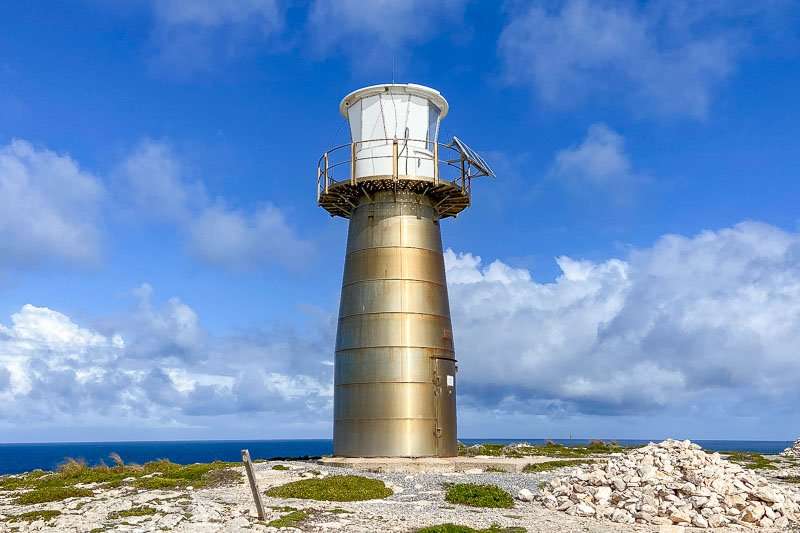 There are two lighthouses in Innes that are worth a visit. The first one is the Cape Spencer Lighthouse, the first stop you are likely to make after the Visitor Information Centre.
You will need to take a short walk out the the lighthouse, which sits on a rocky headland. This is a relatively new lighthouse, first operating in 1950 – perhaps that explains the many wrecks to be found in the Innes area (see below).
The second lighthouse is at West Cape, and this lighthouse is even newer, coming into operation in 1980.
The walk to see it will take you first to a lookout with 360-degree views over a beautiful beach in one direction and rocky cliffs in the other.
There are toilets located in the car park here if required.
Check out the Ethel Wreck
The Ethel was a steel ship that ran aground on what is now called Ethel Beach during a storm in 1904. The hull has been slowly rusting away ever since until it finally collapsed in another storm in 1985.
Now the skeletal remains stick up from the sand for us to take a look at. This winter (2021) much of the sand has washed away from the wreck leaving her more exposed than she has been in a long time.
A little further down the beach is a boiler, which is surprisingly interesting to look at. I had no idea boilers were full of steel tubes!
You could be forgiven for thinking this boiler also came from the Ethel, but in fact, it is from a second ship that came to grief here, The Ferret, in 1920.
Often the boiler is completely covered in sand as it is further down the beach towards the water.
Hang Ten at the Surfing Beaches
Probably from that title alone, you can tell I'm no surfer! Just looking at the waves on the beaches at Innes makes me more than happy to be on dry land.
But apparently, those who do surf love the waves here, so if surfing is your thing, there are a few beaches here that could be just the place for you!
We stood on the stairs about the West Cape beach for quite a while watching the surfers try to catch a wave on our recent trip.
Pondalowie Bay and Chinaman's Beach are other popular locations. Look out too for the Yorkes Classic surfing event that happens each May.
Take a Walk
There are walking trails at Innes to suit all types of walkers. For those who are super keen, the Walk the Yorke (a 500+km walk around the coast of the peninsula from Port Wakefield to Moonta Bay) route passes through the park.
You could do the whole walk at once, or you could instead choose a smaller part of it to walk during your shorter visit.
Some of the other walking trails include the Lookout Walk in Stenhouse Bay, the Inneston Historic Walk, the Gym Beach or Royston Head Hike.
Make sure you check the conditions well before heading off on any of the longer hikes and carry plenty of food, water and appropriate clothing.
There is limited phone reception in the park so you may not be able to simply call for help if something goes wrong.
Hang out With the Locals
The animals, that it! Of all the places I have been to in South Australia, Innes is the place I have always spotted plenty of emus. In other places I would see one or two here and there, here they seem to be everywhere!
My most recent visit was the first time I had ever noticed the pyramid-like piles of emu poop all over the place – we even had to google to be sure that's what it really was!
We also came across an emu sitting down drinking from the puddles in the middle of the road. I had never seen one do that before either. And no, he was not moving for our car. We slowly edged around him and kept going on our way!
If you want to see emu chicks, the best time to visit is late winter or early spring. And it will be Dad you see wandering around with the chicks.
Female emus simply lay the eggs then leave them to Dad to hatch and look after! Sounds like they worked things out well 🙂
There are many other animals in the park too, but look out particularly for Tamar Wallabies. They are endangered and have recently been introduced into the park and a nice little population is starting to take hold.
There are sleepy lizards and goannas around too, so keep an eye open when driving that they are not sitting on the road.
Birds abound, but look out for the Hooded Plover, particularly if driving on the beaches. Make sure you stay on the wet sand so that you are not driving over their nests.
You will also see ospreys around the park, with pelicans and many other common seabirds and land birds too.
In winter, you may get glimpses of whales from the cliffs as you look out into the ocean as the Southern Right Whales pass by the area during their breeding season as they migrate from Anarctica to Head of the Bight and back.
Go Swimming in the Pristine Waters
With so much stunning coastline, it's not surprising that you may want to cool off in that sparkling water, particularly during summer.
Before you do though, make sure you take the time to research the best beaches in Innes National Park for swimming.
While they may look beautiful, some of the beaches can be particularly dangerous to swim at, with big waves and strong rips. There are no surf lifesavers here either, so you will need to swim at your own risk.
One of the popular places to swim is Shell Beach. At the north end of the beach a sheltered pool appears at low tide. The Blue Pool is protected and filled with crystal clear water.
During my last visit we saw a school group about to go snorkelling here.
The best beach for swimming is the relatively protected Dolphin Bay, almost right next door to Shell Beach. The white sandy beach is lovely to spend some time on.
Catch Your Dinner
Fishing is allowed in Innes, and there are some great surf beaches just perfect for throwing in a line.
Browns Beach is one of the best known places in South Australia to fish for salmon, but you can give some of the other beaches a go too. For jetty fishing, visit the picturesque Stenhouse Bay just as you arrive into the park.
It's meant to be particularly good for squid, but you can also catch tommies, mullet and snook.
Dhilba Guuranda – Innes National Park Accommodation
As mentioned above, there is some accommodation in the national park at the Inneston Historic Village.
There are also a few more holiday homes – more like shacks – dotted throughout the park, so of which are available for hire. This one at Pondalowie sleeps six and couldn't get any more beachfront!
The best bet for accommodation though is just outside the park in the town of Marion Bay where there is a range of accommodation available.
We stayed in our tent at Marion Bay Caravan Park, which also has cabins and plenty of room for caravans too. Some sites are right on the beachfront.
Another option for cabin-sale accommodation is the Marion Bay Holiday Villas or you could choose one of the many beautiful holiday homes on Stayz.
Visiting more great South Australian locations? These posts might help
Things to do in Burra
Things to do in the Barossa Valley the Aren't Wine Tasting
Barossa Hot Air Ballooning
---
Don't forget to come on over and join the Facebook group for more South Australian inspiration and to get all your questions answered. Click here to join now.
---
Please share this post with your friends and pin for later