Kangaroo Island was well known for having one of the most luxurious resort in Australia. It was perched high on the cliffs with sweeping views of the wild landscape and the Southern Ocean. Unfortunately the Southern Ocean Lodge was completely destroyed in the 2020 bushfires. While there are plans to rebuilt, it hasn't happened yet. While it's sad to no longer have such incredible accommodation, all is not lost! There are plenty of other options fro luxury accommodation on Kangaroo Island, here are just a few of them.
---
Have Questions? – Come and join the Facebook Group and ask any questions you may have about travel in South Australia. We can provide answers, make further suggestions and update you with the latest information. Click here to join now.
---
On Kangaroo Island you are not going to find huge resorts or big name brand hotels. Think more along the lines of secluded hideaways and unique architecture, cosy cottages and seaside beach houses. Whether it's accommodation for a romantic getaway for two or a family reunion, there is an option to do in in comfort and style somewhere on Kangaroo Island.
Sea Dragon Lodge & Villas
Sea Dragon Lodge have a variety of luxury accommodation options to suit your needs. From one bedroom villas for a cosy getaway for two, to an apartment that can house up to 8 guests – perfect for a girls weekend away or a small family reunion. Located on the eastern end of Kangaroo Island, not too far from Penneshaw, all the accommodation comes with incredible ocean views surrounded by pristine wilderness. Enjoy access to Sea Dragon's own private beach and walking trails for some relaxing downtime, or just sit on your deck drinking local wines and take in the surroundings.
Each of the accommodation option provides a full kitchen to allow you to prepare your own meals, or all-inclusive packages are available which include meals, transfers, and personalised tours. Honeymoon and romantic packages can be put together too.
CLICK HERE FOR PRICES & AVAILABILITY
Mistere Kangaroo Island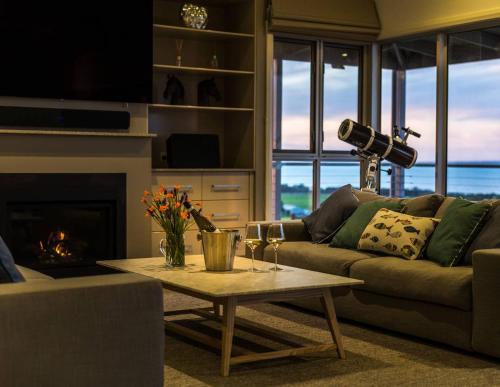 Mistere Kangaroo Island is a boutique holiday home located at Nepean Bay, close to the Kingscote airport if arriving by plane. It can accommodate six guests in three bedrooms. Not only is it close to the coastline with stunning views, it has its own infinity pool to admire those views from. Mistere has a full kitchen to allow you to cook up a storm, and then a gym to work out after those fabulous meals.
This is a great option for luxury accommodation if you have children with you. The property also owns some miniature animals (horses, cows, donkeys) that the kids will love.
Booking with Mistere also gives access to discounts on the Sealink Ferry and tours with Kangaroo Island Ocean Safari.
CLICK HERE FOR PRICES & AVAILABILITY
Penthouse @ Aurora Ozone Hotel (AirBnB)
If you are looking for a more traditional option for accommodation but still want to stay in style, take a look at the Penthouse at the Aurora Ozone Hotel right in the heart of Kingscote. This two bedroom apartment is great for families and includes a full kitchen, two bathrooms, one with a spa, and the convenience of the on-site restaurant with more food options nearby. The hotel has an outdoor pool and BBQ facilities available too.
CLICK HERE FOR PRICES & AVAILABILITY
Alchemy on Island Beach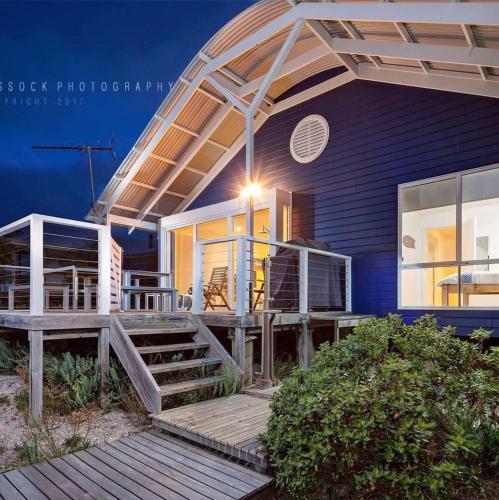 Alchemy on Island Beach is a holiday home able to accommodate up to six people. It has three bedrooms and two bathrooms, a full kitchen, dining and living space. With lovely views over Island Beach from the elevated front deck, this is a great option for a family or friends getaway. Centrally located about half way between the largest towns of Penneshaw and Kingscote, it is convenient for all the things to do on Kangaroo Island. With lots of light, this house brings the stunning scenery right inside with great 180 degree views of the beach on one side and the bush on the other.
CLICK HERE FOR PRICES & AVAILABILITY
Kangaroo Gully House
Another fabulous option is Kangaroo Gully House. This four bedroom house can sleep up to eight people in comfort. Three of the rooms have king size beds, the fourth has two singles. The house includes two bathrooms and a lovely kitchen, dining, living area opening up onto a deck with views over the ocean. The highlight of this rural stay is access to the private Kangaroo Beach and the opportunity to see plenty of local wildlife right outside your door.
CLICK HERE FOR PRICES & AVAILABILITY
Beach Retreat
Beach Retreat is just lovely. The decor blends perfectly with the coastal setting with the house sitting on a cliff above Snelling's Beach on the north coast of Kangaroo Island. The studio-style accommodation also has a sunroom to laze away those cooler afternoons. As outdoor patio is where you will spend your time on the warmer days. With sun a cosy and relaxed feel, this retreat would be perfect for a romantic weekend escape.
CLICK HERE FOR PRICES & AVAILABILITY
Ecopia Retreat – The Villa
This stunning villa is located in Seddon, almost in the centre of Kangaroo Island. The eco-friendly villa has been made of rammed earth and blends in beautifully with the natural surroundings. It uses solar power and rainwater throughout. Sleeping two, it has a king sized bed and a gorgeous deep bathtub with a view. The secluded location makes this ideal for a relaxing getaway amongst the local wildlife, with roam freely around the property. In winter the fireplace will keep everything toasty, while the huge windows will still give you great views of the bush. The reviews on this one have to be read to be believed, everyone loves it!
CLICK HERE FOR PRICES & AVAILABILITY
The Sky House
The Sky House is the ultimate romantic getaway destination and a great choice for your Kangaroo Island honeymoon. Located in the Middle River area along the north coast of Kangaroo Island, not only does it have dramatic views but it has all the privacy you could want. The beautiful rammed-earth building is almost it's own attraction, with beautiful furniture and fittings combined with luxurious features throughout. The villa comes with a king size bed and a huge bathtub perfect for a relaxing soak.
Don't be put off by the rugged location, this one is perfect in winter when the weather is wild too. It has heated floors and a combustion heater, so imagine a cosy retreat snuggled up by the fire.
CLICK HERE FOR PRICES & AVAILABILITY
Serenity Cottage
This cute and cosy little house is located in the small coastal town of Vivonne Bay. It's stunning beach is often included is those lists of most beautiful beaches in the world. Serenity Cottage has one bedroom and is perfect for two people. It also contains a full kitchen and more living space than you would expect. Serenity Cottage is one of the few remote properties on Kangaroo Island to offer free wifi (although I wouldn't recommend relying on it, internet of any kind can be patchy on Kangaroo Island)
CLICK HERE FOR PRICES & AVAILABILITY
Wandering Souls
This one may not be everyone's idea of luxury, but a glamping tent can be great fun and this is a unique accommodation option for Kangaroo Island. Wandering Souls have tents that can be set up all over Kangaroo Island, but they have one tent that is situated on the cliffs right outside the Bay of Shoals winery cellar door. With views over the vineyards to the ocean beyond, this is an idyllic location for a few days of relaxation. being only a few minutes from Kingscote means easy access to restaurants and shops.
CLICK HERE FOR PRICES & AVAILABILITY
Oceanview Eco Villas
I wanted to include this one at the end because it is truely spectacular! Ocean Eco Villas provide a fully hosted experience, which includes not only spectacular accommodation, but a gourmet three-course dinner and full cooked breakfast each day too. There are only two of the two bedroom villas available, sitting high on the cliffs overlooking the north coast of Kangaroo Island.
CLICK HERE FOR PRICES & AVAILABILITY
Plan more of your Kangaroo Island getaway with these posts
The Ultimate List of What to do on Kangaroo Island
How to Get from to Kangaroo Island from Adelaide
Best Kangaroo Island Wineries
---
Don't forget to come on over and join the Facebook group for more South Australian inspiration and to get all your questions answered. Click here to join now.
---
Please share this post with your friends and pin for later
Josie Kelsh is South Australian, born and bred. She has lived in the state for almost her whole life, just one short stint away as a teenager with her family. Travelling all over the world has shown her exactly how amazing South Australia is to live and travel in and she uses her passion to show it to you the way a local sees it.