Want to see more of the incredible remote parts of South Australia but the thought of "roughing it" in a tent makes your toes curl? Or just want a unique experience without compromising on comfort? Then this glamping South Australia list is just for you!
I started out researching the perfect place to go glamping myself, and ended up with so much information that I thought this would be great to share with you. So here's my ultimate guide to camping in style, with all the glamping South Australia has to offer.
---
Have Questions? – Come and join the Facebook Group and ask any questions you may have about travel in South Australia. We can provide answers, make further suggestions and update you with the latest information. Click here to join now.
---
What is Glamping?
Just in case you have somehow missed hearing all about this new craze, the word "glamping" derives from "glamorous camping". It's for all those people who don't want to deal with the lack of comfort or amenities that tend to come with traditional camping.
Usually, glamping involves some kind of tent, but they tend to be more of a permanent canvas structure rather than a small triangular tent held up by a pole or two and some small bits of rope.
Most glamping accommodation will have a real bed rather than sleeping on the ground and some form of a toilet to use, depending on how remote the location is.
Some places are simple, others are extremely luxurious and provide all sorts of extras from food to tours. Some are connected to mains power, others are eco-friendly running off solar power. Some even have access to pools and spas, communal kitchens, laundries and other amenities.
South Australia Glamping Locations
Here is a list of all the glamping locations I have found in South Australia. More are appearing every day and I will update this list when I discover any new locations.
Bayside Glamping
Located in Marion Bay on Yorke Peninsula, Bayside Glamping is a small, family-run business. They have just one stunning bell tent set up for the perfect romantic getaway. Built on the back of the family's block, it has been lovingly constructed using recycled materials, for a unique and sustainable experience.
Beautifully furnished in neutral colours, it has all the luxuries of home. The 5-metre tent is spacious enough to contain a queen size bed and seating and still have room to move. Outside the tent is a decked area containing an outside kitchen with all you need to prepare a meal and an inside bathroom.
The tent is connected to mains electricity, and there is hot water available in the bathroom and kitchen. This is a true glamping experience.
Note: The folks at Bayside Glamping have recently added a tiny house to their accommodation options. While not truly glamping, this also looks like a fabulous option for a luxurious stay in Marion Bay. You can see the details here.
Click here for the latest prices and availability for Bayside Glamping
Belair National Park Holiday Park
The glamping tents (not the tents above) at the Belair National Park are located amongst the trees and are more like small cabins with canvas walls than traditional tents. Each tent has its own private bathroom included, with luxuries such as a hairdryer that you wouldn't find on a traditional camping trip. The tents are air-conditioned and include a small kitchenette and a BBQ for guest use.
As the glamping tents are part of a larger holiday park, guests have the use of all of the facilities such as a heated pool, playground, and laundry. There is a kiosk on site for basic supplies, and since Belair is in the suburbs, plenty of nearby options for food and entertainment.
Click here for the latest prices and availability for Belair National Park Holiday Park
Bellwether Wines
This is an opportunity to go glamping at a winery in the Coonawarra wine region. Bellwether Winery has six glamping tents in various configurations. Some have queen beds and others two singles, and extra beds are available if required. Families can rent adjacent tents to stay together.
The teepee-style tents are comfortably furnished with plenty of space. Guests have special access to an afternoon tasting session from 4-5 pm and will receive a bottle of wine on arrival. Enjoy the tasting, wander back to your glamping tent and drink the bottle of wine as the sun goes down.
The campground also has space for campers who bring their own tent and has shared bathroom facilities. There is also a camp kitchen available for meals and a communal dining area.
Power is not available in the tent itself (there are rechargeable lanterns for lighting) but can be accessed in the communal areas.
Click here for the latest prices and availability for Bellwether Wines Glamping
Big4 West Beach Parks
This is the perfect opportunity to go glamping without the long drive to get there! Stay in the beachside suburb of West Beach and have a getaway close to home.
The Eco Tents here are very simple sturdy structures that are great for a family of four with a queen-sized bed and single bunks.
Guests will use the shared bathroom offered by the park, but will also have access to the many other facilities that are available to park guests such as the kitchen and laundry.
West Beach Parks has a huge range of recreation facilities and activities, including a splash zone, jumping pillow, go-karts, playground and games room for the kids, and even an on-site kids club.
There are golf courses, a heated swimming pool, BBQ areas and a cafe. Not to mention the beach and bike paths. The tent might not be fancy, but there sure is plenty to do here for a family getaway.
Click here for the latest prices and availability for Big4 West Beach Parks
Boongarrie Glamping
This single tent is located in the Flaxman Valley, not too far from the town of Angaston. It's the perfect base for a weekend of wine tasting in the Barossa Valley.
The safari-style tent sleeps two and has its own bathroom with a claw foot bath – really putting the glamour into camping. You will also find a kitchenette with a fridge, an air conditioner and even a tv waiting for you.
There is even an ironing board and a hairdryer – this is not like camping at all! On arrival, there will be a bottle of local Barossa red wine, some nibbles and breakfast supplies ready for you too.
When not off wine tasting, enjoy relaxing around a campfire (when not fire danger season), walking along the nearby creek or admiring the horses and sheep that call this area home.
Click here for the latest prices and availability for Boongarrie Glamping
Bukirk Glamping
Bukirk Glamping is located at Stanley Flat, just on the outskirts of Clare in the Clare Valley. There is a beautiful campground set up here with five bell tents and two tiny houses spread around a communal kitchen and BBQ area, complete with TV.
Each of the five glamping tents is uniquely furnished to suit their names – interestingly each one is named after a breed of chicken! They contain a queen-sized bed, a couch, and a fridge with coffee and tea facilities.
There is an ensuite provided for each tent with toiletries, towels and a hairdryer. Power is available in the tents, and there is both a fan for summer and a heater for winter.
The deck outside is perfect to sit back, sipping a bottle of the local Clare Valley wine and enjoying the sunset.
Click here for the latest prices and availability for Bukirk Glamping
Bushland Bell Tent
Bushland Bell Tent is another family business with two tents available in bushland on a 3-acre block behind the family home in Crafers, just up the freeway from the city centre.
Here you will be able to relax while enjoying the serenity and the myriad of Australian wildlife that calls the area home.
The tents are furnished with queen beds, plenty of throw rugs, cushions and for mood lighting, fairy lights! There is a camping toilet provided, but guests are also welcome to use the bathroom in the main house.
Bushland Bell Tent can also move their tents to various locations of your choice around Adelaide. They will set everything up and have it all ready for your arrival.
Click here for the latest prices and availability for Bushland Bell Tent
Coonawarra Bush Holiday Park
Located in the middle of one of the top wine regions of South Australia, the Coonawarra Bush Holiday Park has plenty of glamping options to suit a wide range of budgets. The most unique are the Hex Bubbles.
These contain a king-size bed, ensuite, and 360-degree views day and night. The standard glampers sleep up to four and are available at the great price of just $85 per night – much cheaper than many of the other options.
Even cheaper are the eco glampers which run entirely on solar power and have other eco-friendly features.
This does mean that the tents have a basic setup and most don't have an ensuite so guests need to use the amenities that belong to the park, but this is still a great way to try out glamping.
Coonawarra Bush Holiday Park can organise tours of the local area – including wine tours.
They have some bikes that can be borrowed for free (although they do mention you may have to pump up the tyres first!) and plenty of nearby walking trails for exploring. They are a true bush camp, so take that into consideration when booking.
Click here for the latest prices and availability for Coonawarra Bush Holiday Park
Discovery Lagoon Camping Grounds Emu Bay
Including this one on the list stretches the definition of glamping a little as technically these are not tents but cabins on Kangaroo Island.
The One Room Eco Glamping Cottages are little more than a room with a comfortable bed, so they do closely mimic camping.
The bathroom facilities are shared with others in the park, and cottage guests have use of an exclusive camp kitchen with cooking facilities and a fridge.
I loved my stay at Discovery Lagoon Camping Grounds Emu Bay. I enjoyed being in a natural setting and the cottage was exceptionally comfortable. The bathrooms were clean and spacious and the showers were hot.
There are only two cottages, and we were the only guests so had the kitchen all to ourselves. It's definitely spacious enough if there are people staying in the other cottage though.
I enjoyed all of the small touches, such as putting out hammocks under the trees for us to relax in. In my opinion, this is great value and the best cheap glamping in South Australia.
Click here for the latest prices and availability for Discovery Lagoon Camping Grounds Emu Bay
Discovery Parks Barossa Valley
This was the spark that started me on the search for a great glamping tent. I stayed here in a normal cabin and saw the exclusive area for the glamping tents in the distance with a big sign stating only glamping guests could enter that area. My curiosity was piqued!
Located in Tanunda in the Barossa Valley, this is one of the best holiday parks I've ever stayed in. The tents here are safari style, each containing a king-size bed, ensuite and a kitchenette.
I was amazed by how much room there was, and if you are worried about being hot or cold, there is a reverse cycle air conditioner to keep the tent comfortable.
In fact, you barely even remember you are in a tent unless the wind blows very strongly or it rains.
The group of twelve glamping tents back right onto the vineyards and have a secluded rural feel, even though they are right near the centre of Tanunda.
The private area of the caravan park containing the safari tents has a pool, BBQ and lounge area, and fire pit available only for glamping guests.
Of course, guests can also take advantage of all of the other facilities in the rest of the park too. For those that need it, this park has free wifi and I found the quality to be at least decent, even good enough to stream TV.
It's an easy walk into the centre of Tanunda and there are wineries in all directions. This is perfect for a weekend of wine tasting in the Barossa and returning to a comfortable, unique accommodation option.
Click here for the latest prices and availability for Discovery Parks Barossa Valley
Flinders Bush Retreats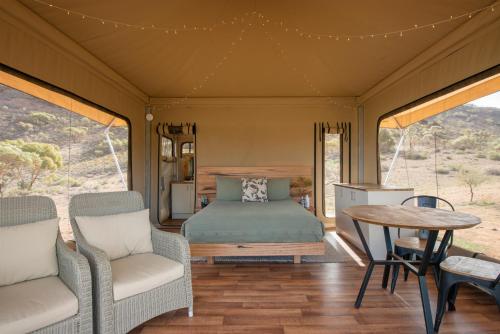 Flinders Bush Retreats are located in the beautiful Flinders Ranges, not too far from the town of Hawker. They have a few accommodation options on the property, the glamping eco tent is just one of them.
The eco tent is located in a secluded gorge about 21km from Hawker, so it is the perfect place to get away from it all. You will not find any mobile phone coverage here so you can totally escape from the daily grind.
The safari-style tent does not skimp on the luxuries though. It contains a queen-sized bed, a kitchenette with BBQ and has an ensuite attached, including an eco-loo.
It is fully self-sufficient with solar power, hot water, and even a small fridge.
Flinders Bush Retreats also offers a special package which includes wine and food supplies too.
Click here for the latest prices and availability for Flinders Bush Retreat
Glamping At September Beach, Lincoln National Park

This is a fabulous opportunity for large families or groups of friends to go glamping. There are two sites available, one of them has two tents on it sleeping up to eight people in total. The second site has just one bell tent which sleeps four.
Located at the September Beach Campgrounds in the Lincoln National Park, not too far from Port Lincoln, there couldn't be a better spot to enjoy nature.
It's just a short walk to a pristine beach, and with only thirteen sites at this spread-out campground you will have very few neighbours nearby, you will really enjoy that feeling of "getting away from it all". Spend your time hiking, fishing, swimming or just relaxing.
This is true camping though as the sites are unpowered. There are toilets at the campground but no showers. There are picnic tables and fire pits, with campfires allowed outside of fire danger season
Click here for the latest prices and availability for Glamping at September Beach
Kangaroo Island Seafront
As the name suggests, these glamping tents are located right on the seafront at Penneshaw, Kangaroo Island.
They are part of a much bigger caravan and holiday park with many types of accommodation just metres from the beautiful Penneshaw beach.
There are six safari-style tents available and two bell tents, one of which is for a family.
The safari tents contain a queen-sized bed, ensuite bathroom and plenty of cooking supplies. They really do take glamping to a new level with a Nespresso machine and a TV.
There is wifi available in the park, and guests can use all the amenities available such as the BBQs or laundry.
Kangaroo Island Seafront is perfect for experiencing glamping without being away from civilisation. Here you will be right in the middle of Penneshaw with facilities such as shops and restaurants only minutes away.
This location is perfect if you are not bringing a car to Kangaroo Island as it is within walking distance of the ferry terminal.
Click here for the latest prices and availability for Kangaroo Island Seafront
Mannum Mallee Tents
Located only minutes from the town of Mannum and the Murray River, Mannum Mallee Tents offers five bell tents spread in different locations on their property.
Some of the tents are 4WD access only, which you can drive yourself in your own vehicle, or for an extra fee you can park at the main house and be driven to your tent.
Each tent is completely self-sufficient, running on solar for lighting needs. Water is limited, but is provided for drinking, cooking and some washing.
An eco toilet is adjacent to the tent, and a hot water shower can be provided at an additional cost if required. Basic cooking provisions are included with a BBQ and a fire pit available.
This site is part of the River Murray International Dark Sky Reserve, one of the darkest places on Earth, so this is the perfect location to do some star gazing while you relax alongside your glamping tent.
Click here for the latest prices and availability for Mannum Mallee Tents
Pine Country Caravan Park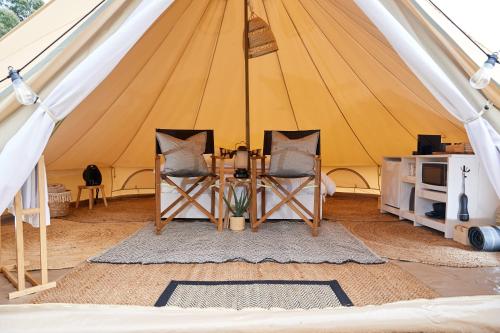 Pine Country Caravan Park is located in Mount Gambier, not too far from the iconic Blue Lake. They are a small caravan park with a rural setting and have two bell tents set up ready for use. The tents have a queen-sized bed and are best for couples.
There's no skimping on the luxuries here, with the tents connected to mains power, so they have a fridge, microwave and Nespresso coffee machine.
Outside is a fire pit ready for a cosy campfire on the days there is not a total fire ban. During winter there is a blow heater and electric blanket supplied to keep you toasty and warm.
Being part of a larger park means you will also have access to the park facilities. You will use the communal bathroom and laundry facilities and can cook in either the camp kitchen or the BBQ area. Wi-Fi is available throughout the park.
I loved my stay at Pine Country Caravan Park. There is such a relaxed atmosphere about the whole park, with plenty of space so it doesn't feel like you are right on top of your neighbours like at some other parks.
The glamping tents are in their own area, your closest neighbours are the alpacas and sheep!
Cook at your own BBQ area just for the glamping tents and enjoy dinner at your own picnic table before relaxing around your campfire. This is a great value, unique stay worth every cent.
Click here for the latest prices and availability for Pine Country Caravan Park
Starfields Luxury Camping
This teepee style tent is located near the town of Parilla, not too far from the South Australian-Victorian border. The tent contains a queen size bed, but two extra single mattresses are available if required.
Due to it's isolated location, you can experience a special Australian icon while you are here, the drop-toilet. A camp shower is also provided.
Provisions are left at the tent for a continental breakfast. There is a BBQ for cooking and when it's not the fire season, firewood is provided for a campfire. A small battery-operated fridge will keep your essentials cool, and a USB charger is supplied.
This is a great location to kick back and relax. There is also a single golf hole to practice your swing, and a supply of board games too. Otherwise just chill out and watch the sunset in this private location.
Click here for the latest prices and availability for Starfields Luxury Camping
Wandering Souls
Wandering Souls have five unique bell tents that can be located in various places on Kangaroo Island, including the one pictured above at the Bay of Shoals Winery.
Each tent has a different stunning view, and the locations change over time. It's even possible to request that all the tents are set up in a single location is you are travelling as a large group.
The locations are all over the island, from Penneshaw to Stokes Bay to Vivonne Bay. One of the locations is even the Discovery Lagoon Camping Ground mentioned above.
While the tents are all beautifully decked out inside, the facilities vary a little depending on the chosen campsite. Some of the locations are private and away from other people, other locations are not so isolated, in towns or near other properties.
Sometimes you will be near bathroom amenities, other times you will be provided with a portable toilet. Choose with of the beautiful themed tents you would like, then choose your location, and enjoy a fantastic glamping stay in South Australia.
Click here for the latest prices and availability for Wandering Souls
Wilpena Pound Resort
Wilpena Pound Resort is located in the heart of the Flinders Ranges and offers a range of accommodation options from motel rooms and apartments to camping sites.
The safari-style glamping tents are in their own section of the resort, perfectly located amongst the trees so that it feels like it's truely out in the bush.
These fifteen safari tents take glamping one step further than some of the other options as they include air conditioning, definitely an essential in this area for much of the year. They have a full ensuite bathroom, bar fridge and hair dryer.
There is a family tent available that sleeps two extra people in bunks. Guest also have access to the resort facilities such as the swimming pool and the bar and restaurant.
With plenty of things to do in the Flinders Ranges, a few days here is the ideal getaway to enjoy this ancient landscape.
Click here for the latest prices and availability for Wilpena Pound Resort
Visiting more great South Australian locations? These posts might help
Adelaide 3 Day Itinerary
Best Places for South Australia Whale Watching
Things to do in Burra
---
Don't forget to come on over and join the Facebook group for more South Australian inspiration and to get all your questions answered. Click here to join now.
---
Please share this post with your friends and pin for later