When I travel, I always look out for incredible dining experiences to enhance my trips. For me, food and travel and intertwined, and the food in a place is often as memorable as the location itself.
South Australia is no different. There are some amazing meals here that are worth including on your trip. They are even worth the extra effort – and kilometres – you will need to make to get to them.
Here are five of the very best foodie experiences in South Australia that you will have to travel to enjoy.
---
Have Questions? – Come and join the Facebook Group and ask any questions you may have about travel in South Australia. We can provide answers, make further suggestions and update you with the latest information. Click here to join now.
---
The Flinders Feral Feast at the Prairie Hotel
Located on an isolated section of highway in the Flinders Ranges, Parachilna was once a railway siding. A few years ago, it was the home of an old, rundown pub that existed for the one or two locals who propped up the bar and the occasional passing traveller.
Now, thanks to the vision of the local landowners, Ross and Jane Fargher, the Prairie Hotel is a destination all on its own.
I'm proof of that after getting in the car and driving almost 500km from Adelaide just to dine at their restaurant.
The food here is all about local produce, combined with some traditional bush tucker flavours into delicious and unique dishes.
They are most famous for their Flinders Feral Food, best tasted by ordering the Feral Mixed Grill. I know, it might not sound too appealing, but I promise you it is not as bad as it sounds.
This plate consists of different preparations of goat, camel, kangaroo and emu – all four of which can be found wild in this part of the northern Flinders.
The food here is not all about the meat though. While my husband ordered the mixed grill, I tried the vegan options on the menu and loved every bite. Even the simple roasted potato side we ordered was crispy and perfect.
If you're a beer drinker, include one of the craft beers brewed right in the front bar, or choose one of the South Australian wines to drink with your meal.
The Prairie Hotel offer accommodation on site, having renovated and added on some new rooms in recent years, so you don't have to drive straight home again.
Spend a day or two enjoying this area, including a tour to South Australia's latest national park, Nipper, where you can learn about this ancient landscape.
Prairie Hotel High St & West Terrace, Parachilna SA 5730
Bookings can be made on their website
The Degustation at the Watervale Hotel
This is yet another country pub in a small town, this time Watervale in the Clare Valley. From the front, it looks like every other small town pub (although a nice one) but once inside, you know there is magic about to happen.
But let me take you back a step. If you are going to come to the Watervale Hotel, I absolutely recommend splurging on the degustation menu. And if you are going to do that, also include the extra Penobscot Farm tour too.
You see, Warrick & Nicola, the owners of the Watervale Hotel do things a little differently. A tour of their farm is enlightening and will get you thinking about the way we grow our food.
Warrick is so passionate and engaging that when I did the farm tour, our whole group was happy to stand in the rain and listen to him for an hour.
It was then off to the pub to start our degustation. Nicola is the creative genius behind the delicious street-food-inspired plates that arrive at the table.
This consists of six courses, with each day having a menu that suits the season and the availability of produce, which is sourced locally, primarily from the farm and the kitchen garden across the road from the hotel.
You can choose an option that includes matching local Clare Valley wines or cocktails, or you can purchase your drinks as you go.
I had the matching wines and loved that varieties I would not normally choose were completely different with the right food.
While special dietary requirements can be catered for, I chose to give up my plant-based status for this meal so that I could enjoy every bit of it. And it was so worth it, hands down one of the best meals I have had anywhere.
It's not just me that loves the food at the Watervale Hotel. Amongst their many awards, they were recently judged as the Hotel Restaurant of the Year 2023 in the WORLD by the Corporate Livewire awards.⁠ Earlier this year they received a similar global award from LuxLife, a UK magazine.
So, it's fairly safe to say, the meal here is not bad 🙂
Watervale Hotel 37 Main N Rd, Watervale SA 5452
Bookings can be made on their website
Experience Australiana at Mallee Fowl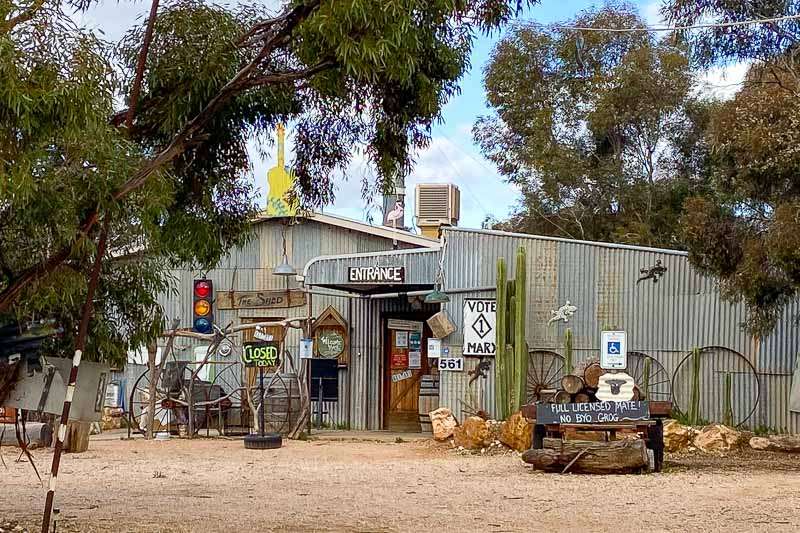 While not quite as culinary as the other experiences here, eating at Mallee Fowl was probably the most fun meal I've had in South Australia over the last few years.
Mallee Fowl is located out in the scrub between the Riverland towns of Renmark and Berri – and the fun starts before you even drive in. "Free Beer…" the sign proclaims. Look closer, and you will see "…tomorrow!"
The humour continues throughout the meal that is held in what appears to be an old corrugated shed from the outside.
Inside every inch is decorated with some sort of Australiana or memorabilia, Australian country music is playing, and the staff will joke, poke fun at and banter with you in a way only an Aussie can. You will be laughing along in no time.
The food was above average, and even though it's not on the menu, the kitchen whipped me up the tastiest vegan risotto I've ever had.
They do offer gluten-free and vegetarian meals as standard, along with schnitzels, steak, kangaroo and prawns, all cooked to perfection (and often with a twist).
Before or after your meal, ensure you take a wander outside. Meet Emily the Emu and some of the other animals that call the farm home – although I'm not sure if Christmas the Turkey will still be around!
Mallee Fowl 19042 Sturt Highway, Berri SA 5343
Bookings can be made by phone, details are on their website.
The Wagyu Beef at Mayura Station
This one is still on my bucket list. It's a little bit hard right now since I'm mostly not eating meat, but I have heard only the most amazing things about Mayura Station.
Located on the Limestone Coast, about ten minutes from Millicent, the Tasting Room is the place to dine on the top-quality wagyu beef that has been grown right here since 1845.
Billed as the ultimate paddock-to-plate experience, the meals here are a set menu of four delicious-looking courses, the first three all using the wagyu beef in some way.
While they have a range of drinks available (including French Champagnes) the wines are mostly from the nearby Coonawarra region, renowned for its beautiful Cabernet Shiraz – the perfect accompaniment to a good steak.
Mayura Station Canunda Frontage Rd, Canunda SA 5291
Bookings can be made on their website
Dine Under The Enchanted Fig Tree
This is another one still on my list. I think I've already looked it up half a dozen times in the last month as the season has started.
The Enchanted Fig Tree can be found on Kangaroo Island. It is out in the middle of nowhere, on the highway along the north coast, not too far from Snellings Beach.
Operating from early November to early April each year, a magical dining experience is created under the gnarled branches of a 120-year-old fig tree.
Dining here is a set price and the menu changes daily depending on what is in season or available. It's described as a menu "that includes a hint of local history, a splash of fairy tale, and a sprinkle of the unexpected".
You could pop over to Kangaroo Island just to enjoy lunch at the Enchanted Fig Tree, or you could instead book a package with Sealink that includes your ferry and accommodation too.
The Enchanted Fig Tree 5995 N Coast Road, Middle River, SA 5223
Bookings can be made on their website
Planning Tips
Because you will be travelling to get to each of these restaurants, you do need to plan ahead a little.
Firstly, check the opening times in advance. None of these are open every day of the year. Some are seasonal – eg: Prairie Hotel is not open over the summer, and The Enchanted Fig Tree is not open over the winter. Others are only open a few days a week.
Secondly, book at least a couple of weeks in advance. These are small, boutique venues that are almost always entirely booked out. Avoid disappointment by getting in early.
Before you go…
Read these posts next
Weekend Getaways from Adelaide
Things to do in South Australia in Summer
The Ultimate List of What to Do on Kangaroo Island
---
Don't forget to come on over and join the Facebook group for more South Australian inspiration and to get all your questions answered. Click here to join now.
---
Please share this post with your friends