There are so many things to do in South Australia. It is perfect for adventure seekers looking for somewhere new. It is a place where you can enjoy the natural world, taste delicious local produce, and experience the vibrant cityscape.
From getting up close and personal with iconic Australian wildlife to enjoying a culinary adventure in Adelaide, South Australia offers a variety of experiences.
You can choose to explore the 18 wine regions, take a dip in the region's exquisite surf spots or embark on a journey to swim with the sea lions on the stunning Eyre Peninsula.
South Australia is not just about its scenic beauty and wildlife. It is also a haven for wine lovers. The state is globally recognised as a Great Wine Capital of the World, offering extensive wine tasting opportunities.
Finally, the region's stunning beaches and epic surf spots make it a paradise for beach lovers and surfers. So, if you're ready for an unforgettable adventure, start planning your trip to South Australia.
---
Have Questions? – Come and join the Facebook Group and ask any questions you may have about travel in South Australia. We can provide answers, make further suggestions and update you with the latest information. Click here to join now.
---
Places to Visit in South Australia
Every visitor to the state should start their trip with the capital, Adelaide.
Then you need to visit at least one of the wine regions. The most popular, and easiest to access and the Barossa Valley, Adelaide Hills and McLaren Vale, but they are by no means the only wine regions.
Perhaps try the Coonawarra, renowned for its world-class Cabernet Sauvignon wines, or for something completely different, taste the wines of the Southern Flinders Ranges.
A trip to SA is not complete without some beaches. The whole coastline is stunning, so this is easy to fit into your travels, but the three peninsulas – Eyre, Fleurieu and Yorke – are particularly good.
And then there's the Outback that makes up the majority of the state. Head to the Flinders Ranges for the most convenient taste of this ancient and stunning area.
Top Attractions in South Australia
With such a diverse range of places, it's almost impossible to name just one or two things as the top South Australia attractions. For me though, it's all about nature. The scenery here is as good as anywhere in the world.
From the cool climate of the Adelaide Hills which produces stunning autumn foliage, to the barren expanse of the Moon Plain north of Coober Pedy it's all beautiful.
Throw in the pristine coastline, unique rock formations, the hills and valleys, red dirt, saltbush and even the wildlife, it's a place you just have to come and experience for yourself.
And I haven't even talked about the unique experiences, food and wine or world-class events.
Unique South Australian Experiences
South Australia is a land of diverse landscapes and unique experiences. There's swimming with giant cuttlefish or great white sharks, tasting iconic South Australian foods, sleeping underground and so much more.
Wildlife Encounters at Kangaroo Island
One of the must-visit places in South Australia is Kangaroo Island. This stunning island is a place where you can encounter a variety of Australian wildlife in their natural habitat.
Kangaroo Island may be famous for the koalas and the sea lions at Seal Bay, but I've also spotted, wallabies, echidna, goannas, fur seals, little penguins, pelicans and cape barren geese and more in the wild as I have explored the island.
The island is home to the Flinders Chase National Park, a sanctuary for native Australian animals. This is the only place in South Australia to see platypus in the wild too.
To reach the island, you can opt for convenient ferry transfers, adding an exciting dimension to your adventure, or take a short flight from Adelaide.
Exploring the Seal Bay Conservation Park
When on Kangaroo Island, a visit to the Seal Bay Conservation Park is a must. This park provides a unique opportunity to observe sea lions in their natural environment.
With its stunning coastal scenery and abundant wildlife, the Seal Bay Conservation Park is a true gem of South Australia's natural beauty.
Visit to the Kangaroo Island Wildlife Park
Another exciting adventure on Kangaroo Island is a visit to the Wildlife Park. This park houses a wide array of Australian animals, allowing visitors to get up close and personal with the country's unique wildlife.
From feeding kangaroos to cuddling the koalas, a visit to the Kangaroo Island Wildlife Park is an experience not to be missed.
You can meet some animals that aren't native here too, like the cutest little marmosets.
See the Birds of Prey at Raptor Domain
Call into Raptor Domain and see the incredible bird of prey. This sanctuary started to help rehabilitate injured birds, but has now grown into a must-see Kangaroo Island attraction.
Watch the free-flight shows, hold a wedge-tailed eagle and see the reptiles up close. Both kids and adults will love visiting here.
Local Food Tasting at Adelaide Central Market
For food lovers visiting South Australia, a trip to Adelaide Central Market is a must. Known as Australia's best food market, its vibrant and varied stalls are a delight for the senses.
Here, you can indulge in an array of local produce, including a plethora of fresh fruit and veg. The market offers a unique opportunity to taste the freshness of South Australia's farm produce, right in the heart of the city.
Find cheese stalls and smallgoods, baklava and turkish delight, health foods and donuts, books and flowers, cafes and wine bars, live music and street art. There is a bit of everything here.
Spectacular Sightseeing at Adelaide Oval
A trip to South Australia isn't complete without stepping foot in Adelaide Oval, one of Australia's most famous sports venues.
The hallowed home ground of Sir Donald Bradman, a cricket legend, the oval is a part of the city's rich history and culture. You will find the Bradman Museum here dedicated to the legend himself to learn his story.
Make sure to take a tour of the grandstands, offering a complete view from city to sea. See the change rooms and the media area, but best of all, climb into the century-old scoreboard and see how it all works.
The RoofClimb Experience
For a truly unforgettable experience, the RoofClimb at Adelaide Oval is not to be missed. Curated for thrill-seekers, it offers a unique view of the city, stretching all the way to the sea.
From the top, you can appreciate panoramic views of Adelaide City. It's a unique way to experience the city and a memorable highlight of any trip to South Australia perfect for those special occasions visits.
Relaxing at the Fleurieu Peninsula
For those seeking some rest and relaxation, the Fleurieu Peninsula is the perfect destination. Nestled just southwest from Mount Lofty Ranges, this picturesque spot is a haven for outdoor enthusiasts.
Here you can engage in a variety of activities, from fishing and boating to bushwalking. If you're lucky, you might even catch a glimpse of a whale during the whale-watching season.
The peninsula's beautiful scenery, wildlife reserves, and superb beaches are a year-round allure for visitors.
Enjoying the McLaren Vale Wineries and Vineyards
Located on Fleurieu Peninsula, McLaren Vale is renowned for its world-class wineries and vineyards. Here, visitors can indulge in wine-tasting tours, experiencing the rich flavours of the region's best wines.
The area is not just about wine though, it's also home to pristine beaches that are perfect for a leisurely stroll.
Just a short drive from Adelaide city centre, it's a place where you can discover some of the best of South Australia's food, wine, and scenic beauty.
Explorations in Clare Valley
Clare Valley, located about 136 kilometres north of Adelaide, is a renowned grape-growing region. The valley's picturesque landscapes make it an ideal setting for romantic weekend retreats.
The region's culture, influenced by Polish, English, and Irish immigrants, is evident in the heritage towns and historic bluestone buildings.
Explore Clare, the main town named after County Clare in Ireland, visit the region's museum housed in a mid-19th century courthouse, or take a scenic drive to the Polish Hills River Valley.
Call into Martindale Hall to see how the English nobility lived when they first settled in this area. Watch out for the resident ghost while you are there.
The Clare Valley is renowned for its gourmet food culture, complementing its exquisite wines.
For a top foodie experience, eat at the Watervale Hotel, recently named the Best Hotel Restaurant in the World for 2023 in the Corporate Livewire Awards.
Having dined there myself a few months ago, I can confirm it's an experience not to be missed. Do the degustation menu with the farm tour – I promise it's more interesting than it sounds.
Diverse Attractions at the Eyre Peninsula
Eyre Peninsula offers a variety of attractions. It's best known for its relaxed atmosphere, stunning beaches and dramatic coastal landscapes.
It's also where to find the unique experiences of swimming with the giant cuttlefish at Whyalla and cage diving with great white sharks at Port Lincoln.
Don't miss the chance to indulge in the region's unique gourmet offerings, such as the succulent seafood of Coffin Bay and Smoky Bay.
Like everywhere else in South Australia, you can do wine, beer or gin tasting across the Eyre Peninsula too.
Explore the Indigenous Culture
South Australia is lucky to have the largest collection of Indigenous cultural items housed right here at the South Australian Museum. Call in there to start your Aboriginal learning.
Continue it with an immersive Indigenous experience at a number of locations across the state. From a tour in Adelaide city, to exploring the Flinders Ranges with a local, there are plenty of opportunities to learn about the local culture.
Discovering South Australia's Vibrant Cities
Adelaide offers a world of new experiences. If it's Australian wildlife you want to see, there are close encounters just minutes away from Adelaide's CBD. From koalas to dolphins, there's something for everyone.
Food lovers can enjoy fine dining restaurants, award-winning cafes, bustling food markets, and boutique bars in Adelaide, a culinary playground.
For beach lovers, the stunning beaches and epic surf spots are sure to delight.
South Australia's second city, Mount Gambier is worth a visit, as are the smaller cities of Port Lincoln and Murray Bridge.
Cultural Bliss in Adelaide
Adelaide, the capital of South Australia, offers a rich cultural experience. Visit the North Terrace precinct for a range of museums and art galleries.
For those looking for a touch of history and culture, a trip to Hahndorf and Adelaide Hills is a must to learn about the German influence on South Australia.
As the world's second National Park City, exploring the green areas is a must. The city's gardens are divided into different sections, each offering a unique aspect of Adelaide's rich biodiversity and heritage.
Enjoy the Botanic Gardens in Adelaide, Mount Lofty and Wittunga, the Himeji Japanese Garden and the many areas in The Parklands surrounding the city centre.
A little further afield are Belair National Park and Morialta Conservation Park, amongst the many other parks.
Hint: Take a ride on the free City Loop bus for a quick tour of the city centre to help get your bearings and see some of the sites.
Art and History at Adelaide Botanic Garden
The Adelaide Botanic Garden is a great way to escape the city without. leaving it, with many green spaces to enjoy. It is a haven for art and history lovers with sculptures and historic buildings like the beautiful Palm House.
Among its many attractions is the Garden of Health, which houses a collection of plants used in traditional and modern medicine. There is also the Museum of Economic Botany with many interesting plant specimens.
The garden offers a unique blend of natural beauty and educational insights, making it a must-visit location for both locals and tourists.
Seaside Fun in Glenelg
When it comes to coastal enjoyment in South Australia, Glenelg is a top contender.
This popular seaside spot, known as the oldest European settlement on mainland South Australia, offers a perfect blend of sandy beaches, calm waters, fascinating history and plenty of things to do.
Families, friends, and solo travellers can enjoy a myriad of attractions, making Glenelg an ideal destination for seaside fun.
Sightseeing with the Glenelg Tram
Taking a ride on the tram to Glenelg is a must-do experience. This tram takes you on a delightful journey right to the beach. The best part is that this trip is entirely free.
As you travel along, you can soak in the sights and sounds of suburban Adelaide, seeing parts of the city that would otherwise be missed.
The tram not only offers a convenient mode of transport but also adds a unique touch to your sightseeing experience in Glenelg.
Swimming and Beach Relaxation
No visit to Glenelg is complete without indulging in some beach relaxation. The soft white sands of Glenelg Beach offer a welcoming spot to lay back and soak up the sun.
The gentle lapping of the calm waters makes for a perfect swimming environment. Whether you're an expert swimmer or a beginner, the beach's safe waters cater to all.
In the warmer months the beach is patrolled by surf lifesavers, so to be extra safe, swim between the red and yellow flags.
In summer the Moseley Beach Club pops up on the sand right near the jetty, a perfect location for enjoying your time in the sun.
A day at Glenelg Beach is all about swimming, relaxing, and creating unforgettable seaside memories.
Nature's Wonders at Mount Gambier
Located on the Limestone Coast, Mount Gambier is another city gem worth exploring. The namesake extinct volcano boasts four stunning crater lakes, dozens of sinkholes, and a popular lush garden.
One of its most intriguing attractions is the Blue Lake, which undergoes a magical transformation each November. The lake's colour shifts from a dull grey to a vibrant cobalt blue, creating a stunning sight.
Lookout too for the Little Blue Lake, the local swimming hole, and the Kilsby Sinkhole, for incredible snorkelling, and for the more experienced, cave diving too.
Mount Gambier's natural wonders make this a must-visit destination for nature enthusiasts.
Visit the Unique Umpherston Sinkhole
One of the standout attractions in Mount Gambier is the Umpherston Sinkhole. This unique feature offers a one-of-a-kind experience.
The sinkhole, formed by the collapse of the chamber of the limestone cave, has been transformed into a beautiful sunken garden.
A visit to the Umpherston Sinkhole allows you to delve into the intriguing geological history of the area while enjoying the tranquility of the lush garden surroundings.
The sinkhole is also home to a group of local possums, which are always the thing my kids remember best about our first visit to Mount Gambier, where Umpherstons Sinkhole became known as the Possum Hole.
Outdoorsy Adventures in South Australia
South Australia is also a destination for those who crave outdoor adventures. Its diverse landscapes offer a plethora of thrilling activities, from exploring the iconic Australian Outback to venturing into the heart of its wine regions.
The state's unique blend of nature and adventure is sure to appeal to every explorer.
Venturing into the Flinders Ranges
An adventurer's journey in South Australia would be incomplete without a visit to the Flinders Ranges.
Named after the famous explorer Matthew Flinders, this mountain range boasts a stunning array of arid landscapes, including the natural amphitheatre of Wilpena Pound.
The play of colours from the shifting light of day paints a mesmerising panorama of pale pink, burnished gold, and vibrant burnt orange hues.
Its mountain peaks stretch northward for 400 kilometres, providing a stunning backdrop to the region, best experienced with scenic drives and the many hiking trails.
Despite the dry conditions, the Flinders Ranges are teeming with wildlife, from emus and yellow-footed rock wallabies to flocks of brilliantly coloured parrots. If you are lucky, you might even spot the elusive spotted quolls here.
Exploring the Murray River
The Murray River, Australia's longest river, offers a wealth of water-based activities that outdoor enthusiasts will love.
This river originates from the New South Wales Alps and completes its journey at the Southern Ocean in South Australia. It forms most of the border between NSW and Victoria.
Lined with sandstone cliffs and tall eucalyptus trees, the Murray River is not only a stunning sight but also a habitat for many water birds.
A river cruise is a fantastic way to explore this river, offering a unique perspective of the river's vast citrus-growing industry and the rich cultural history of the Ngarrindjeri and Nganguraku people.
You can do a day trip from Adelaide combining an Adelaide Hills tour with a River Murray lunch on the Proud Mary. Enjoy your lunch cruise with river views while dining before heading back the the city.
Adventure Sports and Activities
South Australia is a paradise for thrill-seekers, with a range of adventure sports and activities to choose from.
Whether it's rock climbing in the Flinders Ranges, kayaking on the Murray River, or surfing on the state's stunning beaches, there's always an exhilarating adventure waiting around the corner.
Outdoor activities are a fantastic way to explore the region's stunning landscapes while getting your adrenaline pumping!
Adventure Trails at Dhilba Guuranda-Innes National Park, Yorke Peninsula
The Yorke Peninsula, a boot-shaped claw of land extending west of Adelaide, is home to the Dhilba Guuranda-Innes National Park. This slice of untouched nature offers a refreshing escape from the hustle and bustle of city life.
The park features rugged seascapes, abundant wildlife, and windswept white-sand beaches that meet a verdant valley floor.
Whether you're hiking the park's adventure trails or simply soaking in the serene beauty, the Dhilba Guuranda-Innes National Park is a must-visit destination for outdoor enthusiasts.
Unearthing the Mysteries of Coober Pedy
For an experience that combines history, adventure, natural beauty and a lot of quirkiness, a visit to Coober Pedy is a must on your South Australian journey.
This unique town, nestled in the heart of South Australia's outback, is famous for its opal mining history. The name Coober Pedy echoes its character and origins, stemming from an Aboriginal phrase meaning "white fellows in a hole".
Coober Pedy offers a diverse range of attractions, from the eerie yet beautiful arid landscapes, home to around 60 native plants, to the diverse wildlife including red kangaroos and echidnas.
But what truly sets Coober Pedy apart is the opportunity it offers to delve into the world of opal mining. Visitors can try their luck at prospecting for these captivating gemstones – but make sure you stick to the designated spots.
Guided Tours and Local Insights
For a deep dive into Coober Pedy's history and culture, guided tours are available. These tours offer invaluable local insights into the town's past and present.
The Old Timers Mine & Museum is a key attraction that showcases the history of opal mining in the area through engaging exhibits.
Visitors can also explore the underground homes carved into the rock formations, offering a glimpse into the unique lifestyle of the local residents. The subterranean Catacomb Church is another highlight, showcasing the town's ingenuity and resilience.
See these attractions, along with the Dingo Fence and the Breakaways by spending an afternoon with Nobles Tours.
For those seeking an offbeat adventure in South Australia, unearthing the mysteries of Coober Pedy is an experience you can't find anywhere else.
Road Trip on The Oodnadatta Track
One of the most thrilling things to do in South Australia is to embark on a road trip along the Oodnadatta Track.
This vast track, larger than Belgium, starts at Marree and stretches northwest through the tiny outback town of Oodnadatta, before circling back to the Stuart Highway at Marla.
It's a journey that offers an authentic taste of the Australian outback, showcasing breathtaking landscapes and historical sites. During winter, when the temperatures are milder, this trip becomes even more enjoyable.
A 4WD vehicle is highly recommended for this adventure, ensuring a safe and comfortable journey across the rugged terrain.
South Australia's Best Tours and Activities
South Australia presents a world of exciting tours and activities, perfect for locals and tourists alike. From adventure trails to wine tastings, there's something to suit every taste.
So, get ready to hit the road, have some fun, and support local businesses in the process.
Full-Day Excursions
Full-day excursions are a fantastic way to experience South Australia's unique charm. These tours usually include a variety of activities, from exploring natural wonders to tasting exquisite local cuisine.
They are designed to provide a comprehensive understanding of the region's culture, history, and natural beauty, making them an excellent choice for those who want to make the most of their visit.
Barossa Valley Wine Tasting and Lunch
A visit to South Australia wouldn't be complete without a trip to the renowned Barossa Valley. This full-day excursion includes a wine tasting tour, where you'll sample some of the region's finest wines.
But the experience doesn't stop there. You'll also enjoy a delicious lunch, prepared with locally sourced ingredients, offering a true taste of the Barossa's culinary excellence.
This tour is a feast for all the senses, combining the region's stunning scenery with its world-class wines and food.
Kangaroo Island in a Day Tour from Adelaide
Another must-do full-day excursion is a trip to Kangaroo Island from Adelaide. Known for its abundant wildlife and pristine sandy beaches, Kangaroo Island offers an unforgettable experience.
The tour includes a walking tour, where you'll get a chance to see kangaroos, koalas, and other native animals in their natural habitat.
From exploring the island's natural wonders to relaxing on its beautiful beaches, this tour offers a perfect mix of adventure and relaxation.
Yes, it's a very long, 16-hour day, but if this is your only chance to see Kangaroo Island then it's a must.
Experience the Wild at Monarto Safari Park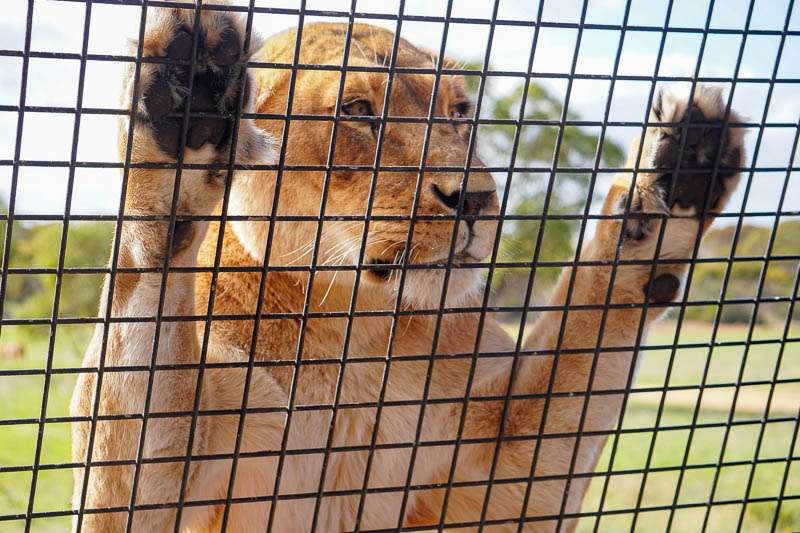 Soon to be the biggest safari park outside of Africa, Monarto Safari Park is a popular day trip from Adelaide. Soon visitors will be able to stay overnight too in the on-site hotel or in the luxury safari camp.
Not only can you see endangered animals in situations as close to the wild as possible, there are some amazing experiences allowing you to get closer to them than you could imagine.
The best is Lions 360, where you are the one in the cage, in the middle of the lion enclosure. The lions will come right up to – and sit on top of – the cage so you can admire the king of the jungle from right up close.
You can also visit the land of the lemurs, feed the giraffes, meet the rhinos or be a keeper for a day and see them all.
Specialty Wine Tastings
South Australia is home to some of the world's most renowned vineyards, offering unique and memorable wine tasting experiences.
These tastings are not just about sampling different wines; they are an opportunity to dive deep into the world of winemaking. They offer an ideal activity for special occasions or for those seeking to expand their wine knowledge.
Blending Your Own Wine at d'Arenberg
If you can only visit one of the cellar doors in South Australia, then d'Arenberg in McLaren Vale is my pick, because it's much more than just a simple cellar door.
It's a museum, an expedition space, a restaurant (or two) and one of the most unique buildings in South Australia.
One of the fun experiences they offer is to blend your own wine. I used three of their single-vineyard Shiraz varieties, blending amounts of each to create, bottle and take home my very own wine.
It might not quite match their award-winning Dead Arm Shiraz blend, but it was a fun way to learn how these amazing wines come about.
Experiencing the Kies Family Wines
A visit to the Kies Family Wines in the Barossa Valley is a must for wine lovers. Here, you can taste a range of top-notch wines, from robust reds to crisp whites, all produced from the vineyard's own grapes.
Enhance your visit with a winery tour, where you can meet the winemaker and learn all the tricks of the trade.
The family's passion for winemaking is apparent in each sip, providing a memorable experience for all guests.
Visiting the Wirra Wirra Vineyards
Located in the McLaren Vale region, the Wirra Wirra Vineyards are another highlight for those seeking a unique wine tasting experience.
Visitors can sample the wines while learning about the vineyard's rich history and innovative winemaking practices through a variety of tours.
The picturesque setting adds to the overall experience, making this a must-visit destination for any wine enthusiast.
Taste Your Birthyear at Seppeltsfield
This is a fun one. One of the best Barossa Valley wineries, Seppeltsfield has been making fortified wines for a long time! They have a barrel of every single vintage going all the way back to 1878 – and I think that's longer than any of us have been alive.
Join in on their tour of the stunning barrel room, which culminates in a tasting, direct from the barrel, of the Para Vintage Tawny that was made in the year you were born.
Seppeltsfield offers a number of other special experiences too if you would like to learn more about the history and winemaking at this iconic winery, which just snuck into the Top 100 Best Vineyards in the World in 2023.
Water Activities and Cruises
With its stunning coastlines and abundant marine life, South Australia provides ample opportunities for water-based adventures. From leisurely cruises to high-energy water sports, there's something for everyone to enjoy.
Exploring South Australia's Coastlines
Discover the beauty of South Australia's coastlines with a variety of marine activities. Whether it's sailing along the pristine waters, snorkelling through vibrant coral reefs, or simply enjoying a beachside picnic, the possibilities are endless. Each coastline offers its own unique charm, ensuring a memorable experience for all visitors.
Some of the most stunning coastlines can be found in the Limestone Coast area, the Bunda Cliffs along the Great Australian Bight, and the scenic Whaler's Way near Port Lincoln.
Unique Experiences like Shark cage diving
I've already mentioned the shark cage diving and swimming with cuttlefish, but there are plenty of other watery experiences to be had in South Australia.
Not to be left out, you can swim with dolphins or swim with sea lions, from Adelaide, Kangaroo Island, Port Lincoln and Bairds Bay.
Go kayaking with dolphins, shipwrecks and mangroves in Port Adelaide with a Dolphin Sanctuary Kayak tour, kayak through the pristine Coorong or explore the Murray River by kayak. Big Duck Tours run from Wirrina Cove and Victor Harbor.
Do a sunset cruise on a catamaran from Glenelg or from Coffin Bay. Fishing charters leave from almost every coastal town.
Scenic Flights and Balloon Tours
South Australia's diverse landscape, from stunning islands to ancient rock formations, offers a visual delight like no other. Scenic flights and balloon tours provide a unique opportunity to take in these sights from an elevated viewpoint.
See the Stunning Kati Thanda-Lake Eyre and the Painted Hills
If you asked me the most memorable experience I have had in South Australia then this would be it! A scenic flight from William Creek, at sunrise, over the breathtaking Painted Hills. The colours were simply unbelievable.
Combine the flight with views over Kati Thanda-Lake Eyre, especially impressive when the huge salt lake fills with water, an event that only occurs every few years.
Aerial Views of Lake Macdonnell and Troubridge Island
Situated on the Eyre Peninsula, Lake Macdonnell, with its vibrant pink hues, is a visual spectacle from the ground and the sky. A scenic flight offers panoramic views of this stunning lake, making it a unique experience worth your time.
Similarly, Troubridge Island, known for its lighthouse and rich history, is another gem best viewed from the sky. The contrast of the blue ocean, white sand, and green vegetation makes for an unforgettable visual treat.
Admire the Wilpena Pound Horseshoe from the Air
This is another must-do scenic flight. Wilpena Pound is so vast that it is best appreciated from the air. Here you can see the horseshoe shape that makes this area so unique.
Enjoy views along the Flinders Ranges into the distance in both directions. Flights can be taken right from Wilpena Pound Resort or from nearby Rawnsley Park Station.
Hot Air Balloon over the Barossa Vineyards
Experience the tranquillity of a hot air balloon ride over the beautiful Barossa Vineyards. As you gently ascend into the sky, you'll be greeted with breathtaking views of the sprawling vineyards, bathed in the soft morning light.
It's an idyllic way to start your day, offering a peaceful retreat from the hustle and bustle of city life.
Wrapping Up Your South Australia Adventure
As your South Australian journey concludes, take the time to reflect on the new experiences you've enjoyed, from the adrenaline-packed shark cage diving to the peaceful hot air balloon ride over the vineyards.
The vibrant cities, diverse attractions, and unique wildlife encounters will have enriched your understanding of this beautiful region.
The encounters with the wildlife on Kangaroo Island, the thrill of a quad bike ride in the sand dunes, the serene mountain bike rides through national parks, the stunning beach on the north coast to the spectacular scenery of cliffs overlooking Vivonne Bay.
The visit to Martindale Hall, a stroll through the rose garden at the Art Gallery of South Australia, and the unique wildlife experiences at Cleland Wildlife Park.
Whether you've been shopping at the bustling Rundle Mall, tasted local delicacies at Adelaide Central Market, explored the mysteries of Coober Pedy, or relaxed on the stunning beaches, these memories will remain etched in your heart.
South Australia is a land of adventure and exploration, and we hope your journey here has been one filled with joy and discovery.
Find more things to do in South Australia…
Before you go…
Add to your trip and read these next
Must Try South Australian Food and Drink
Kayaking with Dolphins in Adelaide Dolphin Sanctuary
Best Adelaide Museums
---
Don't forget to come on over and join the Facebook group for more South Australian inspiration and to get all your questions answered. Click here to join now.
---
Please share this post with your friends and pin it for later