Looking for things do to in Renmark? You are in the right place.
For years, Renmark was one of those elusive places that I kept saying I needed to get to, but it just didn't seem to happen. In the last couple of years the stars seem to have aligned and I have visited multiple times.
Sometimes I was just passing through, others I stayed a few nights so that I could explore the town and the surrounding areas. Here are all the things to do in Renmark that I found along the way.
---
Have Questions? – Come and join the Facebook Group and ask any questions you may have about travel in South Australia. We can provide answers, make further suggestions and update you with the latest information. Click here to join now.
---
About Renmark, South Australia
Renmark lies on the banks of the River Murray 259km (around three hours driving) from Adelaide on the lands to the Erawirung People.
It sits on the Sturt Highway, which is the most common route to drive between Sydney and Adelaide.
It's just the right distance from Adelaide for a stop to stretch the legs, or if you are taking your time, a good overnight stop along the way.
Renmark was first settled in 1887 as a "temperance colony", but this was not successful. By 1897 it was abandoned, much to the disappointment of those growing rich from the burgeoning sly grog trade.
It meant the town gathering house could be formally called the Renmark Hotel and could now sell alcohol legally, and as such it became the first community owned hotel in the whole British Empire.
It is still community owned today, with any profits going back to the town.
With a population of around 4 700, Renmark is the largest town in the Riverland region. It is only a few kilometres away from the state border with Victoria.
The area is best known for it's fresh produce, particularly oranges, and it is also the largest wine region in Australia.
Renmark is a popular holiday destination for people from Adelaide to spend a few days enjoying the river while having plenty of other activities and attractions too.
Things to do in Renmark
I've tried here to divide the things to see in Renmark up into two sections, one for those attractions that can be found right in town or right nearby, and another for those found slightly further away.
Some activities will overlap, such as wine tasting, but this should help you plan your adventures.
Chill Out on the Renmark Riverfront
A visit to the Renmark Riverfront will almost certainly happen naturally during your stay. This is also a great area to stop even when you are just passing through town.
There are some great grassed areas perfect for relaxing before taking a walk along the river. The Matulick Riverfront Trail is dotted with signs about the area and the history of the river here in Renmark.
If the weather is warm, on the other side of the Renmark Club there is the Renmark Town Fountain, a great water play area for the young and not so young to enjoy cooling off in.
At night the Renmark Riverfront is also the location of the possum parade. Look up into the trees and you will see these cheeky marsupials. Take along some banana or apples to feed them.
The Renmark Riverfront is also often the location of local food trucks, particularly on weekends and during events. It is also home to the Renmark Parkrun, which is held every Saturday morning at 8am.
Step Back in Time on the PS Industry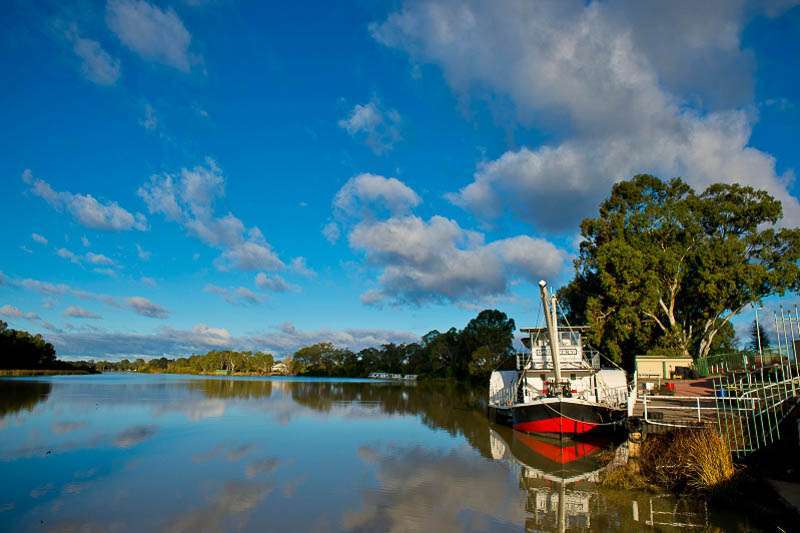 Being on the Murray, it is no surprise to discover that Renmark has a huge amount of history related to the paddle steamers that traded up and down the river. You can learn a little about the river history by visiting the PS Industry.
Usually docked right next to the Renmark Visitor Information Centre, you can get on board and have a look around with just a gold coin donation. Occasionally the PS Industry will be missing, and that is because she is out taking visitors on a cruise along the river.
These cruises tend to only happen on Sundays of long weekends and school holidays, but you can check here to see if there will be one while you are in town. It would be a great way to experience how these paddle steamers work.
Take a Walk
I've already mentioned the Matulick Riverfront Trail above, but there are other trails in town too for visitors to enjoy getting more into nature.
Most popular is the Bookmark Creek Trail, which is a 3.5km circuit starting just off Twenty First Street, or alternatively, on Hale Street. There are signboards along the path and seats too if you would like to rest a while.
The Paringa Paddock walking trails are also a great way to explore the river.
I do recommend these when it's not so wet, because high tide or floodwaters do cross the path occasionally and can make it a little challenging (which can actually be fun if you like a challenge).
Nearby is the Lock 5 Loop Trail, a 6.7km loop that will take you over the Paringa Bridge, along the river and around the Lock 5 area.
Taste the Local Wine
While the Riverland is the largest wine region in Australia, it is not one that is well known for its cellar doors, but that is slowly changing.
There are now some great venues in and close to Renmark for wine tasting, and even more spread across the whole region, making them one of the best attractions in the Riverland.
Mallee Estate is a fantastic family-run winery that can be found on the outskirts of Renmark. They offer a fun wine-tasting experience with personalised service and plenty of time for a chat.
You can just visit for a traditional tasting, or you can book one of their tours to learn a little more about the wine-making process. They also have a restaurant on site that serves lunch every day and dinner on the weekends.
Other cellar doors to try that are not too far afield include 919 Wines and Angove Family Wines.
Also look out for Banrock Station on the drive between Adelaide and Renmark, which makes the perfect stop for some lunch, a walk through the wetlands, and of course a little wine tasting too.
Read more about the Riverland cellar doors here
Drink a G&T at Twenty Third Street Distillery
Or if gin is not your drink, you could try one of the other spirits that 23rd Street Distillery makes right here on site. Starting in 2016, these folks have helped to bring gin back into fashion with their fun flavours.
Their violet gin was the first ever purple gin I tried, and it helped me on my journey of trying many more varieties.
Call in to try some of the spirits and stay for lunch in their restaurant, which is popular for its delicious wood-fired pizzas – although there are a range of other options too, all using local ingredients of the region.
Visit Olivewood Historic Homestead
Olivewood is a log cabin built in 1880 for Charles Chaffey, one of the brothers who established the irrigation colony here in the Riverland, and the one who was put in charge of the Renmark settlement.
Now the house has been taken over by the National Trust and is part of a museum displaying items from that time period. Not only is the house used, but there are sheds of farm machinery, printing presses, a fire engine and much more.
The area around Olivewood still has an olive grove and an orange orchard. Pick up some of the olive oil to take home. Tours and light meals can be arranged if organised in advance.
Stock Up on Fresh Fruit & Vegetables
Since the Riverland is where a good portion of South Australia's fruit and vegetables are grown, support the local farmers by stocking up at the roadside stalls that can be found throughout the region.
You will be guaranteed to have to freshest fruit and veg available. Offerings will vary throughout the year as the seasonal product becomes available.
Go Nuts at AlmondCo
As you drive around the Riverland area, there are three main crops that stand out – oranges, grapevines and almond trees, and you should take home some of each of them to support the local growers.
For all things almonds, drop into the Almond Hut at AlmondCo, easily found on the highway between Renmark and Berri. There are plenty of options to choose from, but I can vouch that the smoked almonds are delicious.
I was also excited to discover plant-based (almond of course) options for ice cream and favoured milk in-store, which is not something I find very often.
Eat Breakfast on the Murray River Queen
Moored right in the centre of town is the stately Murray River Queen, one of the oldest and largest paddle boats on the Murray River.
She doesn't ply up and down the river anymore as she did in her heyday, but you can still visit for a meal or even just enjoy a coffee on board. You can even stay on board too, in one of the most unique accommodation options in town
We decided to come aboard at breakfast time, and tucked into a delicious hot breakfast as we watched over the river at the Kings on Queen Cafe.
During our visit the cafe was full and people were calling in for coffee, so it looks like lit is a popular option in town.
Under new ownership since 2021, the Murray River Queen has just been lovingly renovated. While the restaurant is not yet up and running again, there are hopes that it will be soon.
I can just imagine enjoying dinner on the rooftop deck while watching the sun setting and the colours of the river – it will be magical.
Do some Koala Spotting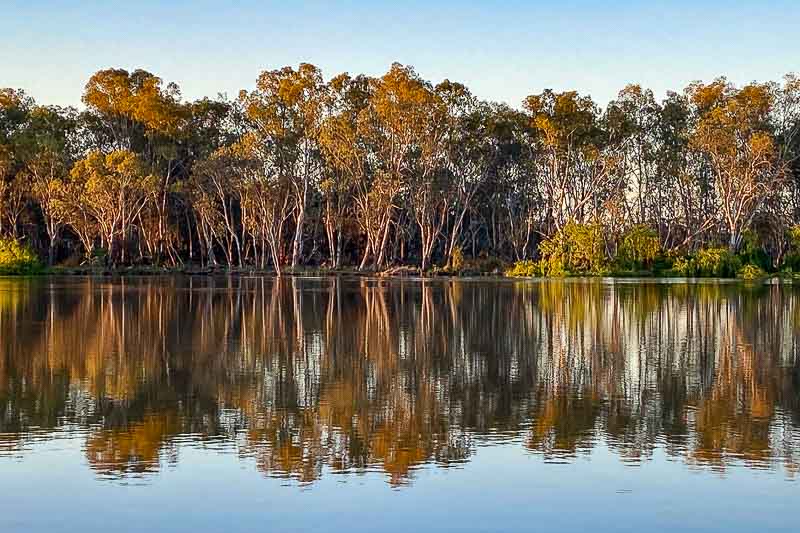 There are signs along the main highway between Renmark and Paringa to watch out for koalas. So include a koala search in your trip, one of the besy activities for kids in Renmark.
The Paringa Paddock area is filled with eucalypts that are the perfect koala habitat. I've not seen any in that area, but I am told they are there. Where I have seen koalas in Renmark is in the trees on the opposite side of the river to the town centre.
We had hired a canoe to paddle down the river (from the Big4 Renmark Riverfront Holiday Park, but there are other places that hire them too) and it wasn't long before we could hear the koalas with their distinctive grunting call.
We paddled over closer and spotted quite a few of them high in the trees. Not only did I get to enjoy the river right from the water level, but I also got to see some of our favourite native animals.
Admire the Paringa Bridge
The Paringa Bridge was built in 1927 to allow both road and rail access across the Murray. It has a section that lifts vertically twice a day to allow river traffic to pass underneath.
The rail lines have since been removed, and now pedestrians and bike riders can cross the bridge by using the central path.
I recommend stopping near the bridge at either 9:30 am or 2:30 pm and watching it open (although it only opens if there is river traffic requiring it), the boats pass through and then close again.
It's still an interesting piece of engineering, almost 100 years after it was made.
Relax in the Bert Dix Memorial Park
One of the places to get great views of the Paringa Bridge is the Bert Dix Memorial Park. Here is a great area for relaxing, having a BBQ with friends or family, letting the kids run and play and just enjoying the river.
There is a small playground, along with the BBQ facilities and toilets.
Renmark/Paringa Community Museum
While you are checking out the Paringa Bridge, stop at the adjacent Renmark/Paringa Community Museum too. This is mostly an outdoor museum on the banks of the Murray showcasing all sorts of old farming machinery and bits and pieces.
Their steam engine collection is said to be impressive, so for enthusiasts, this is a must-see. For those of us who wouldn't know a piston from a spark plug, it's just fun to browse and think how much easier our life is today.
Get Beyond the Black Stump
You have heard that saying, "Beyond the Black Stump" – well, we've found the Black Stump! It's right here in Paringa, and you can come along, stand on the other side of it, and claim you have been beyond the black stump!
Okay, maybe we've not found "the" Black Stump, but rather one of the eleven that claim to be that special stump in Australia, so I think it still counts.
This black stump is quite impressive though. It's a 600-year-old river red gum and is about 8 metres across, the largest of all the black stumps.
The tree was felled 56km upriver from Renmark during the 1917 floods in the area, but was not moved to this location in Paringa until 1985.
Paringa Silo Art
Located right next to the museum, you will not be able to miss the Paringa silo art. Painted by Jack Fran in February 2021, the Paringa silos show four profiles of local people who have had an impact on the community.
The profiles are filled with images that exemplify more of the local area – mostly focused on life on the Murray River that flows through the town.
Floodlights have now been added lighting up the silos after dark, so they stand out to anyone driving along the highway.
Read more about South Australia's silo art here
Eat & Be Entertained at Mallee Fowl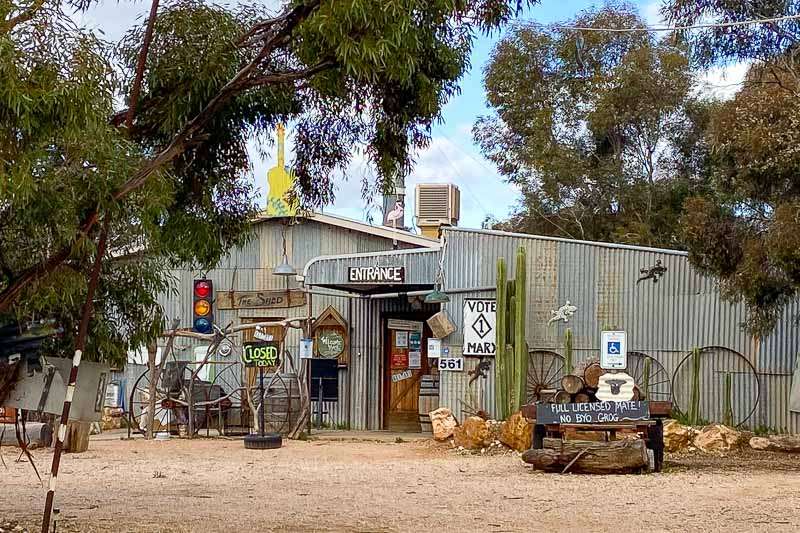 This is one of my favourite restaurants I've been to in the last few years. Mallee Fowl is located out in the scrub between Renmark and Berri, and it is absolutely worth the effort to get there.
This Australiana-themed restaurant is one of the quirkiest and most fun places I've been in ages.
Unlike many themed restaurants, the food here was top quality. The Beef & Reef was cooked perfectly, and my vegan risotto had so much flavour. I was especially impressed that there was a vegan dessert on the menu.
After the meal, there's a whole yard to explore, with a selection of animals such as Emily the Emu who is happy to say hello! The best name award goes to Christmas – the turkey!
While the restaurant might be out in the sticks, that doesn't mean it's a problem to get to and still enjoy a few drinks. Talk to Frank or Sue when you book, and they can arrange to pick you up and drop you off in Renmark or Berri.
What more could you ask for?
Explore with Renmark River Cruises
Take the opportunity to get out on the Murray River with the folks at Renmark River Cruises.
They offer a range of cruises, from simple daytime cruises, to sunset cruises, and ones that will take you to visit the Wilkodene Woolshed Brewery or do some wine tasting, all via the river.
Head on over to their website and check out the options.
Things to do Near Renmark
While there is clearly a lot to do in or close to Renmark, if you are willing to travel just a little further afield there are even more great Riverland experiences to be had.
Visit the Nearby Towns
Renmark is only a short drive from a handful of other great Riverland towns that are well worth checking out. Spend some time visiting these places:
Drink Craft Beer at Wilkodene Woolshed Brewery
Located in an old shearing shed right on the banks of the river is the Wilkodene Woolshed Brewery.
It's in Murtho, around twenty kilometres from Renmark by road, but this brewery also has a parking area for boats, so you can visit if you are passing by in a houseboat or if you prefer to come from Renmark by boat.
There is a range of craft beers available to try, with names such as Rivertime and The Big Orange. I'm not a beer drinker, but even when enjoying a soft drink, this is a fantastic location to sit back and relax, watching the world go by.
On weekends there is often live music, and food trucks also stop by to add some food options too.
Get Great River Views at Headings Cliff Lookout
On the way to or from Woolshed Brewery make sure you stop at the Headings Cliff Lookout. Here there is a raised platform that gives great views over the river and the surrounding cliffs and countryside.
While there are a number of lookouts around the area, this one was my favourite. Visiting late in the day will have the sun shining on the nearby cliffs, and you can watch the boats passing down below.
Get on the Water with Canoe the Riverland
You can't visit the Riverland without getting on the water, and this is one of the best options. Canoe the Riverland run a range of kayak tours and a dingy tour for those not wanting to paddle.
They will take you through the wetlands on their property at Murtho where you could spot dozens of different birds and other wildlife – including a bunch of local emus who enjoy a swim in the creek too.
Take the Kids to Monash Adventure Playground
When I was a kid, one of my friends came back from a holiday and raved about Monash Adventure Playground. It was apparently the best playground ever, and I was really missing out because my parents wouldn't take me there!
Well, the playground might have changed quite a bit since those days, but it is still a pretty awesome place for kids to run and play. There are crazy leaning towers, rope bridges, a flying fox, and even a maze to let the kids loose in.
With a BBQ area and picnic tables, this is a good place to stop for lunch too. Best of all, the playground is free for the kids to enjoy.
Before leaving Monash, put into the chocolate shop across the road to stock up on some snacks for the rest of the trip.
Get the Adrenaline Pumping at Loveday 4×4 Adventure Park
Located at Loveday, this is an adventure park for both big kids and little kids alike. The adults will love the thrill of four-wheel driving or perhaps rally driving on the tracks here.
There is also jet skiing available, and other driving opportunities just for kids.
This is a place to bring the family for some camping and enjoy being outside, or just visit for a day to enjoy the activities on offer!
Look Out for Ghosts at the Overland Corner Hotel
Originally built in 1859, the Overland Corner Hotel is one of the oldest standing structures in South Australia.
It had fallen into disrepair over the years, but in December 2020 it was acquired by new owners and has once again reopened as a fantastic local pub.
The issue here is that there is not much of a town left for it to serve, so it relies on people coming from a little further afield and visitors passing by.
While you are enjoying a drink and a delicious meal or just relaxing in the beer garden, keep an eye out for the ghosts that are said to haunt this old building.
Maybe they are the wandering souls of the bushrangers who drank here in the past, or perhaps it's the brothers who started this hotel, not yet ready to hand over the reins.
I visited during the day – just to be sure I wouldn't have a ghostly tablemate.
The Overland Corner Hotel is open from Wednesday to Sunday. Look out too for the occasional events, bringing people from both near and far to enjoy this great venue.
Star Gaze at the Murray River Dark Sky Reserve
A little further from Renmark, starting around Blanchetown, can be found the Murray River Dark Sky Reserve, the first of its kind in Australia. There is very little light pollution here, and that means it is a perfect location to see the stars of the night sky spread above you.
A great way to enjoy this area is by houseboat, but there are also tours, overnight stays and even photography workshops available to help you enjoy the stars.
Where to Stay in Renmark
No matter what type of accommodation you are looking for, you can find it here in Renmark. If it's a money-no-option luxury stay, then The Frames(above) is perfect for you.
It has everything you could possibly need, with extra options such as tours and transport, a private chef and more available too.
If your budget is a little more modest, the Renmark Hotel has very comfortable rooms.
For a budget hotel, I can vouch for the Renmark Country Club. It's basic, but it does the job.
If you are travelling with family, the Big4 Renmark Riverfront Holiday Park is one of the best I have ever stayed at and kids will absolutely love it here.
Coming to visit South Australia? These posts will help you plan
How to Plan Your South Australia Trip
The Ultimate South Australia Itinerary
100 Adelaide Experiences
---
Don't forget to come on over and join the Facebook group for more South Australian inspiration and to get all your questions answered. Click here to join now.
---
Please share this post and pin it for later