All over Australia wheat silos are being turned into canvases and large-scale artworks are appearing. The South Australian silo art trail is just a small part of this phenomenon, which sees more than fifty silos across the country now painted. Here are all the silos that make up the trail of silo art in SA.
---
Have Questions? – Come and join the Facebook Group and ask any questions you may have about travel in South Australia. We can provide answers, make further suggestions and update you with the latest information. Click here to join now.
---
Silo Art Trail South Australia
Wherever you go in the wheat belt areas of Australia (mostly towards the south) then you will see grain silos towering over the surrounding landscapes. These concrete behemoths were forever present in my childhood.
They were always the first thing we would see of our destination or hometown when travelling during the school holidays, and excited chants of "I can see the silos" rang through the car. It always meant we were nearly there!
But while we might have been excited to see them as kids, in reality, they really are a bit ugly. That's all changing now though, as towns realise they are a huge blank canvas just waiting to become a magnet to the passing traffic on the highway. Now they are the backbone of the silo art trail South Australia.
There are currently fifteen sets of painted silos in South Australia, with number sixteen currently in the planning stages – Murray Bridge, to be painted by Sam Bates who also painted Wirrabara. I am not sure of the time frame, but it was hopefully to be done before the end of 2023.
I am sure more will pop up in the next few years though. I will keep you updated on the SA silo art locations as soon as I can get to them to visit.
Coonalpyn
The silos at Coonalpyn were the first set of painted silos SA had. Brisbane artist Guido van Helten painted five of the local children onto the silos in 2017. They took 200 cans of spray paint and about a month to paint. With the completion of these painted silos South Australia was now on the silo art trail.
Located on the Dukes Highway, the direct route between Adelaide and Melbourne, the silos are now a great drawcard. If you are leaving from Adelaide, it's a perfect stopping place to stretch the legs, grab a coffee and admire the artwork, two hours into the journey.
To see all of the children, take a walk around the silos, but take care, as they are still operational and at certain times of the year will have a lot of truck traffic as they drop off grain.
Wirrabara
This one is probably my favourite of all the silo art in South Australia, and it's definitely the one I visit the most as I pass through Wirrabara regularly. It's not easy to see though, you will have to look out for it and drive off the main street to find it.
This great painting of a woodcutter and a red-capped robin is by a prolific street artist called Smug. It was completed in October 2018. The 28m high mural was the first Smug had done on a silo, and took him about three weeks to complete.
The trees in the background depict the nearby Wirrabara Forest, where the woodcutters used to work and the native birds live.
Smug has done amazing work all over the world, and in South Australia can also be seen on a wall in Tumby Bay, and in the streets of Port Adelaide.
Waikerie
The Waikerie silos are the first to have been painted on both sides. There are two distinct structures and they can be viewed not only from the town, but also from the nearby Murray River. The silo art is themed "Healthy River, Healthy Community" to show how essential the river is to the lives of everyone in this area.
Two artists were chosen for this project, Jimmy Dvate and Garry Duncan, who did a silo each, with Jimmy's silo focussing on the local plants and animals while Garry has created a quirky river landscape. Painting the silos took 16 weeks and 500 litres of paint were used, and they were finally completed in March 2019.
Kimba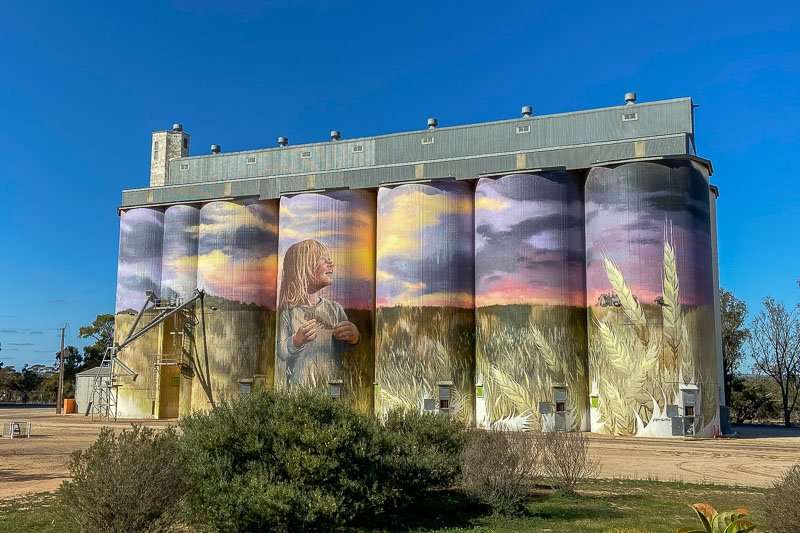 Kimba claims to be the halfway point across Australia on Highway One, and I have to admit, while I've driven through it many times I don't remember ever stopping – until I stopped to look at the silo art.
We then had a bit more of a look around the town, and there are a few things here in Kimba worth seeing. I would even suggest using Kimba as a place to overnight when travelling in the area. This is what having a huge piece of artwork on the silos, and a place on silo art trail SA, is doing for these country towns that are just another stop on the highway.
The Kimba silos were painted in late 2017 by Melbourne artist Cam Scale and it was the first piece of silo art Eyre Peninsula housed. This amazing piece of artwork is 60 metres long and 25 metres wide, making it one of the biggest silo art projects in Australia. It's depicting a young girl in a wheat field, like so many surrounding the town, and took three weeks to paint.
The Kimba silos are also great to view if you are passing through at night time as they are permanently lit up for travellers to enjoy at any time of the day.
Tumby Bay
Tumby Bay started its foray into becoming an art town in 2018. The Tumby Bay silo art were painted by Argentinian artist Martin Ron, who spent some time in the town taking photos of locals, activities and attractions before deciding on these two local boys jumping off the Tumby Bay jetty into the sea.
At the same time the silos were being painted, the first Colour Tumby Street Art Festival was taking place. Eight walls across the town were decorated with murals. The festival has become an annual event, with many more walls now festooned with amazing street art murals that make driving into Tumby Bay as essential part of a road trip in the area.
Cowell
The Cowell silo art features local legend Lionel Deer, pictured with his camel Diamantina, who have been regulars at the local Christmas parade for over thirty years. Also on the silos is one of the ringneck parrots that are found in the area.
Painted by Byron Bay artist Austin "Nitsua" Moncrieff, the silos were completed in September 2019. Nitsua was assisted by Michael 'Schmick' Motteram-Smith, who has also done a mural of his own at the nearby sporting complex.
Karoonda
The Karoonda silos feature the local mallee trees that this area is known for, combined with sheep and a working kelpie, perfect representations of the industry in the area. Painted by Heesco, these silos took a little over a month to paint and were completed in July 2019. These were Heesco's third set of silos, with previous work done interstate at Grenfell and Weethalle.
In an Australian first, as the sun sets these silos turn into another type of canvas. An ever-changing light show is projected onto them. With local photographs, Australian artworks and other exhibitions, each time a traveller passes through there will be something different.
Farrell Flat
Farrell Flat is one of those tiny, blink-and-you-miss-it towns. Even though I have lived in South Australia pretty much my whole life, for a little while less than 100km away, I had never heard of Farrell Flat until I saw that it had some new silo art.
Co-incidentally I was in the area the day after it was completed so made a point to stop in. According to the local publican, we were the first visitors to come into the town to check it out, aside from those people who were promoting it! Little did they know…
Completed in November 2020, the Farrell Flat silo art was painted by Jarrod Soden, and the artwork reflects the history as a stop on the former Peterborough rail line.
Paringa
The Paringa silos were added to the SA silo trail in February 2021. Paringa is located just minutes away from Renmark, and these silos sit right beside the main highway from Adelaide to Sydney.
Painted by Jack Fran, the silos have four profiles of local people who have had an impact on the community. The profiles are filled with images that exemplify more of the local area – mostly focused on life on the Murray River that flows through the town.
Floodlights have now been added lighting up the silos after dark, so they stand out to anyone driving along the highway.
Owen
The town of Owen is another silo art SA location. The small town on the Adelaide Plains completed their silo art just in time for the Anzac Day celebrations in 2021, the end of a process that began in 2018 when the town voted to paint they silos. Owen is only 85km from the Adelaide City centre, so this silo art is the closest yet.
The artwork on the silos is a tribute to life in around the time of Gallipoli. One scene is of farming life at Owen, the other is a scene at Gallipoli, featuring the same farmer.
Robert Hannaford, a local artist from the nearby town of Riverton came up with the design, and Cam Scale spent six weeks bringing that artwork to life on the silos. The Owen silo art has been given the name of "Wheat Bags to Sand Bags".
Eudunda
The silo art in Eudunda was completed in September 2021. This was a huge undertaking, with artwork done by Sam Brooks. The silos show two different children sharing stories.
On the left is a book from Colin Thiele, a local author well known for books such as Sun on the Stubble. (Storm Boy is another well known book). On the right is an Aboriginal boy telling a local Ngadjeri story. A local Ngadjeri elder, Quentin Aegius, helped ensure the imagery and message was accurate. You can see a really great explanation from the artist here.
While it wasn't finished during my visit, there are plans to create a picnic/BBQ area that doubles as the viewing area, and the nearby railway station is also being restored, so there could be some good things coming to Eudunda.
Kingscote
I've still not had a chance to get over to Kangaroo Island to see this silo art yet, but it will certainly be worth the wait. Thanks to my friends Stéphane and Karen who took this photo for me.
The Kingscote silo art has been a few years coming, but finally, it was a completed in February 2022.
It was painted by Cam Scale (who also painted the Kimba silos), with a helping hand by Andrew Davis. It features a very cute kangaroo (after all, this is Kangaroo Island!) and some of the glossy black cockatoos that call KI home.
The 25 metre artwork can be clearly seen as visitors approach Kingscote, and it is the centre piece of a push to have more art murals throughout the town. Currently there are five other street art pieces to be found in Kingscote.
Bute
This town in the northern Yorke Peninsula region, about 150km north of Adelaide, has completed their beautiful silo art in April 2022. Being so close to Adelaide, it's an easy day trip to take a look at this silo, and it is certainly worth the drive. While you are in town, enjoy the nearby picnic area and take a look at the fauna park.
This piece was painted by Scott Nagy & Janne Birkner and commemorates women in rural areas. It also shows the historic railway station, a Rainbow Bee-eater and a Blue Wren. I really liked this silo art, and it might just be my new favourite silo art South Australia has on offer!
Copeville
Completed in October 2022, the silo art at Copeville is number 55 in all of Australia. It has been painted by Jarrad Loxton and features country scenes, including a stunning galah on one side and a pair of Clydesdale horses on the other. Stalks of wheat can be seen decorating the buildings around the base of the silos.
Copeville is located in the Murray River area around 150km from Adelaide. I have personally not heard of this town before so this silo art is already doing its job by drawing in visitors. There's not a lot in town apart from the silos, so plan for a short visit if you do detour to take a look.
Galga
After Copeville was finished, Jarrad Loxton moved on to the silos in a nearby town of Galga. Like Copeville, Galga is another blink-and-you'll-miss-is town in the middle of nowhere. It sits on the now defunct railway line, and now a whole lot goes on in the area.
In April 2023 it was put back on the map with the completion of this mural. The works were funded by locals Beverly and Trevor Heidrich, who purchased the silos from Viterra in 2021.
The murals were done to honour the locals who had served in the wars. Beverley's step-Grandfather Hurttle Murdoch "Tom" Zilm is pictured on one side, and WWII nurse Vivian Bullwinkel, the only survivor of the 1942 Banka Island massacre, pictured on the other.
Water Tower Art in South Australia
Some towns don't have silos, or perhaps they just prefer to paint something slightly smaller, so water towers are becoming another popular town canvas for some amazing artworks.
Kadina
The Kadina water tower has a lovely mural of a young girl holding a piece of copper and a sheaf of wheat, both in recognition of the industry in the area. The reverse side of the tower is decorated with a train, since it is located opposite to the former train station. The mural was painted by Resio and completed in 2018.
Snowtown
The Snowtown water tower is a tribute to John Hansen, a local who has been a CFS volunteer for the last 25 years. The reverse side of the tower includes more local volunteers and twon sports stars.
It was painted by artist Vans the Omega in 2018 in the hopes of starting a more positive reputation for the town. Snowtown has been unfairly tarnished through no fault of it's own by what became known as the Bodies in the Barrels murders.
Call past to see the water tower and the nearby "Big Blade" – a blade from one of the nearby windmills – and grab a coffee and a snack to help get this town back on it's feet.
Port Vincent
This is the first water tower you will come to on the SYP Water Tower/Tank Mural Trail if visiting the Yorke Peninsula silo art from Adelaide. It's also the hardest one to view as it sits out in the middle of a paddock with no access for the public. It was completed in May 2021 after 24 days of painting by Refuz, assisted by Jasmine Crisp.
Stansbury
Water tower number two is located in Stansbury. The good thing about these towers is that they are visible from the main highway so they are all easy to find. Stansbury's water tower was painted by Mike Makatron and assisted by Conrad Bizjak in just 13 days. It was completed in May 2021.
This tower has a fabulous pelican on the back of it, but to photograph it you will need a drone. It was just too windy during my visit to attempt it.
Coobowie
Coobowie does not have a water tower, but they didn't want to be left out (I'm presuming!) so they nominated a water tank to be painted instead. Since it doesn't stick up above the landscape it's a little harder to spot. You will find it on Gumbowie Road.
The tank features many native birds, and was painted by Creature Creature (Chanel Tang & Ambrose Rehorek) and Jason Parker. It was completed in 16 days in February 2021. The connecting shed is also painted with a rodeo theme.
Edithburgh
The Edithburgh water tower seems to be the "poster child" for silo art Yorke Peninsula, as this is the one I often see popping up on social media. I have to admit it is particularly pretty with it's leafy sea dragon and other marine critters.
This was the first tower painted by Mike Makatron, this time assisted by Conrad Bizjak and Dylan Butler. It was completed in March 2021 after 15 days of painting.
Yorketown
The final water tower in Yorketown has more of an agricultural theme, with wheat and canola along with a RFDS plane. This one took the longest to complete, 37 days, but it was done by a single artist, Jasmine Crisp and painted entirely by brush. The mural was completed in March 2021.
Minlacowie
In March 2023 a new mural was completed on the side of a huge water tank near Minlacowie. It is one of two new inlcusions on the Southern Yorke Peninsula Water Tank/Tower Mural Trail.
The project, which is one of the largest murals in South Australia, has been led by experienced artist Mike Makatron, and assisted by Conrad Bizjak, Dylan Butler and local Narungga artist Harley Hall. There were also two local artists, Jason Swales and Sabine Meyer, who spent the week being mentored and learning all the skills required for this type of large-scale mural.
The mural shows a huge pair of great white sharks on one side, with some pink lakes, other local wildlife such as emus and other local imagery on the other.
Wool Bay
The murals at Wool Bay was painted in conjunction with the Minlacowie mural, completed just slightly later in April 2023. Covering both a shed and a water tank, they can be found on Green Flat Road.
Sam Brooks was the lead artist with assiatnce from Harley Hall and Mark Harding. Like the Minlacowie mural, two locals were offered mentorship, which saw Rachelle Plazeriano and Gary Nowlan have the opportunity to learn this art form.
The Wool Bay murals includes depictions of elements of the town history and parts of the local Narungga culture.
I hope to get over to Yorke Peninsula again soon to get some photos of these new murals to include here.
Belair
The Belair water tower has been transformed by one of South Australia's most recognisable artists, Order55 aka Seb Humphries. He has used the purpose of the tower as inspiration and has created an artwork all about the edd and flow of the water inside.
Other Silo Attractions
The country towns in South Australia are nothing if not resilient and inventive. When times are hard – as they invariably are in small farming communities now – they come up with some great ideas to attract visitors.
I couldn't leave this post without mentioning another great way to use what they have.
Quorn
Instead of painting the silos, the township of Quorn has taken a leave out of Karoonda's book and in April 2020 started a nightly light show. As the sun goes down the silos come to light.
While the displays are intended to change over time, during my visit they consisted of photos of some of the local trains of the Pichi Richi Railway, photos of the Flinders Ranges and surrounding area, photos of native flora and fauna, local events, and artwork done by local artists.
The projections last for about three hours after sunset.
Wallaroo
After a successful temporary show in 2019, Wallaroo have made their light show a permanent feature of the town. Each evening, just as the sun goes down, the light show begins.
It's a thirty minute show, consisting of a welcome from the local Narungga people, some Copper Coast tourism information, and art and photos from the local community. Even some of the local school children are involved and have their art displayed.
The light show is expected to change every few months to keep things fresh, and it is best watched in conjunction with music to be streamed from the website here. If you miss the beginning, don't worry, the show does loop around and continues for a few hours each evening.
South Australia Silo Art Trail Map
The below map shows all the locations discussed above. While there is not an official South Australian silo art trail, you can put together a road trip to see them all – and many other great things from this silo art trail South Australia map.
Need to rent a car to see all this amazing SA silo art? I use and recommend RentalCars.com
Click here to check price and availability to suit your needs
Want more great South Australian content? Try these posts
Things to do in Flinders Ranges, South Australia
Must Try South Australian Food and Drink
Glamping South Australia – The Ultimate Guide to Camping in Style
---
Don't forget to come on over and join the Facebook group for more South Australian inspiration and to get all your questions answered. Click here to join now.
---
Please share with your friends and pin for later