You could just get in your car and drive straight to Mount Gambier from Adelaide, but why not turn the drive into a genuine road trip instead? There are dozens of places to stop and explore, even stay overnight along the way. Here are some suggestions for you.
---
Have Questions? – Come and join the Facebook Group and ask any questions you may have about travel in South Australia. We can provide answers, make further suggestions and update you with the latest information. Click here to join now.
---
Things to do from Adelaide to Mount Gambier by Car
Mount Gambier is the almost exactly halfway between Adelaide and Melbourne if you choose to take the longer route that encompasses the Great Ocean Road. This means it's a great place to break up that drive by staying overnight.
Mount Gambier is also a great destination in itself, with plenty of things to do in the town and the surrounding areas, including the enigmatic Blue Lake and the interesting volcanic landscape.
We've visited Mount Gambier from Adelaide a few times now. There are two different driving routes to take on the Adelaide Mount Gambier trip.
The first is via the inland Dukes Highway and Riddoch Highway, through Keith, Naracoorte and Penola.
The other is the coastal road through Kingston, Robe and Beachport. I will give ideas for each of the drives below.
The first section of both drives is the same though, so here are the things to do between Adelaide and Tailem Bend, where the path diverges.
Mount Lofty
The trip will start by heading along the South Eastern Freeway as you leave the city. If you would like one last glimpse of the Adelaide skyline, take a short detour to Mount Lofty summit for the amazing views.
If you want to explore further in this area, you can visit the Cleland Wildlife Park or take a stroll through the beautiful Mount Lofty Botanic Gardens. The gardens are particularly stunning in autumn as the leaves change colour.
Hahndorf
A little further along the freeway is the small town of Hahndorf. This picturesque German-influenced town is lovely to explore. This could be a great place to stock up on road trip snacks at the German Cake Shop, the Fudge Shop or Hahndorf Sweets.
If that's too much sugar, you could instead go healthy and pick your own strawberries at Beerenberg. If you are travelling with kids, they will love a break from the car while visiting the animals at the Hahndorf Farm Barn.
Monarto Safari Park
If you are planning on doing this Adelaide to Mount Gambier drive over at least two days then this is a must see attraction along the way – but you will need at least half a day here. See endangered animals in an open plains setting – this is not a traditional zoo!
A bus ride is needed to take visitors through the many habitats which try to replicate how many of these animals live in the wild.
The new Africa exhibit is currently being built, along with new accommodation options, so in 2024 not only will you be able to visit during the day, but you will be able to stay here overnight too.
Murray Bridge
You will soon be passing Murray Bridge as the highway takes traffic past the town. Rather than zoom on past, turn off into the town to take a look at the mighty Murray River.
Kids (and kids at heart!) will love visiting the Murray River Bunyip in Sturts Reserve. Can't see him? Press the button and he will rise up out of his cave!
There are plenty of walking trails, including one through some wetlands, a museum, art gallery and some great places to eat.
Murray Bridge is one of the bigger rural cities in South Australia too, so if you need a particular shop, this is the most likely place to find it.
Tailem Bend & Tailem Town
There's really not much to the town of Tailem Bend, it's mostly a truck stop for refuelling, but there are a couple of places here worth taking a look at.
Just before Tailem Bend though is the Old Tailem Town Pioneer Village. Journey back in time at one of Australia's largest pioneer villages.
This attraction has 115 pioneer buildings set up to show how life was in different time periods right up to the 1960s. If you are staying in the local area, there is a ghost tour available in the evenings too.
After the slow pace of yesteryear, speed things up with a visit to The Bend Motorsport Park where you can do a hotlap in a variety of vehicles from a V8 Mustang to a F3 car to a Superbike, and many more.
There's also a great new hotel here for overnight stays. Click here to take a look at Rydges Pit Lane.
At Tailem Bend you will need to choose whether you are taking the inland route along the Dukes Highway or turn off onto the Princess Highway for the coastal route.
The Inland Route
This route will have you driving on the main highways that take people through the southern part of the state. This is a good route to take if you want an easy but direct drive with little or no need to stop.
But that doesn't mean you shouldn't stop, since there is still a lot to see along the way. It's also a good route for those with caravans as the highway makes for easier driving.
The distance from Adelaide to Mount Gambier is 435 km when taking the inland route.
Map of the Inland Route of an Adelaide to Mount Gambier Road Trip
Coonalpyn Silo Art
Found in Coonalpyn, this fantastic silo art is worth a look. If you haven't stopped before now, at almost two hours into the drive, this is the perfect place to stop and stretch your legs for a few minutes. Grab some refreshments from the local store while you are passing through.
Keith
At Keith you will turn off the Dukes Highway onto the Riddoch highway, but before you do, take a look at the "Land Rover on a Pole".
This strange sight is a "memorial to hard work", but I will let you read the plaque for yourself to find out why the Land Rover sits on a pole.
As you head down the Riddoch Highway, take a detour to the Mount Monster Conservation Park. Apart from the cool name, this conservation park is home to a large granite outcrop.
A short walk to the top will reward you with views over the surrounding flat farmland for quite some distance. If you have more time, there is a second walk around the outside of Mount Monster too.
Naracoorte
The town of Naracoorte is another good option for an overnight stay. The Naracoorte Caves are the main drawcard in the area, but the town also has some other attractions worth checking out.
Stop into The Sheep's Back Museum and the Naracoorte Regional Art Gallery, take a ride on the miniature train or swim in the huge swimming lake. Nearby is also Bool Lagoon, one of the largest lagoon and wetland areas in South Australia
Back to the caves though! Located just south of Naracoorte, in the Naracoorte Caves National Park is South Australia's only World Heritage site thanks to the fossils that have been found here in the limestone caves.
There are 28 known caves in the national park, but only four of them are accessible to the public.
Most people will just come here to do one of the many easy tours each day, but there are also options to do some more adventurous caving too.
After visiting the caves, there are BBQs and picnic tables here for an easy lunch, or visit the cafe for a meal.
Coonawarra
The Coonawarra is a tiny area, just 20km long, but it packs a big punch when it comes to wine-making.
The unique "Terra Rosa", or red soil, is perfect for growing Cabernet Sauvignon grapes which produce world class wines and all wine lovers should stop in for a taste.
The first vines were planted in the Coonawarra in the 1890s, and today there are 34 wineries in the region. While not all of them have cellar doors, there are sure to be a few of then open for tasting as you pass through.
Perhaps consider another overnight stay here to make to most of the experience.
Penola
Right on the southern edge of the Coonawarra wine region is the town of Penola. You absolutely could stay here to do your wine tasting, and while here, there are one or two other things to check out too.
Penola happens to be where Australia's only saint, Mary McKillop spent much of her life.
As such there is a whole museum/educational centre dedicated to her here, the Mary Mackillop Penola Centre, so this is a great place to learn more about her story.
And what else would you name after a saint in these parts, but a winery and distillery! Call past St Mary's Wines & Spirits and stock up on some of the local beverages – maybe some of that saintliness will rub off.
Just outside of Penola you can visit Yallum Park, possibly the best preserved Victorian mansion in Australia. Also stop off at Father Woods Park to see the sculptures.
From Penola it is only 50km to Mount Gambier, so your road trip is coming to an end. If you are staying in Mount Gambier (and I highly recommend you do!) take a look at this post to give you hints and tips about the town.
The Coastal Route
This is the scenic route, taking in the small coastal towns and the dramatic scenery of the Limestone Coast.
It takes a little longer than the inland route and the roads are a little narrower – but that also means you won't find interstate trucks or other heavy vehicles on these less-travelled roads.
The distance from Adelaide to Mount Gambier is 468 km when taking the coastal route.
Map of the Coastal Route of an Adelaide to Mt Gambier Road Trip
Meningie
Meningie is situated on the banks of Lake Albert. Get a great view over the town and the lake from the Meningie Lookout, before heading in to town to take a walk along the Pelican Path to learn about the history of the town.
Make sure you read about the "Birdman of the Coorong", perhaps Australia's quirkiest bushranger – he liked to get around on the back of an ostrich! Look out for the ostrich statue on the bank of the lake to read more.
Another more unusual attraction is the Meningie Cheese Factory Museum. Take a short tour to learn not only about cheese making, but other interesting Meningie history too.
As you leave Meningie you will drive along the Coorong. I've always liked this part of the drive for the views over the water and the birdlife around. There are plenty of opportunities to stop and take a walk along the way.
Kingston SE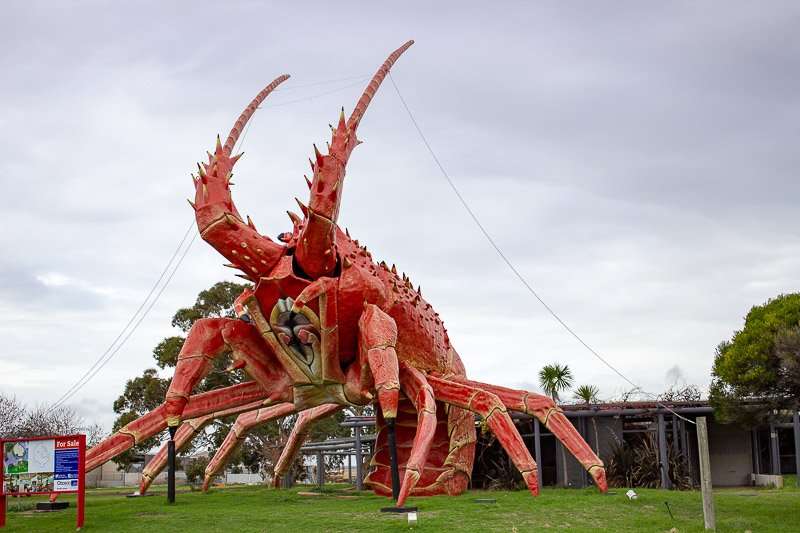 We Australians love our big "things". I have no idea why, but they are everywhere. In Kingston we have the Big Lobster. He stands above a take away shop, so make sure you pop in to buy something and help keep Larry right where he is!
Next door you will find another quirky Australian attraction, the Tractor museum. This mostly looks like a tractor graveyard, but there is a building full of bits and pieces too.
While in Kingston check out the Cape Jaffa lighthouse, moved here from it's original location on a reef 8km out to sea.
If you are travelling in summer, head straight across the road from the lighthouse to have a swim or dip your toes into the ocean along yet another pristine South Australian beach.
Robe
Robe is possibly the most popular beach holiday destination for people from Adelaide. Robe is one of the oldest towns in South Australia and as such has quite a few heritage listed buildings.
Drop into the Customs House museum to learn more about the town and its history. Visit the stone obelisk that helped guide ships into port until a lighthouse was eventually installed, then relax on the beach in Robe.
Robe is also becoming a foodie destination. Eat local seafood at one of the restaurants – I suggest the Caledonian Hotel.
Call into the Robe Town Brewery for one of their craft beers, Governor Robe Wines for a local red wine (or white!) or Mahalia Coffee for some of the best coffee in the state (you can actually find their coffee all over, but why not drink it in the place it comes from!)
It's only 128km from Robe to Mt Gambier, so this also makes a good day trip during your stay.
Beachport
About 85km from Mount Gambier along the coastal route is Beachport, a typical little Australian coastal town.
Beachport's claim to fame is that it is the location of the first WWII casualty on Australian soil when a mine was towed ashore and two unfortunate fishermen happened to be in the vicinity when it exploded.
If you visit in winter you will notice it's sleepy nature, with a few locals out and about, perhaps fishing or strolling along the Main Street.
If you come here over the summer holidays it will be like a different town full of visitors from Adelaide taking advantage of the pristine waters and unhurried lifestyle.
There are some beautiful coastal walks with some interesting artworks popping up – such as a flip flop tree!
While you are here take a dip in the Pool of Siloam. This small lake is many times saltier than the ocean, and therefore people are more buoyant while swimming in it.
It's not quite the same sensation as the famous Dead Sea in the Middle East, but it is definitely easier to float in the Lake of Siloam than in normal water. The high salt content is said to have many healing properties and be good for your skin too.
Millicent
Millicent is the last major town on your way to Mount Gambier, you are now only 50km away from your destination. That doesn't mean you should drive straight through though. Instead you should stop and take a look around.
Millicent has a fantastic National Trust museum, considered to be one of the best regional museums in southern Australia.
If you need to stretch your legs, the Lake McIntyre wetlands area provides a great opportunity to do it. There are also some lovely picnic areas here too.
The main street is also a good place for a walk – keep an eye out for the street art along the way.
Visiting Mount Gambier
Now that you are in Mount Gambier you will be looking for somewhere to stay.
My favourite two places are the Pine Country Caravan Park if you are camping, have a caravan or want to stay in a galloping tent, or the Old Mount Gambier Gaol, for quirky budget accommodation.
The Barn is possibly the most luxurious place to stay in town, and a good mid-range hotel is the Mid City Motel.
During your Mount Gambier visit, you will almost certainly want to check out the ancient volcanic landscape, including the Blue Lake and Umpherston Sinkhole.
There are lots of other things to do in and around Mount Gambier too. Check out this blog post for all my suggestions.
Tips for Road Trips
A road trip seems simple, but to make it really great, remember these road trip tips
Plan Ahead: Start with a solid plan, but leave room for spontaneity. Know your route, book accommodation, and map out your must-see spots.
Safety First: Check your vehicle's tires, brakes, and fluids. Don't forget a first-aid kit, flashlight, and emergency tools. Safety's no joke.
Packing Smarts: Pack light and efficiently. Consider the essentials like clothing, toiletries, snacks, and entertainment.
Navigation: GPS is great, but old-school maps can be a lifesaver. Mark your route and alternate routes in case of detours.
Fuel Stops: Keep an eye on the petrol gauge, and top up before it's too late. Don't miss out on epic views or experiences because you're running on fumes.
Entertainment: Prepare a killer road-trip playlist and audiobooks for those long stretches. Podcasts can also be a great way to learn something new while you cruise.
Food & Hydration: Stock up on snacks, but also aim to try local cuisine. Staying hydrated is essential, too.
Stretch Breaks: Regular stops not only ease fatigue but allow you to soak in the beauty of your surroundings. Don't rush; enjoy the journey.
Capture Memories: Don't forget your camera or smartphone. You'll want to cherish those memories later on.
Embrace Spontaneity: Sometimes, the best moments are unplanned. Be open to new experiences and friendly locals.
Respect the Environment: Leave no trace; take your rubbish with you. Be a responsible traveller and respect the places you visit.
Travel Companions: Choose your travel buddies wisely. Good company can make or break a trip.
Looking for more South Australian content? Try these
Adelaide 3-Day Itinerary
Must Try South Australian Food and Drinks
Glamping South Australia – The Ultimate Guide to Camping in Style
---
Don't forget to come on over and join the Facebook group for more South Australian inspiration and to get all your questions answered. Click here to join now.
---
Please share this post and pin it for later