Most people who come to South Australia will start their trip in the capital, Adelaide. This Adelaide 3 day itinerary will give you a great starting point as you get to know the city, including exploring the city centre, a day in the wine regions and a day in the suburbs.
While not as well known as the eastern cities, Adelaide is a bustling town with plenty of things to do and see. It's perfect for a long weekend or as the first leg in a much longer trip around the state.
This itinerary will help you with what to do in Adelaide for 3 days, a common timeframe for visits, especially for a weekend in Adelaide.
---
Have Questions? – Come and join the Facebook Group and ask any questions you may have about travel in South Australia. We can provide answers, make further suggestions and update you with the latest information. Click here to join now.
---
But first, a little about Adelaide
Adelaide has a population of around 1.4 million people. It makes up almost all of the 1.8 million people that live in South Australia.
Adelaide is a planned city with wide, grid-like streets. This makes it easy to get around.
Adelaide was founded in 1836 when the first Europeans arrived here. They were all free settlers, and contrary to popular belief, there were never any convicts in this part of Australia.
Adelaide is the traditional land of the Kaurna (pronounced Garna) people.
Adelaide is often called the City of Churches. It's not because there are a lot of churches (although it does have a lot!) it's because right from the start there was freedom of religion and so there were many different places of worship including churches, mosques, synagogues and temples.
Adelaide is one of the Great Wine Capitals of the World and is the hub for the 18 wine regions surrounding it.
Adelaide is home to the second-largest fringe festival in the world. For a month during February/March, the city comes alive with hundreds of events.
Adelaide was the second place in the world to give women the vote. It was before Australia officially became a country so it was only a South Australian law at the time. (The first place was our neighbours in New Zealand)
Adelaide has a penchant for distinctive sculptures in Rundle Mall. First, it was the Spheres – more commonly called the Mall's Balls – then a group of four pigs. Most recently a giant pigeon has been added to the collection.
The Adelaide 3 Day Itinerary
We've crafted a perfect three-day journey through Adelaide's finest treasures, ensuring you soak up every drop of this vibrant city's charm and culture. Let's get started on this 3 day Adelaide itinerary.
Adelaide Itinerary Day One
Start your visit to Adelaide with the Welcome to Adelaide tour which leaves from the Malls Balls most mornings at 9 am. You will need to book in advance to confirm your spot.
You will spend ninety minutes learning about Adelaide and its history, getting your bearings and getting information about some of the attractions you might like to visit in the afternoon.
(Make sure you ask about the other tours Katina runs, such as The F Factor Food Tour, Jimmy C Street Art Tour and more if you are looking for something more than just the usual walking tour.)
The tour finishes at the Adelaide Central Market, the largest undercover fresh produce market in the Southern Hemisphere.
This is a great place to grab a mid-morning coffee and pick up some of the amazing local produce, from fruit & vegetables to smallgoods, to organic foods to local gin, beer and wines, there is so much to choose from.
While you are here, try some of South Australia's unique foods, such as fritz (a type of luncheon meat), Frogcakes, Fruchocs, Haighs chocolates, or for a real sugar hit, a Kitchener bun!
Make sure you check the trading hours before you visit, as they vary wildly across the week, and are mostly closed on Sundays & Mondays with just a few select stalls opening.
Once you have fueled up for the day, walk back to Victoria Square, then either jump on the tram (it's free within the city centre) or walk the short distance to Rundle Mall and take your time admiring the quirky statues such as the Pigs in the Mall and the Pigeon as you browse the shops.
For lunch choose one of the cafes along Rundle Street, or the adjoining Ebenezer Place. Hey, Jupiter is a very popular option, or you can try Grill'd for burgers, Mekong for Vietnamese, San Giorgio for pizza and pasta or (during the week) Vego's for, well, vegetarian! There are plenty of other options too.
After lunch, head to North Terrace and check out some of the museums, art galleries and other cultural attractions. I recommend the South Australian Museum if you are interested in Aboriginal culture as they have the largest collection in Australia.
The rest of the afternoon depends on your interests, but here are some suggestions. Many of the museums and galleries are free, but some are not and I have included some links to book your tickets in advance.
Adelaide Botanic Garden (including the Museum of Economic Botany)
South Australia Museum
Art Gallery of South Australia
Migration Museum
MOD (Museum of Discovery)
State Library of South Australia (for the beautiful Mortlock Wing)
If you are instead looking for something a little more active to do, spend the afternoon doing one of these
After all that learning and activity, you will need a little bit of downtime. Make your way to 2KW, a rooftop bar on the corner of North Terrace and King Willian Street for a pre-dinner drink while enjoying the views.
The drinks list here is extensive, so you will be sure to find your favourite. Even those who do not drink alcohol are catered for with a range of non-alcoholic cocktails too.
For dinner, I recommend looking at the restaurants near North Terrace. Some of the popular ones are Madame Hanoi, La Boca Bar and Grill or Parlamento – I would recommend booking these in advance.
You could also check out the nearby Leigh or Peel Streets, both laneways with only foot traffic that have some trendy food and drink options.
Since you are in the area, finish the evening off with a visit to the SkyCity Casino. If you don't want to try your hand at blackjack or roulette, just enjoy the live music, atmosphere and a drink or two.
Adelaide Itinerary Day Two
Today you are going to choose one of the wine regions to explore. Each of them has something different to enjoy along with the wine tasting. If you don't want to go wine tasting, there is still enough to do in each region without that.
Here is a little about each of the regions I recommend. They are all about one hour from the Adelaide city centre, and each one is easily accessible by car.
If you prefer, each region also has a hop-on/hop-off bus that leaves from the city – I will include the links as well as other options for each region below.
Barossa Valley
The Barossa Valley is located to the north of Adelaide. It has a strong German heritage and is now the home to some of the best wines anywhere in the world.
The Barossa is renowned for its Shiraz and Cabernet Sauvignon reds, and the best-known white wine is Riesling. It is also home to fortified wines, gin distilleries and craft beer breweries.
I would recommend visiting the cellar doors of Jacob's Creek (possibly the biggest wine brand in Australia), Penfold's (home of the famous Penfold's Grange), Langmeil's (home to the 1843 Freedom Shiraz, produced from the oldest Shiraz vines in the world) and Rockfords (home to a beautiful basket press shiraz, made in the traditional way).
There are over 100 wineries in the region though, so there is no shortage of choice. Along with the big names above, why not call into a winery you have never heard of before too – some of the small boutique wineries are doing some really fun, interesting things with their wines.
There's not just good wine in the Barossa, but great food and markets too. If you are here on a Saturday, make sure you call into the Barossa Farmers Market at Angaston. It runs from 7:30 – 11:30 am, and you will find a great selection of local produce all in one location.
Otherwise, you will have to visit some of the locations separately to taste the flavours of the Barossa. I suggest taking a look at some of the below
Maggie Beer's Farm Shop
Steiny's Traditional Mettwurst Tasting Rooms, Nuriootpa
Barossa Valley Cheese Co, Angaston
Steins Taphouse, Nuriootpa (for a variety of local craft beers in one place)
Vasse Virgin Olive oil, Seppeltsfield
Seppeltsfield Road Distillers, Marananga
Barossa Valley Chocolate Company, Tanunda
If you want to do some sightseeing while in the Barossa, head up to Mengler's Hill Lookout for sweeping views over the valley.
You can also visit The Whispering Wall to experience the phenomenon of a whisper passing along the curve to be heard on the other side of the dam.
Visit the Lyndoch Lavender Farm for great Instagram photos and even better lavender food and skin care products (I recommend the lavender ice cream or lavender scones, both available from the cafe).
For more detail on Things to do in the Barossa Valley, click here
For lunch, grab something to eat at one of the wineries, many of them have their own restaurants, or make your way to Tanunda and eat at Char Barossa. They have a variety of meals, many of which use local Barossa produce. After lunch take a short stroll through Tanunda browsing the shops.
If you are still enjoying the Barossa at dinner time, I suggest eating at 1918 Bistro & Grill, or for something really special, take a look at the Appellation restaurant at The Louise. Otherwise, there are plenty of options in all the towns for a more casual meal or takeaway.
If you don't have a car or prefer not to drive while wine tasting, then there are three options for visiting the Barossa Valley – the hop-on/hop-off bus, a bus tour or a private tour. Here are some suggestions for each
Hop On/Hop Off Bus – this bus picks you up and returns you to the Adelaide City centre, doing a loop through the Barossa during the day. You can also meet the bus in the Barossa if you are staying there instead. You can get on and off at any of the locations along the loop to enjoy the wineries and attractions
Barossa Valley Wineries Tour with Tastings and Lunch from Adelaide – this tour takes you to four wineries and some of the other attractions in the Barossa Valley. Pick-up is from Adelaide and lunch is included.
Barossa Valley Private Luxury Tour – this private tour is completely customisable to go to all the places you want to see. Pick-up is from Adelaide.
McLaren Vale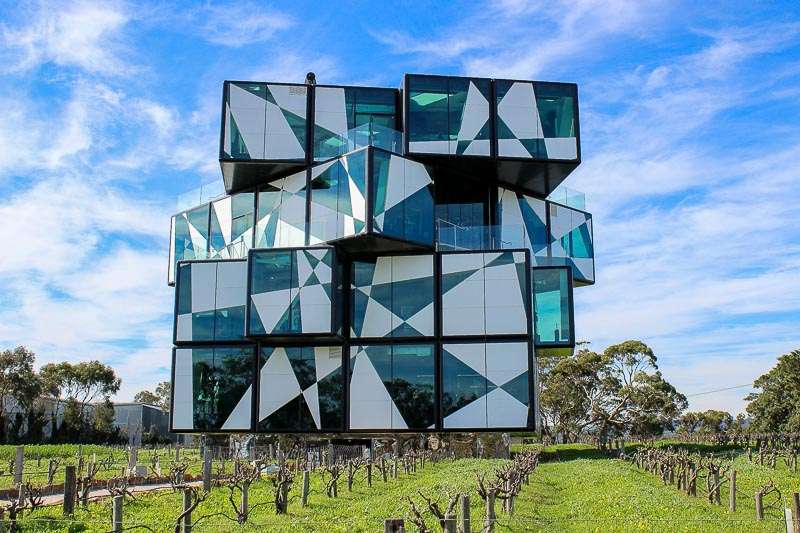 The McLaren Vale wine region is to the south of Adelaide. This area is almost entirely focused on food and wine production. Grapes were planted here for the first time in 1838, just a couple of years after South Australia was settled.
With a Mediterranean climate, the McLaren Vale vineyards mostly produce Shiraz, Cabernet Sauvignon and Grenache, although there are now many other varieties available in smaller amounts. The most common white wine to find is Chardonnay.
One winery that absolutely should be on the list to visit is D'Arenberg. While the wines here are nice, it's their iconic cellar door that needs to be seen to be believed.
The building looks like a version of the Rubik's Cube and sits on a rise overlooking the vineyards. It houses not only the cellar door but the quirky Alternate Realities Museum which is full of all sorts of weird and wonderful items. The next floor is an exhibition space with changing purposes.
During my last visit, there was a Salvador Dali exhibition – which perfectly matched the museum below. The higher floors include a restaurant and tasting rooms, with separate areas for those undertaking specialist tastings or learning to make their wine.
You could spend all day at D'Arenberg, but there are plenty of other great wineries in the McLaren Vale area that deserve a visit.
I suggest Hardys Tintara (one of the oldest wineries in the area), Primo Estate (for Italian-inspired wines), Wirra Wirra (in the hope they are flinging watermelons around with their trebuchet during your visit), Hugh Hamilton Wines (for great views to go with the great wine) and Alpha Box & Dice (a trendy "new" winery).
Once you have tasted enough wine, then here are some of the other things to do in Mclaren Vale for the rest of your day
Willunga Farmer's Markets (open on Saturday mornings only)
Cycle or walk some of the Shiraz Trail
Visit the local beaches
Kayak on the Onkaparinga River
Red Poles Art Gallery
The Blessed Cheese
The Almond Train
Swell Brewing Co Taphouse and Brewery
Never Never Distilling Co
For more things to do in Mclaren Vale, click here
When you are looking for somewhere to eat, many of the wineries will have restaurants or at least they offer tasting platters to be shared while wine tasting.
If you are looking for somewhere other than a winery, try Pizzateca for a great casual meal, or for something truly special, book in advance for The Salopian Inn.
Like the Barossa, there are three different ways to visit McLaren Vale if you do not have a car
Hop On/Hop Off Bus – this bus picks you up and returns you to the Adelaide City centre, doing a loop through the Mclaren Vale region during the day. You can get on and off at any of the locations along the loop to enjoy the wineries and attractions
McLaren Vale Winery Small Group Tour with Wine Tasting and Lunch – this tour takes you to four wineries and some of the other attractions in McLaren Vale. Pick-up is from Adelaide and lunch is included.
Luxury Private McLaren Vale Wine Tour – this private tour visits some of the attractions as well as a good selection of wineries. There is also flexibility to create an itinerary to suit your interests. Pick-up is from Adelaide and lunch is included.
Adelaide Hills
The Adelaide Hills wine region is to the east of Adelaide. The higher altitude of the vineyards means the wines that are produced here tend to be cooler climate wines such as chardonnay, pinot noir and sauvignon blanc wines.
While there are plenty of wine-tasting opportunities, there are also some other great activities and attractions in the area.
As you are making your way up into the Adelaide Hills, take a short detour to the top of Mount Lofty to see the views over the Adelaide City centre to the coast beyond.
You can also take a stroll in the nearby Mount Lofty Botanic Gardens, which, while beautiful year-round, are particularly spectacular in Autumn with the reds, oranges and yellows scattered throughout. Cleland Wildlife Park is also in the Mount Lofty area if you are keen to see some of the Australian wildlife up close
The town of Hahndorf should be on your list for your day in the Adelaide Hills. This town has a German heritage, and even today much of that shines through.
There are plenty of amazing places to eat, but if you are after traditional German fare, eat at The German Arms or Haus. Walk along the main street while stocking up on some of the great local produce.
You can find cheese, candles, sweets, fudge, honey, crafts and many more. Make sure you duck into the German Village Shop for genuine cuckoo clocks, beer steins and other German novelty items.
For wine tasting, I have a real soft spot for Hahndorf Hill Winery (I like their Gruner Veltliner) after I did a wine and chocolate tasting here and discovered they do go together. Book in for a ChocoVino tasting before you go.
Other popular wineries are Shaw + Smith, Bird in Hand and Nepenthe.
With dozens of other things to do in the Adelaide Hills destinations during your visit, here are some suggestions
Strawberry picking at Beerenberg
Hike from Waterfall Gully to Mount Lofty
Lobethal Christmas lights (in December)
The Big Rocking Horse at Gumeracha
Prancing Pony Brewery
The Hills Cider Co
Ambleside Distillery
Melba's Chocolates
The Cedars (home to SA artist Hans Heysen)
Hills Sculpture Trail
Sticky Rice Cooking School
For more things to do in the Adelaide Hills, click here
Again, I recommend having your own car to get around in the Adelaide Hills, but if you don't have one, here are the options to get there.
Adelaide Itinerary Day Three
Today you will be exploring the suburbs of Adelaide and I have two suggestions, Glenelg or Port Adelaide. Both are easy to access by public transport and both have enough to do to keep you busy for the whole day if you wish.
If you choose, it is possible to visit both Glenelg and Port Adelaide on the same day. This works best if you have your own car, or get a taxi/Uber between them, which will take around 25 minutes.
It is possible to get from one to the other by public transport, but it does mean going back into the city and out again, taking more like 90 minutes.
Glenelg
Located to the southwest of the city centre Glenelg is the best-known of Adelaide's beachside suburbs. It is the location of the proclamation of South Australia as a province of England on December 28th, 1836 after the first ship landed that day.
(Interestingly, while this is the date we use in SA as our settlement date, the province was officially created in February 1836, before the ships left England!)
The best way to get to Glenelg is to jump on a tram in the city centre. You will need a ticket to go to Glenelg (the trams are free in the city centre but not to Glenelg). The tram terminates right by the beach at Glenelg, so you cannot get lost.
If the day is nice, spend some time enjoying the beach. Take a dip in the water here, it is generally calm without too many dangers, but of course, take all the usual precautions when swimming in the sea anywhere.
During the summer (late November to late March) you can spend the whole day just lazing on the sand, drinking cocktails and enjoying the sun at The Moseley Beach Club.
Look out for complimentary yoga classes on some Saturday mornings (but you will need to book in advance).
If spending all day at the beach is not for you, then there are some other things to do in the area too. Wander up and down Jetty Road and browse all the stores along the way.
Pick up an ice cream at St. Louis House of Fine Ice Cream & Dessert or a hot chocolate at Bracegirdle's Glenelg.
If the weather is too cold or too hot you can escape inside for a while and watch a movie at the GU Film House Glenelg.
For the kids (or kids at heart) hit The Beachouse, an amusement complex with waterslides, dodgem cars, a games arcade, mini golf and more. During summer you will find a large Ferris wheel on the foreshore too.
To learn a little about the history and culture of Glenelg, call into the free Bay Discovery Centre. This small museum is an interesting insight into the area.
Also, take a few minutes to stop at the Chorus of Stones memorial and listen to some of the stories of South Australian war veterans who have served in a variety of conflicts.
There are no shortages of options in Glenelg for food, so take your pick as you walk along the foreshore or Jetty Road. You will likely not be disappointed no matter where you choose.
For a casual meal, I recommend Goodslice Pizza Natural, for great pizzas using local and organic products (they do serve more than just pizza too!). For a more upmarket meal, Sammy's on the Marina serves up amazing seafood.
Glenelg is a great place for nightlife in the evenings too. The Moseley Bar & Kitchen is popular and the bar opens late during the week and into the early hours of the morning on Friday and Saturday.
The Grand Bar at the Stamford Grand is another great place to enjoy late into the night. Look out too for plenty of other bars, cocktail places or even late-night dessert bars.
Port Adelaide
Port Adelaide is to the northwest of the city centre and sits on the Port River. It's a historic area with the first settlers arriving in 1837 when it was serving as the Adelaide port for South Australia.
With shipping containerisation, the working port has moved to Outer Harbor, with the inner port now reserved for small boats and water sports. It is traditionally a working-class area and is currently undergoing a huge transformation.
The easiest way to get to Port Adelaide is by train. Take the Outer Harbor line from the Adelaide Railway Station and Port Adelaide is about a thirty-minute trip.
Port Adelaide is a great location for museums. Here you will find the South Australian Maritime Museum, the National Railway Museum and the South Australian Aviation Museum (complete with the F-111 fighter jet).
All three are worth exploring, with both adults and kids alike catered for.
You can also find the historic "City of Adelaide" clipper ship currently being restored. It is open for tours through the hull to learn about the history of this ship and the shipping industry from that time.
Continue the maritime theme by strolling the wharf and admiring the tall ships as they sit at berth.
On a good day, you will see both the "Falie" and the "One and All" here. Jump aboard a Port River Cruise and learn about the history of the river and shipwrecks, and hopefully spot some of the local dolphins.
While you are strolling the streets, keep your eyes peeled for all the incredible Port Adelaide street art.
Port Adelaide has been participating in the Wonderwalls festival over the last few years and as such has amassed over fifty large, wall-sized murals, some taking up the whole sides of buildings.
You will find art ranging from beautiful to controversial and everything in between. For a map of the artwork, call into the Port Adelaide Information Centre.
When it comes time for food you will again be spoilt for choice. New places are popping up all over Port Adelaide.
For a casual lunchtime meal, I recommend trying The Banksia Tree. It has options for everyone and is delicious with arguably the best coffee in Port Adelaide.
In the evening Low & Slow American BBQ is very popular (you will need to book in advance). Spice 'N Ice does fantastic Indian food, Argo Hellenic Cafe is great for Greek, and Miss Viet for Vietnamese.
Port Adelaide has a huge pub culture and any of them are also great for meals at all times of the day, and I suggest calling into at least one of them. If you are a craft beer lover, Pirate Life has its brewery here and is a great place to stop for a tasting flight.
There are also a few small bars that will help you enjoy the evenings – look for Korked Wine Bar or Captain Rehab's Bar @Mixed Creative.
If you prefer something adventurous on a Saturday night, there are ghost crime tours to learn about the history of Port Adelaide and explore some of the old buildings.
More than Three Days in Adelaide?
If you are lucky enough to have more than 3 days in Adelaide, then here are a few more suggestions for what to do in Adelaide on those extra days.
visit another wine region, with or without wine tasting.
go to Monarto Safari Park
do a short road trip to Victor Harbor
do a day trip to Kangaroo Island (in all honesty, while this is possible, it is a very long day and relatively pricey. I recommend spending at least one night on the island to enjoy it at a slower pace)
Get out into nature and enjoy one of Adelaide's National Parks – perhaps Belair National Park, or SA's newest, Glenthorne National Park-Ityamaiitpinna Yarta
Where to Stay in Adelaide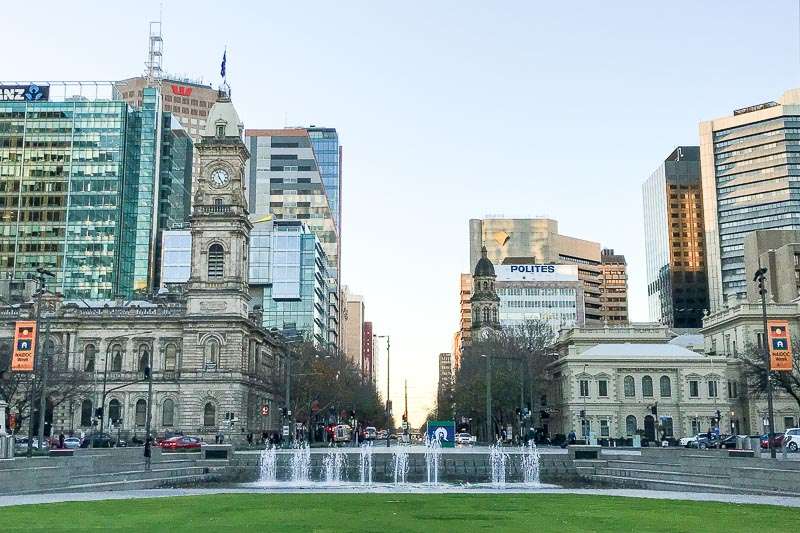 ---
Want to try something new?
Eos by Skycity is a 5-star hotel that opened in Adelaide in December 2020. Click here to take a look
---
If you are spending only 3 days in Adelaide then my recommendation is to stay in the city centre. While there are some great suburban locations, with a short stay, the central location will make it easier to get around.
There are some great options in the city centre for all types of accommodation. Here are just a few to get you started on your search.
Hostel
My suggestion for a hostel is the Adelaide Central YHA. This hostel has a great range of different rooms, from classic dorm rooms to private rooms with en-suites and family rooms. The communal areas are large and have great facilities.
Click here now for the latest rates and availability for the Adelaide Central YHA
Budget Hotel
Try the Ibis Adelaide, located perfectly on Grenfell Street near Hindmarsh Square. The rooms are basic but modern and stylish. A great choice for couples on a budget and business travellers who just want a place to crash.
Click here now for the latest rates and availability for the Ibis Adelaide
Mid-Range Hotel
For an interesting mid-range option, The Franklin Boutique Hotel is a great choice. The rooms here are a little less like your "usual" mid-range hotel offering and some have stunning deep bathtubs for that ultimate relaxation after a long day.
They are part of a well-renovated old pub, perfectly located for the Adelaide Central Markets. This one is worth a look before you spend more on a name-brand luxury hotel.
Click here now for the latest rates and availability for The Franklin Boutique Hotel
Luxury Hotel
If you are looking for a special place to stay, the Mayfair Hotel is one of the best Adelaide hotels and a good choice. Located in a prime location right at the end of Rundle Mall, this five-star hotel pulls out all the stops. Beautiful rooms, great services, amazing restaurants, and even a rooftop bar.
Click here now for the latest rates and availability for the Mayfair Hotel
How to get from Adelaide Airport to City Centre
Now that you have chosen the perfect place to stay in Adelaide, let's work out how to get there.
Upon arriving into Adelaide by plane, there is no long commute from the airport here.
It's a short 10-15 minute taxi or Uber ride into the city centre. Taxis can be found to the left of the domestic terminal. Ride shares are across the road and to the left of the multi-story carpark. Follow the signs.
Some buses will take you into the city for only the price of a normal public transport ticket.
If you would like to organise a private transfer in advance, click here to see the latest options and prices.
There are plenty of hire car companies located inside Adelaide Airport. If you would like to compare them all at one to find the best deal, click here to do so on RentalCars.com
For full instructions and information, see the dedicated post here.
Getting Around Adelaide
The Adelaide City centre is very walkable. Most places can be accessed easily on foot.
Trams are free within the city square so you can easily use them to get around too – although I find with the traffic, it's often just as quick by foot if you are not going far.
There are free buses that go to various parts of the city centre too. Look out for 98A/98C/99A/99C buses. For all the information on the free services see the Adelaide Metro website here.
All other Adelaide public transport information is on the Adelaide Metro website, including routes, timetables and all the information you need.
If you are only using public transport a couple of times, simply pay as you go with a single trip or day trip ticket. If you are planning to use it a lot, pick up a Metro Card and preload it.
Fares are slightly cheaper using a Metro Card, but it does have a $5 card fee when you purchase so you would want to be using it a lot to make that worthwhile.
You can also now travel on trams only by tapping on and off with your credit card.
Note: Adelaide Metro is in the process of changing the readers so that Tap & Go credit/debit cards and smart devices can be used.
As of May 2023, the O-Bahn buses and trams accept Tap & Go and buses are in the process of being fitted out.
For rideshare in Adelaide, you can find Uber, Ola, GoShare, Shebah (women only) and MyCar (Eco friendly). Of course, there are plenty of traditional taxis too.
Looking for more South Australian content? Try these
Things to do in the Flinders Ranges
Must Try South Australian Food and Drinks
Best Adelaide Day Tours
---
Don't forget to come on over and join the Facebook group for more South Australian inspiration and to get all your questions answered. Click here to join now.
---
Please share this post and pin it for later