Are you planning a trip to Adelaide and looking for a hotel in the city centre? Or are you an Adelaide local looking for a great place for a city staycation? Here are some hotels in Adelaide for you to consider.
---
Have Questions? – Come and join the Facebook Group and ask any questions you may have about travel in South Australia. We can provide answers, make further suggestions and update you with the latest information. Click here to join now.
---
While I would love to say I've stayed in all of the Adelaide hotels and can compare them all to find the best, unfortunately, that is not the case. I have stayed in a few though, which I will share with you below.
To help out, I've asked some other travel bloggers to share the accommodation in Adelaide that they have stayed at too.
Miller Apartments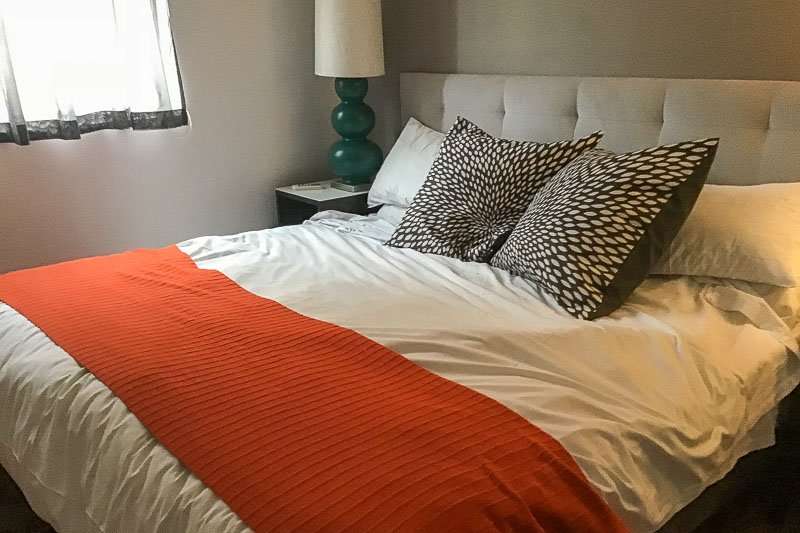 I personally haven't stayed here, but Helen, who has a great blog at Japlanease.com, has stayed twice. Here's a little about it from her.
A super central location, plenty of space and peace and quiet are the three things my partner and I look for when we book a hotel and the Miller Apartments offers us all three of them.
Now, if you know Adelaide at all you probably don't think of Hindley Street as quiet, it is the premiere party strip in Adelaide city centre after all, but the Miller Apartments has a secret weapon – their Loft One Bedroom Apartment.
This is located way at the back of the building and, with its own spiral staircase to a bedroom upstairs, has no obvious neighbours which means it's whisper quiet.
While the rest of the building's minimalist 1,2 or 3-bedroom apartments suit families, friends – or those who want more home-like amenities when travelling on business, this space is only suitable for couples – and ones who don't mind climbing the stairs to bed (note: they are quite high and the bathroom is downstairs!).
We've stayed here twice now and it's a great place to base yourself with the cool bars of Peel Street just a few minutes walk in one direction and Adelaide's River Torrens and the museum strip just a little way behind.
The full kitchen also comes in handy for nights when you don't want to eat out – or, on a cold Adelaide evening when a takeaway from the many restaurants on your doorstep seems more appealing than a night on the town.
They also offer parking underneath the building.
Want to book your own stay? Take a look here for prices and availability.
Ibis Adelaide
I have a stay at the Ibis booked in in a few weeks' time (lockdowns willing!), but in the meantime, here is what fellow traveller Paula thought of her stay. You can see more from Paula over on Australia Your Way.
On a recent visit to South Australia, we chose the Ibis Adelaide on Grenfell Street for our first few nights. There were a couple of reasons the hotel made the top of our list.
First, its location right behind Rundle Mall is incredibly convenient. All the key sites, including the stunning Botanic Gardens, are within walking distance of the hotel and there is transport at the door.
On arrival, the staff were very welcoming and although we arrived several hours before check-in they found a room ready for us to leave out things before we headed out exploring.
We have stayed at Ibis properties in several cities so were prepared for the small-sized room however, we were presently surprised by how well set up it was.
There is not a lot of space for storage but for a brief stay what there was adequate and well-positioned.
The room offered a comfortable queen-sized bed, a long desk with a fridge underneath, and a good-sized bathroom. There was a full window overlooking the street, which gave good light and seemed to be well soundproofed as noise was not a problem.
Most pleasingly, the room was spotlessly clean. There is an onsite restaurant and bar, a gym and a guest laundry. Guest site parking is available in the Rundle Shopping Centre about one hundred metres down the street.
This is a perfect Adelaide hotel if you are on a budget and need a clean and well-located place to stay.
If you think the Ibis is for you, take a look at the prices and availability here.
Hilton Adelaide
The Hilton has been my go-to hotel in the city for a few years now – but that's mostly because my husband has status with the Hilton loyalty program so we get a few extra benefits when we stay there, such as free breakfast.
Having said that, we've stayed at least half a dozen times and I have no problem recommending them as a good place to stay in Adelaide.
The location in Victoria Square may seem a little further from the main North Terrace/Rundle Mall area, but the tram stops right out the front and will take you to the stops needed for free.
The good part about the location is it is only metres from both the Adelaide Central Markets and Gouger Street, both of which should be top of the list for foodies.
We've almost always booked their base room, and occasionally have been upgraded to an executive room (thanks to my husband's status).
The rooms are neat, clean, and comfortable. in my opinion, they are fairly standard in terms of hotel rooms in the 4/5 star big name hotels all over the world.
I have always loved how comfortable the Hilton king-sized beds are, and would happily just lounge in bed all day here if I could.
I enjoyed all the bars downstairs during my visit, ate breakfast in the restaurant multiple times, and also ate in their restaurant "Coal" in the evening.
My only complaint is that vegan options were very limited in their buffet-style breakfast – but that would not be an issue for most people.
While the Hilton does have a pool, I've never actually used it on any of my stays. The gym is small but practical, and there is a tennis court and running track for more exercise.
The hotel has many business options including meetings and function rooms too.
Are you a Hilton fan too? Check out the prices and availability here.
Crowne Plaza Adelaide
Adelaide has had a whole host of new premium hotels open up in the last year or so and the Crowne Plaza is one of them. Located between Rundle Street and North Terrace, it's a great option as a business or leisure hotel.
I stayed at the Crowne Plaza only days after it was opened in a King Deluxe room. The room was light and fresh with plenty of space.
I loved the floor-to-ceiling windows that gave great views over the city skyline to the hills beyond. The bathroom had a great walk-in shower with environmentally friendly pump-pack toiletries.
Our stay included a buffet-style breakfast which was, unfortunately, a little restricted at the time by the covid rules.
We also couldn't eat at the restaurant during our visit, but I have since had dinner there. While definitely not a budget option, the food was absolutely delicious. It is worth eating there at least once during your stay.
The Crowne Plaza has a great area for casual meetings, socialising and relaxing. The pool is surrounded by an outdoor lounge area, linked to their casual bar, Luna 10. The bar also faces an inside area with tables and casual seating.
The seating varies and includes workspaces for those needing an area to work in. I took advance of this for a couple of hours after I checked out while I was waiting for an appointment elsewhere. There are also business services available if required.
Want to see more of the Crowne Plaza? Click here for prices and availability.
Hotel Indigo Adelaide Markets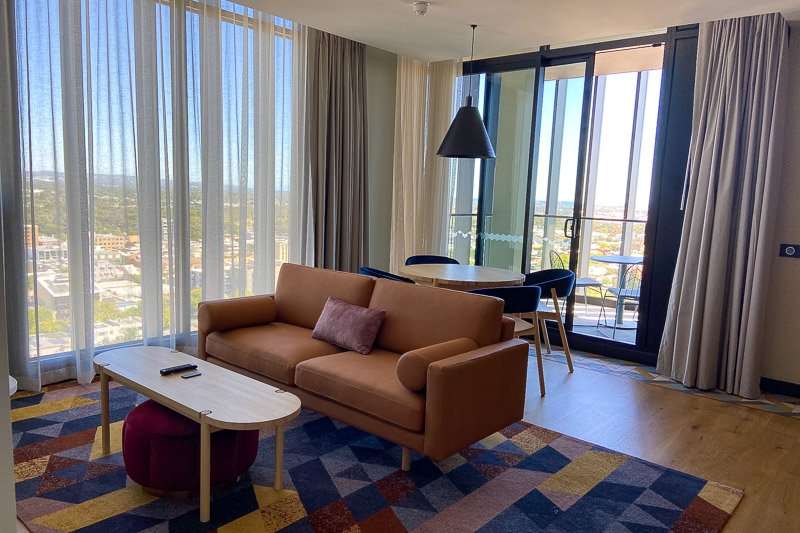 Hotel Indigo Adelaide Markets is another of the new hotels in town. While Indigo Hotels can be found in many other parts of the world, this one is the first in Australia.
They describe themselves as having boutique hotels, each one built with the local neighbourhood in mind. This one is located right next to the Adelaide Central Market.
I stayed there just a few days after it opened and chose a Corner Suite for our stay. This was a lovely two-room space on the fifteenth floor, including a balcony with some outdoor seating.
The floor-to-ceiling windows gave us lovely views to the south and west, which meant we had a sunset view from our balcony.
The room has a modern decor with a slightly industrial feel with minimal shelving and hanging spaces. All the usual facilities are here though, with coffee-making supplies, a fridge, a safe, and a desk.
The separate bedroom feels a little small, but it is perfectly adequate. Both the bedroom and living area has large flat-screen TVs on the walls.
The bathroom has a large shower with a luxurious feel, thanks to the dark tiles and metallic finishes.
The hotel has great facilities for dining and drinking. The Merrymaker rooftop bar is the highest of its kind in Adelaide and is a great space for a cocktail or a light meal.
The downstairs Market & Meander restaurant is a more formal dining space but is still funky and modern. This is where breakfast is offered.
Hotel Indigo Adelaide Markets is a great choice for foodies looking to explore the Adelaide Central Market, Chinatown and Gouger Street.
It's only a short walk to the tram, which will take you (free!) one or two stops to the other popular parts of the city. If you are looking for a funky and fun hotel, this is the one!
Is this funky hotel for you? Click here for prices and availability.
Majestic Roof Garden Hotel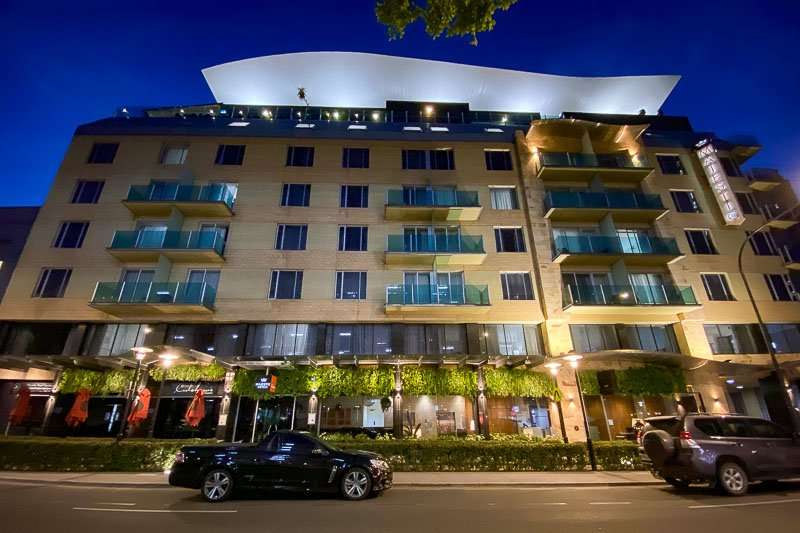 The Majestic Roof Garden Hotel has a fantastic location just off of Rundle Street in the East End. This means it's the perfect Adelaide Hotel for those leisure visits to the Adelaide Fringe.
This hotel is the flagship for a South Australian-owned group, Majestic Hotels and has been open since 2004. With so many new hotels opening in Adelaide recently, it was interesting to compare this established offering.
It should be noted that although this is often described as a luxury hotel, it does sit at a cheaper price point than many of the other hotels that claim to be the same.
The Superior Room we stayed in at the Majestic Roof Garden Hotel was one of the more spacious rooms in the city.
It includes all the things you would expect in this type of hotel but went a step further by including a deep bath as well as a separate shower in the bathroom.
The Majestic Roof Garden Hotel is well known for its restaurant and it is a popular conference/event venue, particularly the rooftop area.
Unfortunately, our stay was during Covid and the restaurant was not open on the days we were there. This was not a problem for us, as the location meant it was just steps from the restaurants on Rundle Street.
There is a small gym at the hotel, but no pool.
If you are a leisure traveller who does not plan to spend too much time in the hotel or a business traveller looking for good value, then the Majestic Roof Garden Hotel is a great choice.
Is this your kind of luxury? Click here for prices and availability
The SOHO Hotel
The SOHO Hotel hit my radar when I was looking for an option to use one of the Great State vouchers offered during 2021. I decided to try a place I didn't know anything about, and this was what I ended up choosing.
The SOHO Hotel is a small, budget option in Adelaide with only 29 rooms.
It is located on Flinders Street, so a little further away from the main areas than some of the more premium options – but it was still only about a 10-minute walk to Rundle Mall, and around 15 minutes walk to the Adelaide Central Market.
I wrote above that the Majestic Roof Garden Hotel had a big room – this room was even bigger, so if it's space you want, this is a great choice.
It includes all the usual amenities you would expect in a hotel, but there are some extras too. It wasn't quite a kitchenette, but there was a sink, plates and cutlery along with the usual tea/coffee supplies and drinking glasses.
The SOHO Hotel has a small pool, only open during the summer and would be just the thing for a quick cooling dip after a long day.
There are no restaurants at the hotel though, but there is a separate Thai restaurant on the ground floor that does great meals (and you can take them to your room to eat). The recommended breakfast cafe is just two doors up.
Does this budget hotel suit your wallet? Click here for prices and availability
The Oval Hotel
Yet another of the new Adelaide accommodation options, the Oval Hotel opened in September 2020. It is located – unsurprisingly – at the Adelaide Oval.
It is a great option if you have a function or a game on at Adelaide Oval, if you are doing the Adelaide Oval Roof Climb or if you just want to experience a little of this ironic stadium.
The rooms are lovely and modern, as is to be expected, and they all have great views over the surrounding parklands and beyond. There is a lot of technology included in the rooms to make your stay great.
There's an iPad for all the hotel information, automatic curtains, and my favourite, a sensor light under the bathroom cabinets that gives just enough light for a nighttime toilet visit without the need to turn on lights. Light sleepers will love this.
The hotel has a top fine dining restaurant and a great bar and casual dining space. There is no pool or gym, but residents can use the premium facilities at the nearby Next Gen gym (the place where all the who's who of Adelaide go!).
Do you want to check out the Oval? Click here for prices and availability
Sofitel Adelaide
Sofitel, a prestigious French hotel brand, has expanded globally, including a new gem in Adelaide.
Opening in November 2021, the seventh Australian Sofitel, located on Currie Street, offers 251 exquisite rooms, meeting rooms, a pool, gym, sauna, restaurant, and café.
Strategically situated, Sofitel Adelaide is minutes away from Rundle Mall, SkyCity, Central Market, and Adelaide Oval. Its French influence is seen in the artistic interior and wine connection with Bordeaux.
Upon entering, a chic red chandelier guides guests to the reception. Check-in is seamless, leading to well-designed rooms with splendid city views through floor-to-ceiling windows.
The Superior King Room, with its spacious layout and modern amenities, ensures a comfortable stay.
I loved the bathroom with its sliding panels, creating a sense of space. A mosaic-tiled shower wall adds a unique touch. Balmain Paris toiletries, wireless phone chargers, and well-stocked mini-bars enhance convenience.
Dining at the Garçon Bleu French restaurant offers innovative seasonal menus using local produce. Breakfast, served buffet-style, presents an array of options.
Facilities include a well-equipped gym, sauna, and an elegant indoor pool with chandeliers. Meeting and event spaces cater to various needs, showcasing the hotel's versatility.
While vegan dining options could improve, Sofitel Adelaide's overall experience is refreshing and inviting, blending modern aesthetics and attentive service.
The hotel's central location, luxurious rooms, and comprehensive amenities make it a compelling choice for travellers seeking luxury and excellence. I would not hesitate to stay here again.
Is luxury your jam? This could be the best 5-star accommodation Adelaide has on offer. Click here for Sofitel availability and prices
Holiday Inn Express Adelaide
Opened in September 2017, Holiday Inn Express Adelaide offers modern accommodation on Blyth Street, near Adelaide's key attractions.
Adjacent to the railway station and minutes from lively areas like Hindley Street and Rundle Mall, the hotel's prime location is its forte.
I've stayed here multiple times over the years and it has become my go-to convenient hotel for a night in the city.
Holiday Inn Express (HIX) is renowned for value and straightforward comfort. The brand's signature simplicity caters to both business and leisure travellers.
Checking in was smooth, and rooms, while not spacious, feature contemporary amenities. A glass-walled bathroom may raise privacy concerns, but Urban Skincare Co toiletries and a comfortable bed enhance the experience.
The hotel offers a breakfast buffet with varying hot options and alternative milk choices. In the evenings the foyer turns into a small bar with a happy hour. The absence of a pool is compensated by a well-maintained gym and laundry facilities.
Holiday Inn Express Adelaide delivers value and convenience with a practical approach. Ideal for travellers seeking a hassle-free stay in a prime location, HIX Adelaide offers straightforward comfort.
Looking for convenience? Click here for the Holiday Inn Express prices and availability
TRYP by Wyndham
Located in the heart of Adelaide, Australia, TRYP by Wyndham is another new addition to the city's hotel landscape, opening in March 2023.
TRYP by Wyndham, located on Pulteney Street, is a contemporary option that adds vibrancy to Adelaide's hospitality scene. With its blend of comfort and style, this hotel promises a unique and enjoyable experience for travellers.
The moment I stepped into TRYP, I was welcomed by an atmosphere that was fresh, funky, and fun.
The lobby has an understated elegance with convenient check-in counters and a cozy seating area, making it an ideal place to unwind while awaiting your next adventure.
Z Kitchen & Bar is an integral part of the TRYP experience. This chic eatery and watering hole offers a diverse menu that caters to various tastes, yes, even my vegan requirements.
The space is decorated with bright abstract prints, adding an artistic touch to the dining experience.
Guests can choose from a range of room types, including Standard, Deluxe, Accessible, and Deluxe Corner.
The highlight is the Executive Suite, located on the top floor, offering a spacious bedroom and a separate living area, perfect for couples or extended stays. Roll-away beds are available for those travelling with children.
Each room is equipped with modern amenities, including a mini-fridge, coffee maker, and eco-friendly toiletries. The bathroom, though not expansive, features a generous-sized shower.
The bedroom boasts a comfortable king-size bed and ample storage space.
Beyond the rooms, TRYP by Wyndham offers an array of amenities to enhance your stay.
These include a business centre, a games room, a library with a book exchange, a well-equipped gym, and a guest laundry for added convenience.
TRYP's central location is a significant advantage. It's just a short walk from Rundle Mall, Adelaide's premier shopping destination, and the Adelaide Central Markets, a must while you are in Adelaide.
While on-site parking isn't available, the hotel has an arrangement with a nearby car park for guests' convenience.
In summary, TRYP by Wyndham Adelaide offers a seamless, comfortable stay with a chic urban vibe. Whether you're travelling for business or leisure, this hotel promises a delightful experience in the heart of Adelaide.
With its thoughtful amenities, welcoming staff, and vibrant ambience, it's a top choice for travellers seeking a memorable stay in the city.
Looking for urban vibes and a vibrant ambience? Click here for the TRYP by Wyndham for prices and availability
More Adelaide Hotels
There are still some Adelaide hotels on my wish list, particularly some of the new ones I have not had a chance to stay at yet. If you are keen to take a look, these are the hotels in Adelaide I would love to experience:
Another hotel recently renovated hotel that looks fun is the Franklin Boutique Hotel.
Looking for things to do while you are in Adelaide? Here are some ideas
Adelaide 3-Day Itinerary
100 Adelaide Experiences
Best Adelaide Museums
---
Don't forget to come on over and join the Facebook group for more South Australian inspiration and to get all your questions answered. Click here to join now.
---
Found this post useful? Share with your friends and pin for later