I love a new hotel, and I love opening specials even more, so when I saw the new Hotel Indigo was opening in Adelaide this week, I jumped at the chance to book a heavily discounted room to check it out. So here is the Hotel Indigo Adelaide Markets review.
---
Have Questions? – Come and join the Facebook Group and ask any questions you may have about travel in South Australia. We can provide answers, make further suggestions and update you with the latest information. Click here to join now.
---
Adelaide has had a real influx of new hotels opening in the last few months. With offerings like the EOS at Skycity, The Oval Hotel, Crowne Plaza Adelaide (see my review here) and Tom's Court Hotel we are now spoilt for choice. Hotel Indigo is a worldwide brand that is part of the IHG Group of hotels. The Hotel Indigo philosophy is to create boutique hotels with a local flavour, so each one is different based on the locality. This is the fourth IHG hotel in Adelaide, and it makes a perfect companion to the Intercontinental, the Crowne Plaza, and the Holiday Inn.
Located on Market Street, this is the ideal location for foodies. As the name suggests, the hotel is only metres away from the acclaimed Adelaide Central Market, one of the largest undercover fresh produce markets anywhere in the Southern Hemisphere. That means it's also right in the heart of the Gouger Street precinct, one of Adelaide's main restaurant strips, and Chinatown is right there too.
Arriving at Hotel Indigo Adelaide Markets
Since the hotel is down a narrow, one-way lane, there is not a lot of parking out the front, but there are two loading zone parking spaces to pull into while bags are unloaded.
Entry is straight into the restaurant area. Market & Meander is to the right, and the small check-in area is a little further back to the left. We were a little early to check-in (about 10-15 minutes) and our room was not quite ready. The staff member immediately offered to store our luggage while we relaxed at Merrymaker, the rooftop bar.
We instead decided to move our car to the recommended parking – the carpark above the Central Bus Station off Grote Street. Hotel Indigo were able to provide us an exit ticket for $25 since we were leaving the car parked there for the entirety of our stay. There were other parking options for longer stays and if the car would be coming in and out of the parking place.
We had to walk through the Adelaide Central Market to get back to the hotel, so meandered along for a lot more than the 15 minutes they expected our room to take. We were able to grab our bags and head straight up.
First Impressions of Hotel Indigo Suite
Our room was a corner suite on the fifteenth (top) floor. The opening specials were so good we decided to splash out and choose the best room available.
My first impressions as I opened the door was that it was well presented, to my taste, had everything we needed – but it didn't wow me! And that's okay.
I first took a look at the living area. There's plenty of room and everything was comfortable. The one thing about a hotel that is only a few days old is that there is absolutely no wear and tear, so in effect, everything should be perfect. I couldn't find anything to fault in that respect.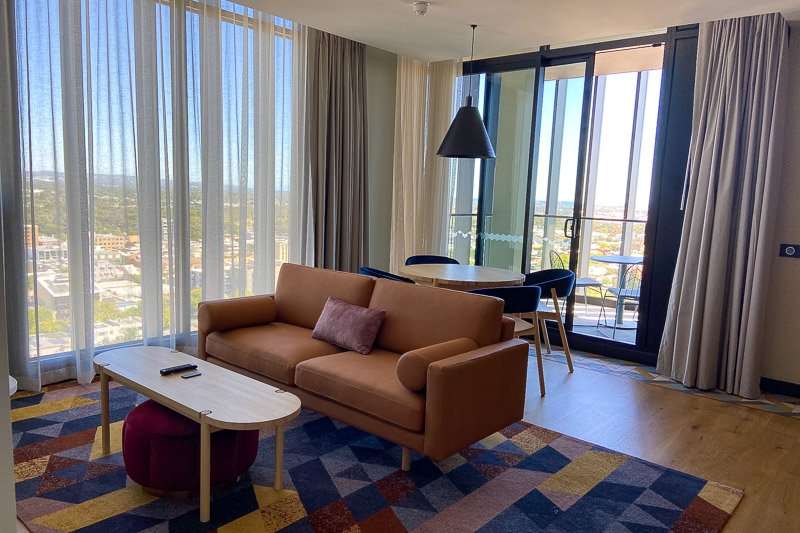 The single lounge would easily accommodate the two people the suite is for, and the small dining table seated four people. There is a decent-sized flat screen tv on the wall, and fabulous floor-to ceiling windows with views to the southeast, over the Adelaide Hills.
One side of the room was made entirely of industrial-style shelving. This area was used for everything. One end was the fridge, concealed inside a cupboard. The fridge was empty apart from a small milk, but that is normal at the moment. With the covid rules in place mini bars have not been stocked wherever I have stayed. It's only a phone call to have items delivered to the room if required.
There were coffee and tea making facilities, including a pod machine with two pods and a teapot to make the tea. Both teacups and coffee mugs were supplied.
Next to this area is a small desk and chair. To me this seemed a little redundant as it's only a small space and it would be difficult to work on as the right hand side slopes down to an area for placing luggage. This is not the only area for luggage though, as there was more shelving in the hallway for this purpose too.
The hanging area though above is the only place to hang clothes in the whole suite. The shelves and drawers here are also the only storage of that type too. One of the drawers holds the safe, which is a flat, top-opening style, great for laptops, tablets and passports, but not so great if you are travelling with a DSLR camera, for example.
The bedroom seemed unusually small in comparison to the living area, but in a suite most of the time is spent in the other areas anyway. Apart from the bed, there were only small side tables and a sort of stool to sit on. There was also a large flat screen tv in here too, the same size as the one in the living area.
The bathroom had a luxurious feel to it with the darker colours. The shower took up most of the space and has dual shower heads, one a rain shower head in the ceiling, another that can be hand held or left in the adjustable height bracket.
The hand basin was practical and had just enough space to put things on. All toiletries were in larger pump packs, a more sustainable option. There was a great hairdryer (bad hairdryers are one of my bugbears!) and a set of bathroom scales. The robes were soft and luxurious and I really enjoyed lazing around with one on.
If you are wondering where the toilet is – it's in a small alcove behind the door.
The balcony of our room was in the southwest corner of the building so we had afternoon sun and good sunset views. Or at least we would have had a good sunset view if there wasn't a building in the way, but that's no fault of Hotel Indigo! It was still nice to sit out here and enjoy a quiet drink as the sun went down.
While we were in a suite, the below photo courtesy of Agoda shows the standard room.
Other Hotel Indigo Facilities
Like all good hotels, Hotel Indigo Adelaide Markets has a pool. It's located on the fourth floor and is a small, heated lap pool. Along side it are half a dozen loungers under the shade of a patio area. While this definitely isn't huge, it is perfect for a quick dip to cool off or just to sit back and relax for a while. During our visit we saw a handful of people doing just that.
The pool is on the east side of the building so has view towards the Adelaide Hills and will receive the morning sun.
Just next to the pool area is also the gym. Again, it's a decent sized area with just a few machines and some free weights, but it is perfectly adequate for this hotel (I have definitely seen worse). The floor to ceiling windows mean you can enjoy a workout while taking in the views over the city.
There are two different areas for socialising, eating and drinking at the Hotel Indigo Adelaide Markets. The most lauded of the two is Merrymaker, the rooftop bar I mentioned earlier. We enjoyed a pre-dinner drink here and I was pleased with the extensive drinks menu. There is a huge range of beers, wines and spirits to cater for all tastes. There are even non-alcoholic cocktails to suit those of us who don't drink alcohol but still would like a fancy drink. Merrymaker also offer some light meals, and in particular their shared seafood platters filled with locally sourced seafood. This rooftop bar is the highest in Adelaide, and of course you do not have to be a guest to come in and enjoy it.
The downstairs bar and restaurant is called Market and Meander. This is a much more formal (although not too formal) restaurant. The focus is on Australian food, particularly food sourced locally – after all, that is the Hotel Indigo motto. The menu looked to have some interesting and delicious options such as Charred Spencer Gulf Prawns and Smoked Brisket.
We didn't eat here because I had somewhere else I had to go for dinner and my brief glance at the breakfast menu showed me very few vegan options. To be fair, the person who was seating people in the restaurant for breakfast did offer to go and speak with the chef and see what they could come up with, but I knew the markets were just across the street and they had plenty of great vegan food I wanted to try.
This downstairs area looks like a great place to grab a coffee in the afternoon, to meet up with a friend or have a business lunch.
Overall I really liked my stay here at Hotel Indigo Adelaide Markets. While some people may think it's a little out of the centre the action in Adelaide, I liked the location for it's proximity to the markets. It is still walking distance to Rundle Mall and North Terrace, but if you prefer not to walk, it's a couple stops on the tram (which is free in the city centre). The room was comfortable and the facilities what I would expect from other similar hotels. I would happily go back and stay again.
Want to try Hotel Indigo Adelaide Markets yourself? They have up to 50% off rooms with their opening specials until June.
CLICK HERE FOR CURRENT PRICES AND AVAILABILITY
---
Don't forget to come on over and join the Facebook group for more South Australian inspiration and to get all your questions answered. Click here to join now.
---
Found this post useful? Share with your friends and pin for later
Josie Kelsh is South Australian, born and bred. She has lived in the state for almost her whole life, just one short stint away as a teenager with her family. Travelling all over the world has shown her exactly how amazing South Australia is to live and travel in and she uses her passion to show it to you the way a local sees it.