When in Victor Harbor, it's almost compulsory to venture over the causeway to Granite Island. Once over there though what is there to do? Here are all the things to do on Granite Island.
---
Have Questions? – Come and join the Facebook Group and ask any questions you may have about travel in South Australia. We can provide answers, make further suggestions and update you with the latest information. Click here to join now.
---
Where is Granite Island?
Granite Island is located just off the coast of the town of Victor Harbor in South Australia. It's around 85km south of Adelaide, and perfect for a day trip or a weekend getaway.
Victor Harbor is a popular holiday destination during summer as the locals make their way here for a beach holiday from the city.
The best way to get to Granite Island, Victor Harbor, is by car. I recommend visitors to Adelaide pick up a rental car and self-drive as the roads are easy to navigate and well-signed.
Click here to compare car rental prices across all companies in one search
There is a public bus that goes direct from Adelaide to Victor Harbor but I do not recommend this unless you plan to stay at least overnight as it only runs once a day.
Another alternative is to catch the train from Adelaide to Seaford and catch a bus from there to Victor Harbor, giving a few more options each day. To see bus prices and timetables go to the LinkSA website.
A third option is to book a day tour to Victor Harbor. There are many options, but most of them also stop in the nearby wine region of McLaren Vale, as this one does.
About Granite Island
As you can probably guess from its name, Granite Island is, well, a granite island! It's only small, around 62 acres (or not even 0.25km square).
No one lives on the island, it is now a national park (Granite Island Recreational Park) with its most famous residents being a colony of fairy penguins.
Way back in the 1830s a whaling station was set up on the island, but that was only short-lived and is now long gone, mostly with no trace.
Granite Island is connected to the mainland by a 630m-long causeway. It has recently been rebuilt as the old causeway was deemed to no longer be safe. There is a short remnant of the original causeway near the Granite Island end of the new one.
Granite Island is sometimes also referred to by its indigenous name, Nulcoowarra.
Remember that as Granite Island is a national park, you cannot bring your dog onto the island.
Things to do on Granite Island
No matter what your budget is or how much time you have, here's what to do on Granite Island, South Australia, during your visit.
Catch the Horse Drawn Tram
Okay, you likely will do this to get over the Granite Island causeway, but if you do not want to catch the tram, it's an easy walk over the causeway.
The Horse Drawn Tram was first used to take passengers across to Granite Island in 1894. Since then the service has stopped and started as tourism has come and gone. Now it is firmly back in place with restored, double-decker trams running on rails across to the island.
Tickets for the Granite Island tram can be bought from where it departs.
Ticket prices (2023) for the horse-drawn tram are:
Return – Adults $20, Seniors/Concession $15, Students (14+) $15, Children (4-13) $15 (or 2 free per paying adult), children 0-3 Free
One Way – Adults $15, Seniors/Concession $10, Students (14+) $10, Children (4-13) $10 (or 2 free per paying adult), children 0-3 Free
There is also an annual membership available for unlimited rides – Adults $60. Concession $45
There are some combination packages, memberships and group discounts available, please see their website for more details.
Hike the Kaiki Walk
This Granite Island walk is a 3.3km loop trail, or if you prefer to shorten it, there is a path over the middle of the island that can cut the walk in half.
You will be able to compare the relative calm of the waters on the Victor Harbor side of the island to the rougher waves on the seaside, where there is nothing between here and Antarctica. Even on sunny, calm days, the power of the ocean here is palpable.
You will also be able to spot many of the different granite rock formations that the island is renowned for.
Do some Whale Watching
During the months of June to September, the waters around Victor Harbor are home to pods of Southern Right Whales as they come into the sheltered waters to mate and give birth.
Every now and then it is also possible to spot Humpback Whales in the area. Keep an eye on the sea as you wander around the island in case there are some about.
Grab a Meal or a Coffee at The Island Cafe
I was so excited on my recent visit to see that the Granite Island cafe has opened up again after being closed down for a few years. It was also nice to see that it was filled with customers getting some food or a drink.
Called The Island Cafe (Yes, we are creative with names around here!) it specialises in fresh seafood meals, delicious coffee and cocktails. In the summer there are plans for live music on some evenings too.
Do a Fairy Penguin Tour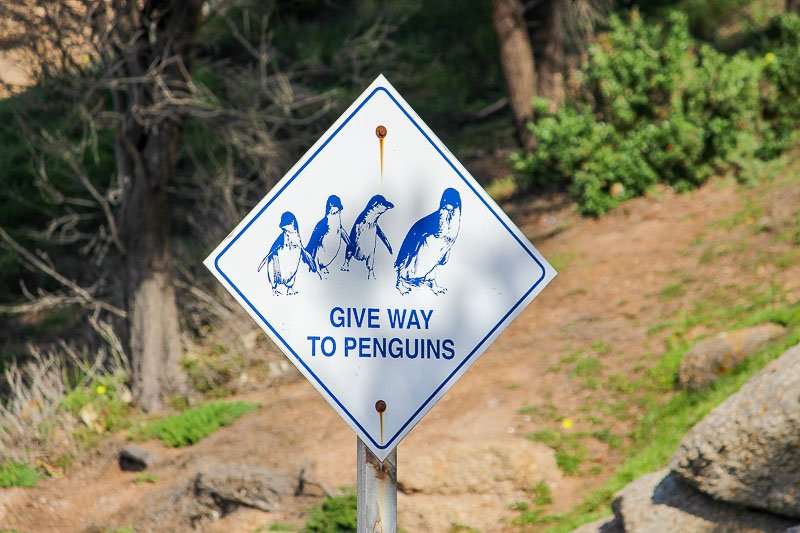 This is one of the best places to see Fairy Penguins (or Little Penguins) in South Australia. It's unlikely though that you will see any of the cute little critters as you are walking around the island as they are out at sea during the day.
In the past, there have been tours run in the evenings to see the Little Penguins, but after a devastating fox attack a couple of years ago the tours took a break.
There are currently only around 20 adult penguins left on Granite Island, and everything possible is being done to not disturb them, which means no tours. Hopefully, the numbers will continue to increase and the tours will resume.
Please do remember during your visit to not take dogs onto the island (there are fines for doing so) and to not disturb any penguins or penguin nests that you may inadvertently come across.
Otherwise, we may not have these fairy penguins to visit in the upcoming years.
Swim with the Tuna
As you make your way across the causeway to Granite Island you will see an enclosure in the sea to your left.
This is filled with Southern Bluefin Tuna. On these tours, you get transported to the Oceanarium by catamaran where you can view the tuna from the underwater platform, as well as aquariums of other local fish and even a touch-tank for the kids.
If you wish, you can don a wetsuit and jump in to experience swimming with these magnificent tuna.
There are a few different packages available, some of which also include a meal at The Island Cafe before or after your swim.
Click here to see the In Sea Aquarium Experience with no meal
Click here to see the Ocean Discovery Package including a light meal
Click here to see the Ultimate Oceanic Experience with a 3-course meal
Edit – unfortunately swimming with the tuna has been temporarily suspended due to Covid-19. Check their website here to see if they are up and running again.
Another Edit (2023) – sadly it looks like these tours will not be back, although I have not been able to get that confirmed. The website doesn't seem to be working, and on a recent visit, the tuna pen was no longer sitting in the bay. I will leave this here for a little longer but will remove it soon if I can't find any more information.
Go Fishing
With plenty of little spots just perfect for throwing out a line and catching a few fish, why not take your fishing rod with you across to Granite Island? This could be a great way to introduce your kids to fishing.
Granite Island fishing will net you fish such as bream, tommy ruff, mulloway and snapper in the waters around the island.
Take a Big Duck Tour
I saw a whole group getting kitted out in their waterproof suits for one of the Big Duck tours as I was walking across the causeway on my most recent visit. I then watched as the boat headed out and it looked like so much fun!
There are two different routes taken by this tour in their custom-built inflatable boat made just for the ocean conditions here.
The 45-minute tour takes you out to Seal Island to see the local seal population laying around in the sun. The 90-minute tour goes a little further along the coast to hopefully spot some whales or dolphins too.
Click here to book the Seal Island Tour
Click here to book the Southern Ocean Adventure Cruise
Visiting more great South Australian locations? These posts might help
Adelaide 3-Day Itinerary
Best Places for South Australia Whale Watching
Visiting Seal Bay, Kangaroo Island
---
Don't forget to come on over and join the Facebook group for more South Australian inspiration and to get all your questions answered. Click here to join now.
---
Please share this post with your friends and pin it for later