In December 2017 a completely new style of cellar door opened at the d'Arenberg Winery in McLaren Vale. This was no converted old stone building or a new building made to blend in with the vines and landscape. This was the d'Arenberg Cube, built to stand out and grab attention!
I wasn't sure what to think of the Cube when I first saw it. I don't think beautiful is the right word, in fact I am sure some people might call it an eyesore. After finally visiting the d'Arenberg Cube what I can now say is "You really need to go and see it for yourself!"
---
Have Questions? – Come and join the Facebook Group and ask any questions you may have about travel in South Australia. We can provide answers, make further suggestions and update you with the latest information. Click here to join now.
---
Where is the d'Arenberg Cube?
The d'Arenberg Cube is located on the site of the d'Arenberg Winery in the McLaren Vale wine region about one hour south of Adelaide in South Australia.
The best way to get to the d'Arenberg Cube is to self drive, but if you do not have a car there are some other options too.
Need a rental car? Click here to compare many companies in one search
Many wine tours to McLaren Vale from Adelaide will visit the d'Arenberg Cube, including the popular hop-on hop-off bus.
It is possible to get to McLaren Vale itself by public transport, but as the d'Arenberg Cube is a little out of the centre of town, I would not recommend this method to visit unless combining it with a taxi ride or a local pickup on the hop on hop off bus mentioned above.
If you do wish to use public transport, catch the train from Adelaide train station to Seaford, then swap to either a 751 or 752 bus. For more information and trip planning go to the Adelaide Metro website.
A Little About d'Arenberg
Established in 1912, d'Arenberg has been owned by the same family ever since. Now in it's fourth generation, it's Chester Osborn who is at the reins and the Cube is Chester's idea.
d'Arenberg produce a wide range of wines, both red and wine, with most of their grapes coming from the McLaren Vale region where they have 450 acres of vines. Some of their vines were planted as long ago as 1840, making them some of the oldest in the world.
(Due to it's geographical isolation, South Australia was never a victim of the phylloxera epidemic that destroyed many old vines around the world and other parts of Australia. So even though its a young state, only settled in 1836, it has this distinction of some of the oldest vines in the world)
While d'Arenberg produces the shiraz and cabernet sauvignon that the McLaren Vale region is known for, it also grows many other more unusual varieties of wine, both red and white.
It has won numerous top wine awards over the years, and is considered to be one of the top wineries in Australia. Their Dead Arm Shiraz regularly makes those "Best wines in Australia" lists each year.
The d'Arenberg Cube
In 2003 Chester Osborn came up with the idea of building a cellar door with a difference. He had travelled widely through Europe and thought that something distinctive was needed here. The Rubik's cube-like design was inspired by the puzzle that is wine-making.
Once started it took three years to build the Cube, and finally in 2017 Chester's vision was a reality. It has since been called things like "Chester's Folly" as it really is a tribute to his own quirky style and tastes, but by it's popularity, it seems to appeal to many more people too.
I would personally say it's the main drawcard for a visit to the McLaren Vale region.
The d'Arenberg Cube is five stories high. Here I will walk you through each of them.
Ground Floor – The Alternate Realities Museum
The quirkiness begins the moment you walk in the door – or rather, it begins outside, but I will get to that later. The Alternate Realities Museum is filled with contemporary art curated by Chester Osborn himself.
There are all sorts of displays here from paintings and Osborn family artefacts to a 360 degree "multiverse" playing a video of alternate realities.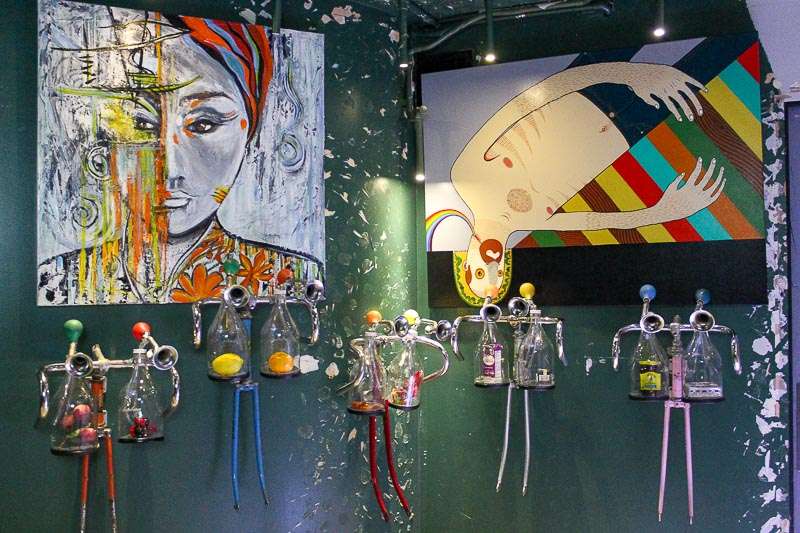 First Floor – Kitchen and Toilets
Yes, the kitchen and toilets have a whole floor to themselves. It doesn't sound so interesting, but it's still worth a short stop because of course nothing is boring in this building.
Spend a few minutes watching through the glass wall at the kitchen staff carefully assembling some of the beautiful plates that make their way onto the restaurant tables.
And then do duck into the toilets, because the quirkiness continues there. The walls are covered in murals or plants, and the urinals in the mens toilets are, um, slightly unusual too.
(One of the staff members encouraged everyone to go in and have a look – even the mens toilet. She just said to get a bloke to check first that there was no one in there!)
Second Floor – Exhibition Space
Currently on the second floor is the Dali exhibition. This was initially meant to only be at the d'Arenberg Cube for three months, but has been extended multiple times.
There are many bronze statues designed by Salvador Dali, including some showing his signature "dancing clocks".
There are also quite a few prints of his too. All pieces are for sale, and as they are sold, more are being added in their place so the variety of pieces is changing over time.
There were also some paintings by the Australian artist Charles Billich which I quite liked too.
Third Floor – Singapore Circus Restaurant
The original d'Arenberg Cube Restaurant closed down when Covid began, two years later a restaurant has again opened up here on the third floor of the cube. This time it is the south-east-asian inspired Singapore Circus.
Head chef Jamie Steele has brought back his experiences in Singapore to create a menu influenced by the hawker centres, so think laksa and chicken rice and chilli crab – all with a bit of a twist using local ingredients.
It's bold and loud and a little bit chaotic, just like the Newton Circus food centre it is named after, which fits perfectly with the rest of the d'Arenberg Cube.
I stopped in for lunch after our Blending Bench experience and was pleased to find they have a seperate vegetarian menu with vegan options.
We ordered some small plates to share and they were all delicious – my favourite was the Radish Cake. You could also choose a "Feed Me" menu where the chef serves up a mixture of foods.
Singapore Circus is open for lunches from 12-3pm every day. Bookings are essential. If, like us, you don't book, you will be seated at a high bench near the bar rather than one of the tables.
There is probably room here for 6-8 people, so you may miss out if it's busy.
Fourth Floor – The Tasting Room
Finally you will arrive at the fourth floor, and here is where you get to taste all the wines! Well, maybe not ALL the wines, there are over 70 different ones, but some of the wines.
We only tried a small selection as we were driving, but gosh, you could spent your whole day here just tasting these wines. We ended up walking away with a bottle of a premium red wine, a 2006 The Coppermine Road cabernet sauvignon.
The new release 2016 The Dead Arm shiraz was quite nice too. We only tried two white wines, and I would happily buy the 2018 The Broken Fishplate sauvignon blanc. Yes, d'Arenberg do have quite unusual names for all their wines.
While in the tasting room, make sure you duck outside onto one of the little balconies to take in the views over the McLaren Vale region. On one side you can see the sea, and on the other the hills.
I visited in winter so there was green as far as the eye could see. In summer the vista will be much browner in general, but the green of the leaves of the grapevines will stand out.
Around the d'Arenberg Cube
After visiting inside the Cube, there are also some other things to look at once outside. If you purchase wine, you will need to go to a nearby building – which is a converted old stone building – to pick it up.
On the way there is a small carnival tent filled with old circus games to have a look at.
Down the driveway are some more quirky pieces of art. There is a band made almost entirely our of old rubber boots, and two hands coming up out of the ground that represent the four generations of the Osborn family.
There are also two more venues on site. d'Arry's Verandah Restaurant is in the restored old homestead and serves meals using regional products to complement the d'Arenberg wines.
There are degustation menus available, including vegetarian and vegan options. d'Arry's Verandah Restaurant is open daily for lunch.
The second is the more casual Polly's Wine Lounge, where you can get a casual meal including delicious platters, and wine by the glass or bottle. You can enjoy these nibbles outside on the lawned area taking in the view over the McLaren Vale vines.
d'Arenberg Experiences
Along with just a standard tasting, there are many different experiences available during a visit to d'Arenberg. I was intrigued to watch The Blending Bench, one of the blending masterclasses that was happening in a side room of the tasting area.
Not only do participants learn about some of the types of wines, they get to blend them together, create a label and take home their very own bottle of wine.
Edit: I recently did The Blending Bench Experience – you can read all about it over in it's own post (coming soon), but needless to say that it was a lot of fun, even if it turns out that wine-making is likely not in my future.
Click here to book to Make Your Own Wine!
If making wine is not your thing, you might prefer the d'Arenberg Distilled Experience.
Here you can do some wine tasting at the Cube, have lunch at Singapore Circus, see the Dali exhibition and then take a short ride over to their sister venue, Setttlers Spirits for a gin tasting.
Or you could do the special Dead Arm Distinction tasting, a vertical tasting of four different vintages of the Dead Arm Shiraz.
d'Arenberg Cube Prices and Times
The d'Arenberg Cube opening hours are from 10:30am until 4:30pm seven days a week, closed only on Christmas Day and New Years Day bookings are essential for groups of more than six people.
The restaurants all have their own times, so please check them individually, You will also likely need a reservation for d'Arry's Verandah Restaurant.
Entry to the d'Arenberg Cube is $15. Extra exhibitions may cost more. At the moment entry into the Dali Exhibition is an extra $10.
Entry to the Cube is included with any restaurant booking, experiences or special tastings, and if you purchase two or more bottles of wine, $5 of your entry fee will go towards that.
Top tip: Download the d'Arenberg app to give you more information as you look around. Search for "d'Arenberg" in the app stores to find it. Available for both iOS and Android phones.
Planning more time on the Fleurieu Peninsula?
Things to do in McLaren Vale that Aren't Wine Tasting
27 Top Things to do in Victor Harbor
3-Day Fleurieu Peninsula Itinerary
Visiting more great South Australian locations? These posts might help
Adelaide 3 Day Itinerary
Best Places for South Australia Whale Watching
Things to do in Burra
---
Don't forget to come on over and join the Facebook group for more South Australian inspiration and to get all your questions answered. Click here to join now.
---
Please share this post with your friends and pin for later