Looking for a great option for tasting that famous McLaren Vale Shiraz? To save you from spending hours on the research, I've done it for you and have come up with this list of the best McLaren Vale wine tours available.
In 2016 Adelaide was named one of the Great Wine Capitals of the World. That's no surprise because we have some absolutely amazing wine regions right on our doorstep. It also means there are about a zillion wine tours to choose from for a day trip from Adelaide. Here are some of the best.
---
Have Questions? – Come and join the Facebook Group and ask any questions you may have about travel in South Australia. We can provide answers, make further suggestions and update you with the latest information. Click here to join now.
---
Where is McLaren Vale?
But first things first. McLaren Vale is a small town with a population of 4000, about 40km south of the Adelaide city centre in South Australia.
Getting from Adelaide to McLaren Vale takes about 45 minutes by car. It is possible to get there by public transport by taking the train to Seaford and then catching a #751 bus, but this will take twice as long.
A better option if you are planning some wine tasting is to look at the McLaren Vale tours from Adelaide. There will then be no concern about drinking alcohol while driving, and you will save a lot of time.
The main things to do in McLaren Vale revolve almost entirely around the wine industry, but for more ideas head to the McLaren Vale Information Centre on Main Street in town. This is also a great place to grab a McLaren Vale wineries map.
About the McLaren Vale Wine Region
South Australia has had vineyards pretty much since the day it was settled. This Wikipedia article claims that grapes were first planted in 1836, but I find that hard to believe since Europeans first landed here on December 28th, 1936.
Most other sources say 1837, but whichever is correct, it was within months of settlement at the latest. Winemaking, therefore, is something of an institution in South Australian culture.
McLaren Vale was right up there with the first regions to have wineries, with grapes planted here for the first time in 1838.
With a Mediterranean climate, the McLaren Vale vineyards mostly produce Shiraz, Cabernet Sauvignon and Grenache, although there are now many other varieties available in smaller amounts.
The most common white wine to find is Chardonnay.
Currently there are more than seventy cellar doors in the McLaren Vale region available to visit. Many offer both wine tasting and food options.
One that really stands out is the spectacular d'Arenberg Cube cellar door, housing not only the cellar door, but a restaurant and the "Alternate Realities Museum".
The five story structure also provides views across the vineyards and in my opinion should be a part of every one of the McLaren Vale tours.
See my full article on the d'Arenberg Cube here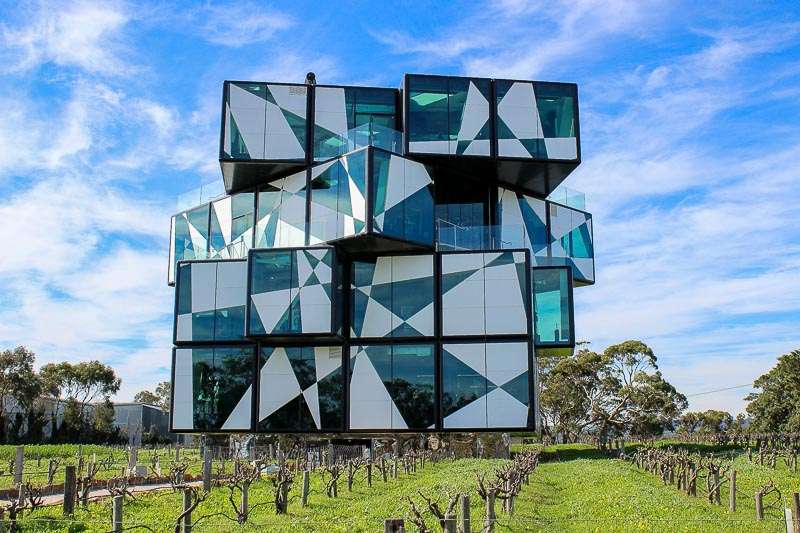 Best Full Day McLaren Vale Wine Tour
If you want a full day wine tour but without the frills, then this one is for you. You will be picked up from your Adelaide, Glenelg or McLaren Vale hotel by the minibus for your small group tour.
There will be narration on the bus from your tour guide as you make your way to the McLaren Vale wine country.
The wineries you visit will be decided on on the way to McLaren Vale with the groups preferences taken into consideration.
While lunch is not included, there will be a stop in McLaren Vale township so you can choose amongst many places to eat, and perhaps visit The Chocolate Factory and The Almond Train.
Click here to see the latest prices and availability for this tour
Best Half Day McLaren Vale Wine Tour
Wine tasting is best done at leisure, but if you only have half a day spare there are still some options for a McLaren Vale winery tour.
This afternoon tour will take you to two wineries as well as have time for a stop in the heart of McLaren Vale township.
On the way back into the city explore Glenelg, and either leave the tour there and enjoy an evening in Glenelg before making your own way back to the CBD or continue on to be dropped back at your hotel.
Click here to see the latest prices and availability for this tour
Best Hop On Hop Off Wine Tour
Do you want to do some wine tasting, want to avoid drink driving, have flexibility and keep the costs down? Then the hop-on hop-off wine tour is perfect! Pick up is from the Adelaide CBD or you can join the tour in McLaren Vale.
The air-conditioned coach loops around fifteen McLaren Vale cellar doors and you can get on or off as many times as you wish.
Being the best of the cheap McLaren Vale wine tours, you can pack a picnic and enjoy lunch overlooking the magnificent Fleurieu Peninsula or combine with a delicious lunch from one of the local eateries.
Click here to see the latest prices and availability for this tour
Best Tour Combining McLaren Vale Wine Tasting & Other Towns
Sure you want to do some wine tasting at the McLaren Vale vineyards, but you also want to see a little more of the region too. The solution is a tour that covers the whole Fleurieu Peninsula.
This tour picks you up in the Adelaide CBD then drives through the picturesque Adelaide Hills, stopping briefly in Strathalbyn for morning tea before continuing on to Goolwa.
From there it's on to Victor Harbor for some lunch and free time to explore the town and Granite Island. After lunch it's back to McLaren Vale for wine tasting before returning to the city.
Click here to see the latest prices and availability for this tour
Best McLaren Vale Wine Tour including Lunch
Experiencing the McLaren Vale food goes hand in hand with visiting the wineries and this tour does both. This full day small group tour includes visits to a handful of wineries and will stop for lunch at one of the wineries visited throughout the day. Pickups are done in the Adelaide city centre and Glenelg
Click here to see the latest prices and availability for this tour
Best Private Wine Tour to McLaren Vale
If your idea of the perfect day is travelling around McLaren Vale in a luxury vehicle, with your private guide and tasting wines at boutique wineries, then this is the tour for you.
You will have a lunch at one of the well-regarded McLaren Vale winery restaurants for a delicious meal with matched local wines.
Participants can be picked up from the Adelaide city centre, Glenelg or any of the southern suburbs on the way to McLaren Vale.
Click here to see the latest prices and availability for this tour
Best Private Tour with Your Own Itinerary
You know exactly which wineries you want to sample and just need a driver to take you in style? This tour is for up to only four people in your group in a late model BMW 5 series.
Since this tour is completely customised, you can be picked up anywhere in the Adelaide area, including from the city centre, your home address or from the cruise ship terminal.
It is also possible to include attractions along the way that are not wineries. If you are unsure about the itinerary you would like to do, they can also make some suggestions.
Click here to see the latest prices and availability for this tour
Best Wine Bike Tour in McLaren Vale
So you want to travel more slowly, enjoy the scenery and work off the good food and wine you are about to try? How about doing a wine tour by bike.
You will be picked up in Adelaide and taken down to McLaren Vale where you will collect your mountain bike.
During the day you will cycle through Kuitpo Forest and visit at least two wineries for tastings.
You will be served shared platters of local produce for lunch. Your guide is a local who will happily tell you all about the region.
Click here to see the latest prices and availability for this tour
Best Winemaking Tour
There are plenty of masterclass experiences in McLaren Vale teaching visitors about the wine-making process.
While I was unable to come up with a tour including them, they can be easily added into some of the more flexible options above. Here are some of the experiences.
Click here to see details of the d'Arenberg McLaren Vale: Make Your Own Wine class
Click here to see details of the Wirra Wirra Vineyard McLaren Vale: Winery Tour and Shiraz Masterclass
McLaren Vale Accommodation
Since most of the McLaren Vale wine tours will do pickups either in the Adelaide city centre or in McLaren Vale itself, why not consider staying in the region for a day or two to enjoy all there is on offer.
Here are some suggestions for where to stay in McLaren Vale for all sorts of budgets and styles.
Visiting more great South Australian wine regions? These posts might help
Barossa Valley Wineries You've Never Heard Of
Best Coonawarra Wineries for a Wine Tasting Weekend
Wine Tasting Adelaide
---
Don't forget to come on over and join the Facebook group for more South Australian inspiration and to get all your questions answered. Click here to join now.
---
Please share this post with your friends and pin for later