In South Australia Flinders Ranges are one of the top attractions and places to visit. They are renowned for their ancient landscape and spectacular deep red mountains. Here are the best things to do in Flinders Ranges.
The Flinders Ranges are a good weekend getaway from Adelaide, a stop on the way to the Eyre Peninsula, or even better if you can spend a week thoroughly enjoying the area.
While it's great to get away from it all for a while, you will likely want something to do while you are visiting the Flinders Ranges. These are my favourite attractions.
---
Have Questions? – Come and join the Facebook Group and ask any questions you may have about travel in South Australia. We can provide answers, make further suggestions and update you with the latest information. Click here to join now.
---
Things to do in Flinders Ranges
Many people go to the Flinders Ranges just to enjoy being out of the city. It's a fantastic location for families just to camp and enjoy time together doing outdoor activities. There is plenty of space to run and explore, so many different walks to do and dozens of scenic drives and lookouts.
While this is a great way to spend a few days, why not incorporate some of the incredible things to do in the Flinders Ranges too? Here are some of the most popular Flinders Ranges tours, attractions and activities, as well as one or two more obscure and unique options, to fill up your time.
Take a Scenic Flight over Wilpena Pound
When it comes to what to do in the Flinders Ranges this just might be the best! I was lucky enough to take a scenic flight over Wilpena Pound on my very first visit to the Flinders Ranges when I was a child.
I had hoped to do it again on a recent visit, but things were still opening up after the covid closures and I was a week or two too early. A Wilpena Pound getaway including a scenic flight is one of the top trips in South Australia.
Wilpena Pound (or Ikara as it is known by the traditional owners, the Adnyamathanha people) is an incredible natural amphitheatre and it is best appreciated from the air. The above video by one of the local operators, Chinta Air, gives you an idea of what you will see on the scenic flight.
Chinta Air takes off from the airstrip at Rawnsley Park Station. Basic flights are starting at only 20 minutes long to give you a simple look at Wilpena Pound, or there are much longer flights that show you more of the surrounding area too.
There are full-day tours by plane available that will take you over Lake Eyre too. These flights are particularly incredible when Land Eyre is in flood. For more details on these – and other – scenic flights, take a look at the Chinta Air website.
Other places offer flights too. You can book directly through the Wilpena Pound Resort for flights that take off and the airstrip nearby. Also, take a look at the Wrightsair website for options.
Hiking at Wilpena Pound
There is a good selection of Flinders Ranges hikes available in and around Wilpena Pound, the most well-known of the Flinders Ranges natural attractions.
There are a handful of short, discovery walks with information boards around the Wilpena Pound Resort that are great to do with kids. There is also a moderate hike to the Wangara Lookout which has some great views over the inside of the pound. This is one of the few things to do IN Wilpena Pound.
For the keen hikers looking for a challenge, there are some much more serious hiking trails too, like a climb up Mount Ohlssen Bagge and a long day hike to St Mary Peak, which at 1168m is the highest point in the Flinders Ranges.
It's not recommended that you hike to the top of the peak though, but stop just a little short of it at the Tanderra Saddle so that the wishes of the local Adnyamathanha people are respected. St Mary's Peak is a significant sacred site for them. The whole hike will take around nine hours.
There are a lot more Flinders Ranges hiking options in other areas too. The famed Heysen Trail ends at Parachilna Gorge so runs through much of the Flinders Ranges. There are some hikes around Brachina Gorge and in other places such as Alligator Gorge near Wilmington, Warren Gorge and Devil's Peak near Quorn.
During summer in the Flinders Ranges things can get particularly dangerous with the extreme temperatures and bushfires. It's always a good idea before leaving on a hike to check the local conditions and make sure someone knows where you are going and when you will be back.
There is a book at Wilpena Pound Resort to fill in as you leave on your hike to help with this. Some trails are closed over the summer months as it does get very hot in this region and there is a high risk of bushfire. The rugged terrain means search and rescue is difficult at the best of times so don't put yourself at risk.
If you prefer, Wilpena Pound Resort offers a guided tour of Wilpena Pound. Call into the Visitor Information Centre for more details and to book.
Sacred Canyon and More Aboriginal Culture
Spending a little time learning about the local Aboriginal culture and their connection to the land is a must-do in the Flinders Ranges. Wilpena Pound Resort offers two different cultural walking tours led by an experienced Adnyamathanha guide (or "Yura" guide as the Adnyamathanha people refer to themselves).
Click here to see details & book Yura Udnyu – Our Culture, Your Culture (Aboriginal Cultural Walk)
Click here to see details & book Sacred Canyon – Yura Mulka – Aboriginal Cultural Walk
The cultural heritage tours teach about the diversity of the Flinders Ranges including the native animals and plants and how that intertwines with the Aboriginal history and culture. There will also be seasonal bush tucker information. Some of the walks also show Aboriginal rock art telling the dreaming stories of the Flinders Ranges.
Each evening there is also a free "Welcome to Country" near the flagpole outside of the reception building at the Wilpena Pound Resort. Lasting for 30 minutes, you will see the traditional welcome, as well as some Yura songs, stories and dances.
While technically not in the Flinders Ranges, I also would like to recommend a visit to the Wadlata Outback Centre in Port Augusta to learn about the Aboriginal culture. There is some great information explaining the Adnyamathanha dreamtime stories of the Flinders Ranges, including the creation story of Wilpena Pound and the Flinders Ranges' history.
Another option for Aboriginal cultural experiences is to visit Iga Warta in the Northern Flinders Ranges. Owned and operated by the local Aboriginal people, Iga Warta offers accommodation (including safari tents, cabins and camping grounds) as well as some fantastic experiences.
You can do an overnight camping tour, learn about secret women's business, taste some bush tucker and more. Take a look at the Iga Warta website here for all the different options.
Hike to Arkaroo Rock
If you would like to see a little Aboriginal Rock Art but can't join in the tour to Sacred Canyon, there is a nearby walk to Arkaroo Rock that will allow you to see a sample of the art.
The walk starts from the main highway just south of the Wilpena Pound Resort turnoff and is about 3km long. The path is quite rocky and a little uphill, but worth the effort, not just for the rock paintings, but for the views over the nearby Chace Range too.
You will have a dilemma when deciding to come here though – the rock art is best seen in the morning light, but the best views over the Chace Range are at sunset! Perhaps you will need to visit twice!
Eat Feral Food at the Prairie Hotel
The Prairie Hotel in Parachilna is a well-known South Australian icon, serving up Flinders Feral Food, mostly sourced from the local area.
While this might conjure up images of the roadkill often seen on the side of the highway in the area, be assured the Prairie Hotel serves up top-quality kangaroo fillet, emu patties, camel sausage rolls and goat chops, along with many other Australian native plants and flavours as part of their feral fine dining.
They make their own desserts, (including gelato!) and even serve craft beer and wine from the Flinders region.
Parachilna is a long way from anywhere, but luckily they do offer accommodation here at the Prairie Hotel too. To see availability and book a room click here. There is also an airstrip under construction that will soon make a visit to Parachilna much easier.
Note: Please keep an eye on the Prairie Hotel website for information. They usually take a break and close down over the hotter months of the year from November to February as it is too hot at that time of the year.
Take a Look at Fossils in SA's Newest National Park
Located about thirty minutes north of Parachilna is the new Nilpena Ediacara National Park, established in 2021.
This is the location of the Nilpena Fossils, considered to be the best record of early animal life and is among the oldest examples of multicellular organisms in the world. The fossils here date back 550 million years. The fossils here are heritage-listed and internationally significant.
Infrastructure in the National Park is in the process of being built, but at the moment, the only way to see the fossils is through a private tour. The Prairie Hotel has a brand new package available to visit the nearby fossil sites. Contact the hotel directly for more details. It is expected that the park will be fully open in the latter half of 2023.
Look at Some Really Old Rocks
Really old fossils mean that there are some really old rocks to see in the ancient mountain ranges of the Flinders Ranges. One of the best ways to take a look at some of them is to drive the Brachina Gorge Geological Trail.
This 20km section of dirt road is best tackled with a 4WD, although in good conditions a 2WD would likely be okay. (Do not attempt it if it has recently rained. Ask at the Wilpena Pound Resort Visitor Centre if in doubt.)
Along the way you will see interpretive signs pointing out some of the ancient rock formations, taking you back in time through geological history to 600 million years ago. You will also see some stunning scenery with viewpoints over the ranges along the trail.
While in Brachina Gorge, keep an eye out for the endangered Yellow Footed Rock Wallabies. These little guys are quite rare. Look out for them around sunrise and sunset when they tend to be more active.
For more about Brachina Gorge and the yellow-footed rock wallaby, see this post by my friends at Curious Campers.
Don't have a 4WD but still want to visit Brachina Gorge? Take this half-day tour from Wilpena Pound Resort through Brachina Gorge and Bunyeroo Gorge and see the Yellow-Footed Rock Wallabies along the way. Click here for prices and availability.
Spot Plenty of Australian Animals
The Yellow-footed Rock Wallaby isn't the only marsupial around here, there are plenty of others to find too.
One I am excited to see sometime is the Western Quoll. They have recently been reintroduced to the area after being extinct here for over a hundred years. They are doing quite well, but I have yet to personally come across one.
What you can't help but see will be kangaroos. They are all around the area. We even saw one right on the lawn of the Wilpena Pound Resort drinking from the sprinkler. You will see emus quite regularly parading around, even through the campgrounds.
Another kangaroo-like creature you will see out here is the Euro, or more correctly, the Western Wallaroo. We saw them hiking inside Wilpena Pound, but you can see them in other areas too.
A second re-introduced species that I also have not yet been able to spot is brush-tailed possums. Hopefully, these guys will also thrive and become more common again.
Bird life is abundant. There are so many different types around. Listen out for the distinctive call of the kookaburra, especially in areas around the creeks, like in Melrose or at the Wilpena Pound Resort. You could also see the bright green ringneck parrots that call the area home.
There are also some creepy crawlies here too. On one visit in February, we admired the huge webs of golden orb spiders hanging between the trees at the Wilpena Pound Resort campgrounds. Don't worry, these guys may build a huge web, but they are harmless to humans.
Do keep an eye out for other spiders, scorpions and even snakes and give them a wide berth during your visit.
Learn about the History of Mining at Blinman
The town of Blinman, 45 minutes from Wilpena Pound in the northern Flinders Ranges, was once a mining town, with copper discovered there at the end of the nineteenth century. The copper mine stopped operating in 1907, and the town of 1500 residents has dwindled over time down to just 24 permanent residents today.
In 2011 the Blinman Heritage Tourist Mine was opened, with a small museum in town and the option to go on a tour of the copper mine site with one of the locals.
The tour is somewhere between a historical tour and a dramatic reenactment, with sounds and light effects to add to the atmosphere. Find out why there is a face on the walls in the back of the cave during the tour.
If you want something special, ghost tours are also run in the evenings to give the mine site a whole new atmosphere.
To see more details and to book, see the Blinman Mine website here
Visit Wadna
I could have put this with the Aboriginal cultural experiences above, but I wanted to highlight this on its own. While the business has been going for a while, in September 2020, Kristian & Gabrielle built a shed on their property just 2km outside of Blinman (follow the signs).
This shed has become a showroom for not only Kristian's art and carvings but the art from many other Adnyamathanha people too. There are also lots of non-traditional products made either from local ingredients or by the local people, like teas, honey, skin care products and souvenirs.
During our visit, we enjoyed chatting with both Kristian and Gabrielle, watching Kristian at work carving, and admiring some of the incredible Aboriginal art. Kristian also does cultural awareness tours and can do tours to places the Adnyamathanha people have closed off to the public, such as Sacred Canyon.
If you are interested in a tour, contact them through the Wadna Facebook page, or call in and have a chat. If you don't have time for a tour, calling into Wadna is just a small way to learn a little about the local people and their artwork.
Stay and Play at Arkaroola Wilderness Sanctuary
In the northern part of the Flinders Ranges, you will find the Arkaroola Wilderness Sanctuary. This area has been set up as a tourist destination since 1968 and is well known for arguably the best Flinders Ranges 4WD tour.
This is a place for relaxing, exploring and learning about the incredible landscape. Arkaroola could be described as an "all-inclusive" location as there is not only accommodation available here, but a restaurant and pub, a small store as well as plenty of attractions.
The accommodation at Arkaroola covers all styles and budgets, from entire houses, a bunkhouse, cabins and both powered and unpowered sites for campers and caravans.
Click here to view availability and book Arkaroola Accommodation
The most popular of the Arkaroola attractions is their signature Ridgetop Tour. This half-day 4WD tour takes you through the oldest part of the already ancient Flinders Ranges, combining the spectacular scenery with some adrenaline from traversing the remote dirt 4wd tracks.
Click here to learn more and book Your Ridgetop Tour
A new addition in 2023 to the experiences available is the Digital Astro Experience at the Ningana Imaging Observatory. You will be able to view the stars and planets in real-time but do it inside. Take a look at the website here for more details.
Once you've viewed the stars inside. head outside and do some star gazing under the night sky, one of the best places in the world to see the stars. Arkaroola has been officially designated as an International Dark Sky Sanctuary.
Other activities include scenic flights, astrology, Aboriginal cultural tours, more 4WD tours, bushwalking and more. There is something here for everyone to enjoy in their incredible Flinders Ranges location.
Ride a Steam Train on the Pichi Richi Railway
In the town of Quorn, you can find one of the best Flinders Ranges attractions. Jump on board one of the many different steam trains to enjoy rattling through the countryside like to early settlers did when rail travel was the way to get around.
With trips ranging from whole days to only a few hours, there is something to suit everyone. Look out too for specialty trips with meals or evening trips with sunset views.
With the high risk of fire danger, the steam trains do not run in the warmer months, instead, a diesel engine does some trips before a break altogether over the hottest summer months. Booking in advance is highly recommended as often the services are sold out.
Read more about the Pichi Richi Railway in my post here
Enjoy the Quorn Silo Light Show
While you are in Quorn, make sure you stick around into the evening to enjoy the Quorn Silo Light Show, a Flinders Ranges must-see. This is one of the new Flinders Ranges things to do, starting up only a few months ago. As the sun goes down the silos come to light.
While the displays are intended to change over time, during my visit they consisted of photos of some of the local trains of the Pichi Richi Railway, photos of the Flinders Ranges and surrounding area, photos of native flora and fauna, local events, and artwork done by local artists. The show lasts for about three hours after sunset.
See more of South Australia's Silo Art here
Watch the Sunset at Pugilist Hill Lookout
Located just outside the Ikara-Flingers Ranges National Park, this hill provides fantastic 360-degree views and is the best sunset location of the Flinders Ranges.
From this vantage point there are views of Wilpena Pound in one direction, and the Chace Range in the other, so while it is spectacular at sunset, it's just as good at sunrise too.
Another sunset viewpoint in the Flinders Ranges is Station Hill Lookout on Rawnsley Park Station.
This also gives 360-degree sunset spectacular views, this time over Rawnsley Bluff, the Elder Range and Chase Range. (Note: Even if you are not staying at Rawnsley Park it's okay to visit the lookout)
For yet another view, the sunset at Stokes Hill lookout is also popular.
Book a sunset tour from Wilpena Pound Resort
Step Back into Time at the Kanyaka Ruins
Between Quorn and Hawker are the decaying ruins of the Kanyaka Homestead one of many historic sites in the area. This station was originally home to about 70 families so there are quite a few buildings around as well as a cemetery.
Take a wander around to spot all the parts of this busy working cattle and sheep station, including cottages, workshops and the woolshed a little further up the creek bed. The site is now heritage-listed.
The founder was Hugh Proby, who died when he was thrown from his horse and drowned during a thunderstorm some distance from the settlement.
Quite ironic since this area is usually incredibly dry. He was buried where he died, so you will also see a sign on the main highway to Proby's Grave. It's about 20km along that track before you will come to the burial sight.
Explore with a Camel Trek
Two companies in the northern Flinders Ranges offer a variety of camel trekking opportunities. Camel Treks Australia can be found at Beltana Station, and Flinders and Beyond Camel Treks are located at Blinman.
A camel trek with them is a fabulous way to explore this area and to go places that vehicles cannot get to. it's a great way to learn about the history of the camel in central Australia and appreciate how hard it was for our early settlers. Without the camels, exploring this remote area would have been impossible.
I may have spent two of the most uncomfortable hours of my life on the back of a camel in the Middle East, but the saddles here look so much better and the reviews are fabulous, so I am tempted to give it a go again.
For more details contact Camel Treks Australia or Flinders and Beyond Camel Treks.
Hike in Alligator Gorge
Alligator Gorge is located just outside the town of Wilmington in the southern Flinders Ranges. It is part of the Mount Remarkable National Park and offers a great bush area for hiking.
There are some shorter hikes to see some of the highlights, and a longer loop hike to take in all the area has to offer.
Access into the gorge can be tricky, particularly if the road is wet. Take note of the signage on the highway, and if in doubt, speak to the locals at the service station in town.
You will also need a National Parks Pass before you visit. Purchase one online in advance, or pick one up at the service station in town. Hours are limited, so online is the best option here.
Climb Mount Remarkable
If you are looking for a challenging day hike, take the trail from the centre of Melrose up to the top of Mount Remarkable. Depending on which of the two trails you take, the return walk is about 15km and takes about five hours.
The trail is not too difficult apart from the fact that the first half is all uphill. Pack some snacks and water and take your time admiring the views over the surrounding flat countryside as you hike to the top.
There are dozens of walking trails in and around Melrose in the Mount Remarkable National Park, so if the climb to the summit of Mount Remarkable is a bit much, there are others to choose from.
The walk to Cathedral Rock is another that offers some great views, and while there is some uphill hiking, it's not as strenuous as the summit climb.
For a gentle stroll, make your way along the path by the creek bed in town. The scrub is beautiful and full of local wildlife. I have encountered kangaroos just metres away, right near the town.
Go Wine Tasting
You may not have expected to find wine in the Flinders Ranges, but this IS South Australia and I think there is wine everywhere. The Southern Flinders Ranges are one of the eighteen official South Australian wine regions. While there are a few vineyards around, there are not a lot of cellar doors for tasting (although that is changing).
One cellar door to visit is Blesings Garden Wines located near Wirrabara. This is a family-run winery and they have built a small cellar door on the farm overlooking a picturesque valley and the vines.
We visited late spring and it was lovely sitting out on the verandah sipping their delicious wines. David and Margaret are the epitome of country hospitality and will happily sit down with you for a chat.
The cellar door is open seven days a week 10 am – 5 pm so if you are driving past make sure you pop in.
A new cellar door has recently opened at Bartagunyah Estate, just outside of Melrose. I've yet to visit myself, but the website says just to "drop in" anytime. While in Melrose, call into the North Star Hotel and do a tasting of the Bundaleer Wines grown in the nearby Bundaleer Forest area.
Visit a Museum or Gallery
There are a smattering of small museums and art galleries throughout the Flinders Ranges. Most of them focus on the history of the small towns they are in, but there are one or two others that focus on specialty subjects. Spend some time checking out these museums
Melrose Heritage Museum
Wilmington Toy Museum
Sansouci Puppet Museum and Gallery (Wilmington)
Pichi Richi Railway Museum (Quorn)
Jonas Jaga Aboriginal Art Gallery (Quorn)
Fred Teague's Museum (Hawker)
Jeff Morgan Gallery (Hawker)
Call into the Cazneaux Tree, just minutes from Wilpena Pound Resort for a living gallery with an artistic history. This tree is a red river gum that was made famous by photographer Harold Cazneaux back in the 1930s in his work called "The Spirit of Endurance".
The South Australian National Trust now lists the tree as a significant one. (Out of curiosity I searched for the location of the photograph today and found it is owned by the Art Gallery of New South Wales, but it is not currently on display.)
Stay for a Local Event
Just in case you need another reason to visit the Flinders Ranges, keep an eye out for local events. Take advantage of the fantastic country hospitality and see how these people enjoy themselves as they come from near and far.
There are too many events for me to list, but as just some examples, look out for the Quorn Races or the Wilmington Rodeo. There's Land Speed Racing on Lake Gairdner and the Fat Tyre (Mountain biking) Festival in Melrose.
You can find art shows, markets, agricultural shows, fun runs, music festivals, and even air shows.
Enjoy the View from Razorback Lookout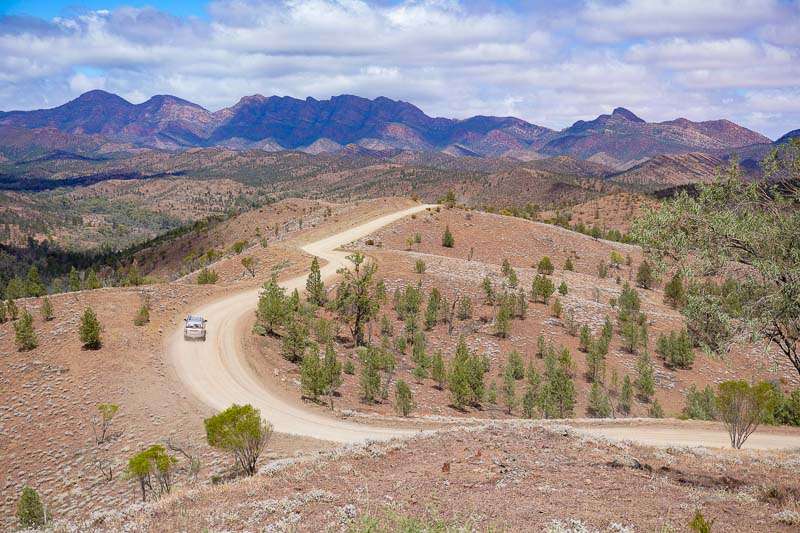 This is one of the most popular spots in the whole of the Flinders Ranges, and it is one you have likely seen in photos before you even visit – the Razorback Lookout.
The lookout can be found on Bunyeroo Road, with views towards the beautiful Heysen Range.
If you have the opportunity, I suggest visiting at a few different times of the day as the changing light and how the light hits the hills here make for very different – but all equally stunning – views. Sunrise at the Razorback Lookout is particularly nice.
While driving along the Bunyeroo Gorge, also stop at the other lookouts along the way, like the Bunyeroo Valley Lookout. The views might be similar, but they are always spectacular and never get old.
Do a Tasting at Flinders Gin
Located in Quorn, Flinders Gin produces unique flavours of gin, using ingredients local to the Flinders Ranges area. Try the Quondong Gin or the Outback Lemon Lime Gin in the historic renovated stables that now serve as their tasting rooms.
The Flinders Gin tasting rooms are open from 11 am until 5 pm every day and while they don't do food, they encourage you to bring your own snacks or pick up some takeaway from the local Quorn traders – maybe pick up some Quandong pie to go with the gin, delicious!
If gin is not your thing, there is a range of beers and wine available here too, and even some non-alcoholic options for the kids and drivers.
Dogs are also welcome here – they will probably meet the resident distillery dog, Ernie, who is becoming a celebrity in his own right!
Looking for Places to Eat in the Flinders Ranges?
As you drive around the area, you will likely be looking for places for lunch, a snack or even just a coffee. I've already mentioned the Prairie Hotel above, but there are plenty more options offering some great food and drinks. Here are some of my favourites in the area.
Getting To the Flinders Ranges
The Flinders Ranges cover a huge area in outback South Australia. They start about 200km north of Adelaide, then continue northward for another 430km. Depending on exactly where you are planning to go, it can be a short trip or it can become a real road trip. Flinders Ranges Outback road trips are a popular getaway in the region.
For access to all the areas in the Flinders Ranges a 4WD car is recommended, but it is still possible to see a lot with only a 2WD. My last trip up there was in a 2WD and we didn't feel we missed out on anything.
The most convenient way to get to the Flinders Ranges is to drive. You do need to have a car to get around the area for the best experience.
Usually, you can cut a few hours off the trip by flying into Port Augusta from Adelaide and hiring a car there, but at the moment flights are not running due to the impact of Covid. Keep an eye out for details on flights in the future on the Rex website here.
There are also buses available to Port Augusta and some of the towns in the region. See the Stateliner website for details.
If you have a 2WD but would like to rent a 4WD for a few days, another option is to drive to Hawker and contact Flinders Ranges 4WD Hire who can set you up with a 4WD for just a day or for longer if you need.
Need to rent a car to get to the Flinders Ranges? I use and recommen d RentalCars.com
CLICK HERE TO SEARCH FOR YOUR RENTAL CAR
Do you prefer a tour to the Flinders Ranges? SA Eco Tours has some fantastic options leaving Adelaide to suit everyone.
Take a look at the 3-day tour for those short on time, or the longer 5-day tour to really experience the area. If you are going this far, you might also want to add on Coober Pedy, which you can do with the 7-day tour.
Where to Stay in Flinders Ranges
My top suggestions on where to stay in the Flinders Ranges are the towns of Melrose, Quorn or Blinman or at the Wilpena Pound Resort. When deciding which is best for you, think about what to do in Flinders Ranges to suit your holiday style.
A Wilpena Pound escape including scenic flight and some hiking inside Wilpena Pound is a popular way to enjoy this area – but it's certainly not the only option for your Flinders Ranges adventure.
There is a wide range of Flinders Ranges accommodation styles available too. There are plenty of pubs, motels and B & B style options for all budgets. Don't expect five-star luxury and facilities, but you will find many very comfortable and hospitable places to stay.
Station stays in the Flinders Ranges are becoming ever more popular and are a great way to support the local people too. My favourite Flinders Ranges sheep station to stay on is Mt Little Station, but Rawnsley Park Station is another option with more facilities (and it's dog-friendly)
Camping in the Flinders Ranges is also popular, but make sure you learn about restrictions on places to camp before you go. There are plenty of designated areas, from caravan parks to station bush camps and like all of South Australia's national parks, camping options there too.
And if Flinders Ranges camping is just a bit too basic for you, you can add a bit more luxury to the experience by going glamping in the Flinders Ranges instead!
Here are just a few suggestions to get you started on your search:
Other towns to consider are Hawker and Wilmington, or The Prairie Hotel at Parachilna.
The Best Time to Visit Flinders Ranges
The northern part of the Flinders Ranges is best visited outside of the hottest months of the year. I would recommend only planning a trip there from March until October. Firstly, the heat can make the experience unpleasant when many of the things to do are outside. No one wants to be hiking in 40-degree temperatures.
There are also a lot of restrictions in summer to what you can do. Many of the longer hikes are closed, some of the local businesses are closed or have restricted hours, and you cannot have campfires or any other fires that may cause bushfires.
And talking of bushfires, if one does occur, you may not be safe. The area is rugged and isolated, making communication and access very difficult. There is only so much the local fire crews can do.
The Southern Flinders Ranges can be visited all year round.
Important Notes about Visiting the Flinders Ranges
You will need a National Parks pass for the Ikara – Flinders Ranges National Park and/or Mount Remarkable National Park.
Day passes are available for $13 and can either be picked up from your accommodation when you book, bought at the Wilpena Pound Visitor Information Centre or purchased online in advance from the National Parks website here.
If you are a regular visitor to South Australia's National Parks, I recommend getting an annual pass – again available from the website.
There are many roads once you reach the Flinders Ranges that are unsealed and are therefore subject to flooding and other issues in bad weather. To find out the current road conditions, refer to the Outback Road Warnings on the Department of Transport website here.
Try to stick to driving in the Flinders Ranges only during daylight hours. Once the sun goes down – and especially during those dawn and twilight times – there will be a lot of wildlife around.
This an issue for wildlife, particularly those endangered species such as the Quoll and the Yellow-Footed Rock Wallaby, but also for yourself. If you do happen to hit a large kangaroo, your car may be un-drivable in an area where there is no phone reception and little passing traffic.
Mobile phone coverage is not great throughout this remote area so it is best to assume you will not have any coverage unless in the bigger towns such as Melrose, Wilmington, Quorn and Hawker.
During my last visit to Wilpena Pound Resort, my phone using the Optus network did not have service. My husband's phone on the Telstra network did have some service.
Wi-Fi is available only to those who stay in the motel/hotel-style accommodation, but there is a Wi-Fi zone around the Visitor Information Centre for general use.
Once north of Port Augusta services are limited to the basics. Most towns will have a small supermarket for supplies and somewhere to buy fuel.
Other than that, assume there is little else and you will instead perhaps be surprised. There is also the small Wilpena Pound IGA located at the Wilpena Pound Resort which has some supplies. Fuel is also available here.
I know I have mentioned it throughout this post, but I want to include it again – the Flinders Ranges can get very hot during the summer months. By hot I mean temperatures well into the 40's (Celcius).
Some areas are also very prone to bushfires at this time of year. Combine this with how remote the area is and the lack of phone coverage, it can become dangerous.
Since most Flinders Ranges activities are outside, I would not recommend visiting the northern part from November to February unless it's a last-minute option and the weather is going to be a little milder.
Looking for places to stop on the way to the Flinders Ranges and Outback? Check out our driving guide
Driving from Adelaide to Flinders Ranges
Visiting more great South Australian locations? These posts might help
Adelaide 3-Day Itinerary
23 Unique Things to do in Coober Pedy
Things to do in Burra
---
Don't forget to come on over and join the Facebook group for more South Australian inspiration and to get all your questions answered. Click here to join now.
---
Please share this post with your friends and pin it for later