Even though I have visited the Adelaide Central Market numerous times, I still get a thrill as I walk through the doors. There's just something about the noise and activity, the colours and the smells that makes this a magical place.
There's always the clink of cutlery, the steam of milk being frothed for a cappuccino, people spruiking their produce or greeting passers-by and neighbours, and live music coming from somewhere unseen.
I stand there for a minute taking it all in, until a vendor yells "coming through" and I jump out of the way. It seems like every visit starts the same, but no visit stays the same.
---
Have Questions? – Come and join the Facebook Group and ask any questions you may have about travel in South Australia. We can provide answers, make further suggestions and update you with the latest information. Click here to join now.
---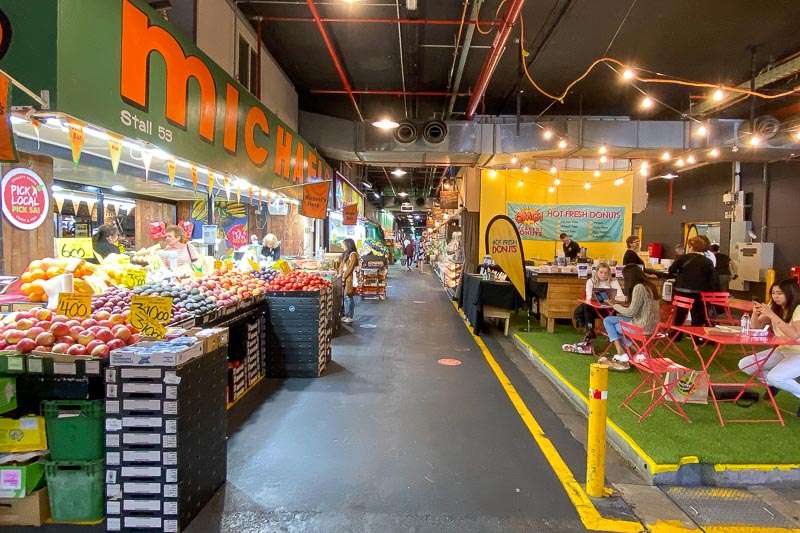 The Adelaide Central Market is the largest undercover fresh produce market in the Southern Hemisphere. It has been running continuously since 1869, although at some points in its history, it was much smaller than it is today.
In the early years, it was competing with the bigger East End Markets, but since they closed down in 1988, the Adelaide Central Market has consistently been THE place to go for fresh produce.
Not only has it had to deal with competitors over the years, it's also dealt with a major fire too. In 1977 much of the market was damaged in a fire, and it took almost ten years for the building to be fully repaired and restored.
Today there are 76 stalls in the main market area that mostly consist of fresh produce, meat, fish, cheese, coffee shops and small restaurants, fresh flowers and bakeries.
I almost always visit not because I am looking for something in particular, but when I have the opportunity to browse the stalls. I always find new ingredients and produce.
My recent change to plant-based eating has left me floundering as I learn about a whole new range of ingredients – some of which are not so easy to come by.
With so many fresh and whole foods here, it's a great place to pick up organic or vegan options. While I sadly glanced at all the delicious cheeses I can no longer eat, I was buoyed by the range of vegan cheeses I found.
I did restrain myself though, cheese is one of the things I really miss, and will slowly work my way through them over the next few visits to find my favourites.
It's definitely not only the vegans that will be happy, the carnivores have plenty of choice here too. For all those harder-to-find meats, Something Wild is the answer. I always loved to stop at The Mettwurst Shop and check out the latest flavours and styles from all over the world.
For seafood, you can't go wrong with the well-known South Australian seafood brand, Angelakis. Marino Meat & Food Store is a traditional Italian butcher with all those delicious cuts of parma ham. Meat at the Market is the home of South Australian meat, with almost their entire range sourced locally.
After discovering some fabulous produce on my recent trip to Kangaroo Island, I always stop past The Kangaroo Island stall to stock up.
There are KI wines, beers and spirits, honey, garlic, eggs, and lavender products, as well as local crafts like candles and beauty products. If you want to taste those local beverages, you can sit at the bar and do a tasting.
While the markets abound in local produce, it is also a great place to find some of those rarer international ingredients. I had been looking for jackfruit, not something that is common in Australian supermarkets, but there it was on the shelf of one of the fruit & veg stands.
I also love the Indian spice stall, which not only smells delicious with spices from India, Nepal and Bangladesh but brings back great memories of spice markets all over the world.
Adelaide Central Market has sweet treats for everyone. There are so many pastries and cakes in the bakeries, I just had to buy a Nutella Bomb from the Market Bread Bar for my husband so that I could live vicariously through him.
I chose some baklava, one of my favourites. We also took home some rocky road and a mixed selection from The Turkish Delight.
If you are planning to eat breakfast or lunch at the Adelaide Central Market you will be spoilt for choice. some of the stalls have turned themselves into small cafes.
You will find some of the best coffee roasters here and delicious meals. I've often eaten at Zuma Caffe, one of the cafes with access to the street, but my new favourite is the Algerian food of Le Souk. They have traditional Middle Eastern breakfasts for everyone, this vegan shakshuka was delicious!
It's not just me that thinks Le Souk is delicious though. In 2020 they received a Traveler's Choice Award from Tripadvisor as one of the top 10% of restaurants worldwide.
There are some stalls in the market that you just have to visit because of their great names, I mean, who doesn't want to buy cheese from "The Smelly Cheese Shop", croissants from "Les Deux Coqs" or eggs from "Happy Little Clucker"?
Not only does the Adelaide Central Market have amazing food, but they also have one of my other favourite things too – books!
Central Market Books have a huge range of second-hand books, and it's a real struggle not to add even more books to my poor overflowing shelves every time I visit.
I can easily spend an hour or two wandering around the markets, tasting some of the food and buying some more to take home.
But don't just stop there! The Adelaide Central Market is surrounded by a lot more foodie shops and restaurants.
The adjacent Central Market Arcade, Chinatown, and Market Plaza off plenty more food options and the market is located between Gouger and Grote Streets, which are filled with restaurants, cafes, bars and coffee shops.
Gouger Street in particular is arguably the premiere food strip in Adelaide.
If you want to take your visit a bit further than a casual stroll, learn more about the market through a tour. A range of tours are available, although Covid has made things a little more difficult. Here are just a couple of suggestions
Adelaide Central Market Map
The Adelaide Central Market is easily accessible on foot from anywhere in the city centre, or if you prefer, catch the tram (free within the city centre) to the Victoria Square stop and walk about 200m along Grote Street.
If you are coming by car, plenty of Adelaide Central Market parking is on-site with access from both Grote and Gouger Streets.
A Map of the locations of each of the stalls within the markets can be downloaded here
Adelaide Central Market Opening Hours
The markets are open from Tuesday to Saturday with slightly different times as per below
Tuesday 7am – 5:30pm
Wednesday 9am – 5:30pm
Thursday 9am – 5:30pm
Friday 7am – 9pm
Saturday 7am – 3pm
Looking for somewhere to stay in Adelaide? Hotel Indigo Adelaide Markets is perfectly located
Read my review here
Looking for things to do while you are in Adelaide? Here are some ideas
Adelaide 3-Day Itinerary
Visiting the d'Arenberg Cube
Best Adelaide Museums
---
Don't forget to come on over and join the Facebook group for more South Australian inspiration and to get all your questions answered. Click here to join now.
---
Found this post useful? Share with your friends and pin for later