Kimba, South Australia, is a lonely town on Highway One, halfway across the top of Eyre Peninsula. It's an important regional centre, and over recent years it has become a popular place for travellers to pull in and stop the night. Take a look at all these things to do in Kimba while you are there.
---
Have Questions? – Come and join the Facebook Group and ask any questions you may have about travel in South Australia. We can provide answers, make further suggestions and update you with the latest information. Click here to join now.
---
A Little About Kimba South Australia
Kimba sits on the traditional lands of the Barngarla people, 465km or five hours from Adelaide.
It's predominantly a farming community best known for growing wheat and other cereal crops along with raising livestock, mainly sheep.
There are around 1200 people that live in the district, with around half of them residing in the town itself.
Useful Information
Both Telstra and Optus phones will work here in Kimba
Free wifi is available in a few locations throughout the town – in the town centre, the silo art viewing platform and in Roora Recreation Reserve
There is a Free Library in the Camp Kitchen at the Kimba Recreation Reserve if you need to swap a book.
Kimba has a laundromat and a car and caravan wash – perfect for getting rid of that red dirt if you have been travelling further afield.
Kimba has a Grey Nomads Program where you can volunteer in return for free accommodation. The details are here.
Why Visit Kimba
Kimba is a great place to stop if you are travelling across the country.
It's a nice amount of driving from Adelaide and there are plenty of facilities for staying overnight here, including possibly the best location for free camping in South Australia.
If you are road-tripping around the Eyre Peninsula then this is one of the places you should definitely stop along the way.
The town boasts a welcoming community known for its friendly nature, ensuring a warm and inviting experience for visitors.
Kimba offers an authentic rural experience and a chance to connect with the heart of Australia's agricultural heritage. It's also a gateway to the Outback and travels further inland.
Things to Do in Kimba South Australia
For a relatively small town, there is a lot to do in and around Kimba. There are iconic attractions, arts and cultural sites and plenty of opportunities to enjoy the surrounding natural environment. Take a look at all of the Kimba attractions.
Snap a Selfie Half Way Across Australia
Kimba proclaims that it is halfway across Australia and they have a sign all about exactly that.
You just have to stop and take a selfie to commemorate the transition from east to west (or west to east) in the country while you are figuring out what to do in Kimba.
Visit the Big Galah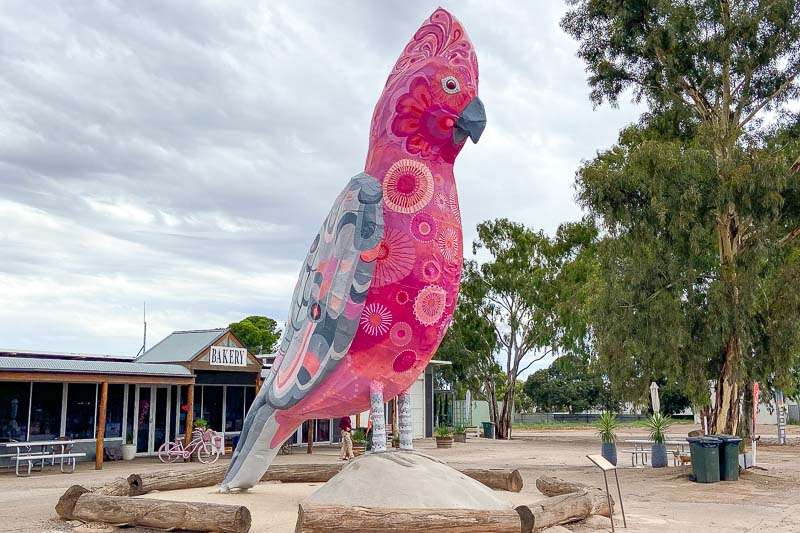 Stop in and say hi to the Big Galah. She has recently had a makeover and is now looking her very best, ready to star in her own photo shoot.
Built as a family project back in the '90s, she sits in front of a gift shop and roadhouse on the main road through town – I promise, you can't miss her.
Explore the Gawler Ranges National Park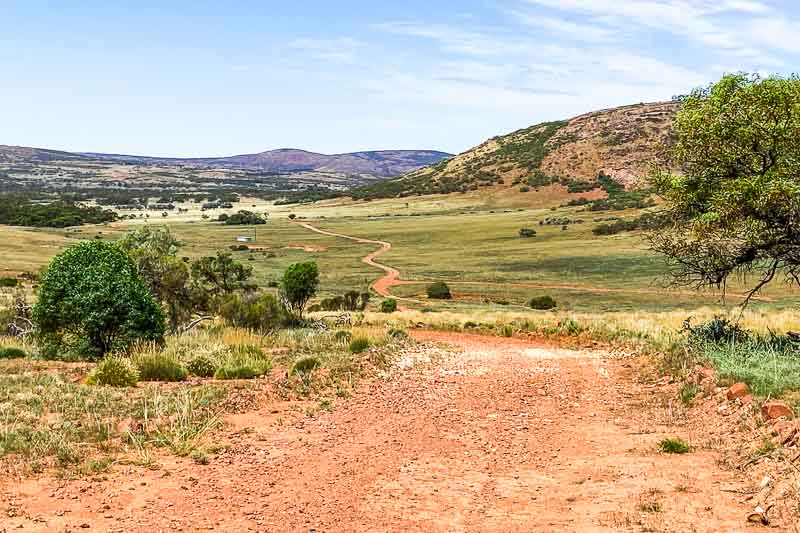 You will need a full day in Kimba for this one since it's a bit of a drive out to the Gawler Ranges National Park.
Located 100km to the west, Kimba is one of the gateways to this park, best known for its granite outcrops, including the unusual Organ Pipes rock formation.
After rain the park is filled with wildflowers and small cascades can be seen amongst the rocks. There is also a historic homestead to explore, and some lookout points with great views across the landscape.
Take a Walk along the Roora Nature Trail
This 6km trail leaves right in the centre of town and takes you through the local countryside. Simply follow the main trail, or take a detour along one of the two different loops.
Along the trail, you will come across some sculptures along with information signs about some of the things you see along the way.
Keep your eyes out for the wildlife too. In this area, you could spot kangaroos, echidna, wombats, emus and all sorts of lizards and birds too.
Or Take the Town Tourist Walk
Starting at the old post office building on Railway Terrace, follow the information signs as you make your way around the town to learn about the important historical sites and the history of Kimba.
The whole walk is around 3km, but of course, there are plenty of opportunities to stop for a drink or a snack along the way.
Visit the Kimba and Gawler Ranges Historical Museum
Step back in time and explore the fascinating exhibits that showcase the early pioneer life in Kimba.
Enter through the old railway turnstile and visit the One Teacher School, the Pioneer Store, the History Room, Government Sheds and much more, covering things like the Dingo Fence, water conservation, blacksmithing and the first fire truck in the district.
The museum is open Wednesday to Friday, 9 am to 2:30 pm, and also by appointment by calling Pat 0428 272 064 or Robin 0482 812 547.
Admire the Kimba Silo Art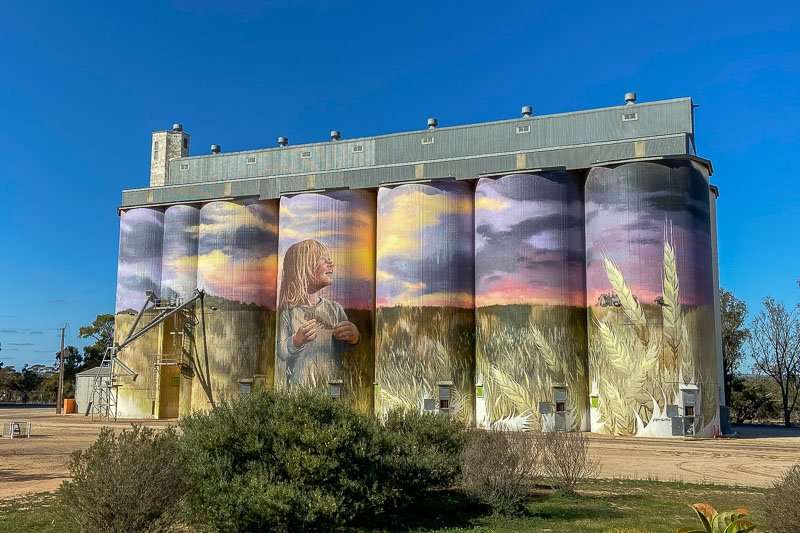 Even if you don't stop you won't be able to miss the impressive mural adorning the grain silos, showcasing vibrant artwork and local culture. This is the biggest silo art in SA and one of my favourites, painted by Cam Scale in 2017.
At night the mural comes alive when it is lit up by solar-powered lighting, so do take a second look after the sun goes down.
Call into Workshop26
Admire the works of talented local artists and perhaps even purchase a unique piece of art at Workshop26. This is Kimba's art hub, and there is always something creative happening here.
There are a whole range of makers and micro-businesses that call this place home. You may see the local potter at work, or someone making soap. There could be a painter or someone doing embroidery.
Events and markets are also occasionally held here, and often the crafts and products are for sale. This is also a good place to grab a coffee or morning tea while you browse.
View the Town from Whites Knob Lookout
A few kilometres out of town is the White's Knob Scenic Lookout, from where you can look over the whole town. In an area as flat as this, these small hills mean views for miles.
Edward John Eyre Sculptures
While you're at White's Knob Lookout take a few minutes to read about the Edward John Eyre Sculptures.
These steel figures stand tall surveying the surrounding countryside, just like Edward John Eyre and his indigenous guide, Wylie, did when he first crossed the continent.
With so much of this area or Australia named after him (Eyre Peninsula, Lake Eyre, Eyre Highway, etc.) he is an important historical figure.
Stop at the Roora Stormwater Viewing Platform
This area does not get a lot of rain, so supplying the town with water is always a challenge. On the way from White's Knob Looout, take a brief detour to see the Roora Stormwater Catchment to see one of the innovative solutions to the problem.
Have a Picnic at the Kimba Lions Park
Relax and unwind in this lovely park, complete with picnic areas, playgrounds, and BBQ facilities.
Even if you don't have time for a picnic if you have kids with you, this is a must-do activity in Kimba as they will love the playground – it's one of the best in regional South Australia.
It's fully accessible too, so kids of any ability are able to play here. A favourite is the jumping pillow.
You will also find toilets and a free water fountain here, making this a great stop even if you are just passing through town.
Play a Round of Golf at the Kimba Golf Course
If you enjoy a round of golf, why not take the time to play surrounded by the picturesque landscapes of Kimba? The course was badly affected by floods in 2022, but it has come back looking even better and is a lovely country course.
Go Camping at Lake Gilles Conservation Park
Set up camp and immerse yourself in nature's tranquillity at this beautiful conservation park. This is back-to-basics camping as there are no facilities here, but the beauty of a stunning sunset over the salt lake makes it all worthwhile.
There are a range of other conservation parks and reserves in the area you might like to explore too. Some allow camping, some are only for day use.
Mt Ive Station
Lake Gairdner National Park
Pinkaillinie Conservation Park
Secret Rocks Nature Reserve
Caralue Bluff Conservation Park
Carappee Hill Conservation Park
Bascombe Rocks Lookout
Look Out for the Murals
As you move around the town you will come across a number of murals that have been created over the years. Of particular note is the historical mural at the Recreation Reserve and the Kimba photo mosaic on the main street.
Check out Crowy's Can Collection
A local, known as Crowy, has a huge collection of over 3000 cans along with other beer and CocaCola memorabilia. He loves to share it with visitors, and you can arrange to see it all by giving him a call at (08) 8627 2468.
Find Minerals on Eyre
If rocks are more your thing, a short drive from Kimba to the Carrappee Hill area is where you can find Minerals on Eyre, where locals Barry and Jodie Schubert have been collecting all sorts of interesting minerals and rocks for more than 40 years.
They have around 2500 specimens on display and are happy to show them off to visitors – but you do need to book in advance. See more details on their website.
Take a Scenic Drive to Buckleboo
Enjoy a scenic drive to the nearby town of Buckleboo, surrounded by stunning landscapes and rural charm.
While there is not a whole lot to see in Buckleboo itself since the railway stopped going through the town, there is the Buckleboo Conservation Park to explore.
Attend a Local Event or Festival
Throughout the year there are many local events that visitors are more than welcome to attend. Sporting events, such as Saturday football and netball in the winter, attract quite a crowd from across the district and are a great way to soak up the local vibe.
Look out for the annual Art Competition, usually on display in September, and Fringe events that happen around February/March.
There is a Christmas pageant in December, and the Kimba Agricultural Show happens in September. Markets could happen at any time throughout the year.
There will also be community events set up on days such as Australia Day, ANZAC Day and Remembrance Day.
For more information about what may be on during your stay, call into the Kimba Visitor Information Centre in the Council Building on Cross Street. They are open Monday to Friday, 9 am to 5 pm.
Search for Geocaches
Fans of this fun online pastime will find plenty of caches hidden in and around Kimba. Hunt them down while you are in town.
Book a Kimba Tour
Yes, if you want to explore further or do it from the perspective of a local, there are tours available.
Brendan will customise a tour to suit your needs, but his usual tours are of the Gawler Ranges National Park, Lake Gairdner & Mt Ive Station, Farm Tours around Kimba, or a tour of the town itself.
Read more about Kimba Tours here.
Take in the Sunset at Secret Rocks
Witness a breathtaking sunset at Secret Rocks, a stunning natural rock formation near Kimba.
Originally this granite rock formation was given the name Refuge Rocks when Edward John Eyre came across the water in the rock pools there on one of his explorations of the area.
Today there are some walking trails and a picnic area – and some great views over the surrounding area. You might also be lucky enough to spot some of the rare fauna in the area, such as malleefowl, bandicoots or pygmy possums.
Where to Stay in Kimba
I mentioned earlier that Kimba has one of the best free camps anywhere.
You can camp at the Recreation Reserve right in town for free (although a small donation is requested) and have access to toilets, hot showers (paid) and a camp kitchen with free BBQs. There is no power though.
This is great if you have a caravan, RV or you are camping and looking to save a few dollars.
For other accommodation in town, look at the Kimba Gateway Hotel, the Kimba Roadhouse & Caravan Park or Accommodation Kimba.
Read TripAdvisor reviews for the accommodation options here.
Where to Eat in Kimba
The Kimba Gateway Hotel offers good pub meals from 6 to 8:30 pm seven days a week. They are also open for lunch from 12 until 2 pm Friday, Saturday and Sunday.
Eileen's is a cute little cafe with "seriously good coffee". They also do tasty light meals, such as focaccias and wraps, and there is always a range of decadent sweet treats available too. Eileen's is open Monday to Friday 9:30 am until 4:30 pm.
Kimba Cafe is open for meals from 6:30 am until 2:30 pm Monday to Friday, so this is the place for that early breakfast. They offer standard cafe food, with pies, pasties, hot dogs, burgers, and more.
They do all-day breakfast too, so you can have a sleep-in and still get that bacon and eggs.
Kimba Roadhouse is often listed as one of the best places to get a good Indian curry in South Australia. They are open every day from 6 am until 8 pm.
Travelling more on the Eyre Peninsula? Read these posts next
Eyre Peninsula Road Trip Itinerary
19 Great Things to Do in Streaky Bay
25 Best Things to Do in Port Lincoln
---
Don't forget to come on over and join the Facebook group for more South Australian inspiration and to get all your questions answered. Click here to join now.
---
Please share this post about all the things to do in Kimba with your friends and pin it for later