Are you planning a road trip? This ten-day Eyre Peninsula road trip itinerary will show you the best of Eyre Peninsula attractions.
It's no secret that the Eyre Peninsula is remote, just a little too far away for a quick weekend trip, and it sometimes seems to be a forgotten part of South Australia.
But this distance means dramatic coastlines and pristine beaches, friendly folk and their country hospitality, and that getting-away-from-it-all feeling that can only be achieved when you are truly "away"! Take a look and hit the road soon.
---
Have Questions? – Come and join the Facebook Group and ask any questions you may have about travel in South Australia. We can provide answers, make further suggestions and update you with the latest information. Click here to join now.
---
Eyre Peninsula Road Trip Itinerary
By now you all probably know I am a little bit partial to Eyre Peninsula. It's where I grew up and will always hold a special place in my heart.
This Eyre Peninsula itinerary will take you on a lap of the perimeter and show you all the popular Eyre Peninsula towns, attractions and outdoor adventure – with a few of my own personal favourites thrown in.
For most people, this itinerary will be an Adelaide to Eyre Peninsula road trip, but it's also possible to pick it up right from the start at Port Augusta if you are coming down into South Australia from the Northern Territory or across from Broken Hill.
From Western Australia, it's a little more difficult unless you are immediately returning to Western Australia, but most of the itinerary is possible by going around the coast of Eyre Peninsula.
While I have written up the Eyre Peninsula itinerary as a ten day road trip, this is doing it at quite a slow pace to allow time to relax and enjoy the pace of life here.
To turn this into a 7-day Eyre Peninsula itinerary I recommend making day one a big driving day finishing in Tumby Bay, and taking out the nights spent at Elliston and Ceduna.
You will still see all the best places but will travel more on some days with a little less time to admire the stunning beach views at the end of the day.
If you would like to extend this trip, there are many opportunities to do so, particularly in Port Lincoln. I spent five days there alone during a recent visit.
You could combine this road trip itinerary with other road trips to make it one mega South Australian road trip, taking you from Mount Gambier to Kangaroo Island, Yorke Peninsula, the Flinders Ranges and through the Outback.
Parts of this itinerary can also be used as the basis for many other South Australia road trips, such as:
Adelaide to Port Lincoln road trip
Adelaide to Whyalla road trip
Adelaide to Ceduna road trip
Adelaide to Perth road trip
Adelaide to Coober Pedy road trip
Adelaide to Alice Springs road trip
So make sure you use the information as it suits you.
This road trip can be done to suit your own accommodation requirements too. Stay at hotels along the way, take your caravan, or even do it as a camping trip, the option is yours.
While an Eyre Peninsula road trip is a good option all year round, the best time to visit Eyre Peninsula is either March/April or October/November.
You will avoid both the heat of summer and the cold of winter, but it will still be warm enough at times to get into the water.
There will be some sunny days to bring out those beautiful blues in the ocean, and when on the west coast of the Eyre Peninsula, there will be some great sunsets over the sea.
Eyre Peninsula Road Trip Map
Day One – Adelaide to Port Augusta
Driving Distance – 310km
The first day of your road trip to the Eyre Peninsula is an easy one. It's just over 300km of driving today, straight up the highway through Port Wakefield to Port Augusta.
I find this to be a relatively uninteresting drive because I have been doing it all my life, but if you haven't done it before then you may find these stops of interest:
Lake Bumbunga – the pink lake at Lochiel. Look out for the Lochiel monster. He appears in two locations.
Snowtown – to see the water tower art, the Big Blade, and speculate over which building is "that" bank!
Port Germein – to walk on the second-longest wooden jetty in the Southern Hemisphere.
This same section of the highway is used if going to the Flinders Ranges or the Outback.
Once in Port Augusta, spend the rest of the day exploring the city. I recommend a visit to the Wadlata Outback Centre or the Australian Arid Lands Botanic Gardens.
For something special during your visit to Port Augusta, take a scenic flight with Arid Air over the incredible Wilpena Pound.
Where to stay – For something self-contained try the Majestic Oasis Apartments. For motel-style accommodation give the Crossroads Ecomotel a go, and for a caravan park, I recommend Discovery Parks – Port Augusta.
One thing not to miss – Visit the Matthew Flinders Red Cliff Lookout at either sunset or sunrise (or both!) and admire the colours of the cliffs as the light changes.
Day Two – Port Augusta to Tumby Bay
Driving distance – 295km
Today you will follow the Lincoln Highway and meander along the coast, exploring the towns along the way. Either choose one to spend the whole day exploring, or pop into them all for a quick look.
The first – and easily the biggest – town you will come to is Whyalla. It's an industrial town, best known for the steelworks, and you cannot miss them as you drive in on the highway. Whyalla does have some other drawcards though.
If you are visiting in early winter (usually May to July), nearby Point Lowly is the only place in the world you can brave the cold and swim with Giant Australian Cuttlefish, as they come to breed here in the Spencer Gulf.
If you don't like the cold, you can take a glass-bottom boat tour to see the cuttlefish instead.
You can also check out the unique circular fishing jetty the Whyalla foreshore, learn about Whyalla's role in WWII or see a local Elvis collection.
Cowell is next seaside town. Stop here to check out the Cowell silo art. It is one of three sets of painted silos you will see on this trip.
If it's time for lunch, the Franklin Harbour Hotel, right on the foreshore, does great pub meals. For a lighter meal or even just a coffee and snack, Nel's Cafe is the place to go.
If you still have plenty of time and enjoy the great coastal scenery, take a detour off the bitumen to Point Gibbon. It can't really be called a town, it's just a few shacks and camping areas, but the cliffs and beaches are beautiful.
Both Arno Bay and Port Neill are typical coastal fishing towns. Drive in to take a look, stroll along the foreshore or jetty and see what the locals are catching. There's also a mangrove boardwalk in Arno Bay to stretch your legs on.
Your destination for the day is Tumby Bay. Once you arrive in town, spend some time enjoying the incredible street art on dozens of buildings throughout the town, one of the best things to do in Eyre Peninsula.
Tumby Bay holds an annual "Colour Tumby" festival where more murals are done, usually in March each year. The silos in Tumby Bay are also painted, so don't miss them while you are here.
After exploring the town, make your way to the Tumby Bay Hotel for a meal and enjoy the country pub atmosphere.
Where to stay – I recommend the Tumby Villas for a comfortable overnight stay. There is also the Tumby Bay Caravan Park for caravans, camping and cabin accommodation.
(You may consider also continuing on to Port Lincoln and extending your stay there by one night as it's only half an hour away.)
One thing not to miss – the Tumby Bay Street Art
Day Three – Tumby Bay to Port Lincoln & Lincoln National Park
Driving distance – 50km
Today is your first day exploring the town of Port Lincoln, the Seafood Capital of Australia. Plan to spend today in and around the town and in Lincoln National Park. There are so many options here when looking for what to do in Eyre Peninsula.
For nature lovers, there are plenty of hiking opportunities to see birds and wildlife, go to Mikkira Station to see the koalas, or if you have kids, Glen Forest Tourist Park will let them get up close to all sorts of native and farm animals.
Head out to Lincoln National Park for some stunning coastline and short walks including the hike up Stamford Hill.
Do not miss views overlooking Sleaford Bay, where you can do some whale watching if you are visiting in the cooler months of the year.
If possible, take the 4WD accessible track out to admire the pristine waters of Memory Cove. This is a great location for bush camping if you are set up to do so.
Note: You will need a parks pass to visit SA's national parks. Find the details here.
Foodies will love the Fresh Fish Place for some of the best fish and chips anywhere and a tour of the factory if you wish. Wash the food down at a local winery, craft brewery, distillery or coffee roaster.
History buffs can visit one of the four museums in town, and it's almost compulsory to get a photo with Makybe Diva on the foreshore.
For places to eat, Del Giornos are widely recommended. I had a great smashed avo there for breakfast. They also do a range of Italian and general food for meals throughout the day. The Marina Hotel was also quite decent for dinner.
I also recommend l'Anse, a French bistro. I first tried them they were located in Tumby Bay, but they have since moved into a new, larger premises in Port Lincoln and I am happy to report they are still as tasty as ever. I do recommend booking though.
Where to stay – I stayed in, and recommend the Shark Apartments. They are located right on the Port Lincoln Marina and are great if you are doing an early morning activity from there such as the shark cage diving.
If you prefer to stay closer to the centre of town, The Port Lincoln Hotel is very popular.
For a budget Port Lincoln option, take a look at the Port Lincoln YHA (yes they have private rooms) or for mid-range, try the Hilton Motel. There is also the Port Lincoln Caravan Park or Port Lincoln Tourist Park for caravans and camping.
For more places to stay in Port Lincoln, click here
One thing not to miss – do not miss the Mikkira Station koalas – there are not many places to see them so easily in the wild. In the winter months you can simply visit, in the summer months you will need to join a tour.
Day Four – Port Lincoln
Driving distance – just around town
Since life in Port Lincoln is all about the ocean with a huge fishing industry here, today I recommend spending some time out on the water.
Port Lincoln is the only place in Australia, (one of only three places in the world) where it is possible to cage dive with great white sharks, so this is a great opportunity to give it a go!
Calypso Star Charters will take you out for the day to Neptune Island where you will have a chance to jump in the water with the sharks. This is a full day though (we left before dawn and arrived back after the sun was down) so it will mean some prior arrangements.
If shark cage diving is really a step too far, then how about swimming with the puppies of the sea? Calypso Star Charters offer cruises out to swim with the sea lions and other marine life. I haven't done this yet, but it's on my list.
Calypso Star also offers seafood cruises around Port Lincoln to learn about the aquaculture industry and the local fishing harbour. Perhaps though, rather than just learning about the fishing industry you would like to have a go at catching your own fish for dinner.
There are a wide variety of fishing charters available. Stay close to shore and catch the popular favourites, or plan a longer trip and go after the big one! You could also take advantage of one of the many jetties, wharves or beach locations perfect for fishing around the town.
There are still more options to get out on the water in Port Lincoln. You could simply hire a stand-up paddle board or kayak from Xtreme Kites & Paddle and enjoy the calm waters of Boston Bay that way.
Note: One thing I usually call an Eyre Peninsula must-do while in the Port Lincoln area is the scenic drive along Whaler's Way, seeing the stunning coastal scenery and calling into beautiful Fishery Bay on the way there.
I've not included Whaler's Way as part of this itinerary because of lack of time, and also because there are many more opportunities to see similar coastlines as you travel along the western side of Eyre Peninsula.
I would suggest at least half a day to explore the Whaler's Way area if you want to include this in your own itinerary. Speak to the Port Lincoln Visitor Information Centre for all the details.
Where to stay – the same place as last night
One thing not to miss – Do the Shark Cage Diving, it really is an awesome, unique thing to do in Port Lincoln!
Day Five – Port Lincoln to Coffin Bay
Driving Distance – 45km
Today you're off to Coffin Bay. This town is best known for some of the best oysters in the world, and the freshest seafood anywhere. Almost anywhere in Australia it's possible to find Coffin Bay Oysters on the menu at prestigious restaurants.
Learn about the industry and try the freshly shucked oysters right out of the ocean on a Coffin Bay Oyster Farm Tour at Oyster HQ. Make sure you book in advance and don't miss out like we did on our recent visit.
If you can't do the tour, instead make a booking at the popular 1802 Oyster Bar to try the delicious oysters there.
After tasting the oysters, spend the rest of the day enjoying the spectacular nature around Coffin Bay.
Go into the Coffin Bay National Park for some hiking or a scenic drive. Stop by the beautiful Almonta Beach and the Golden Island lookout. Hire kayaks in Coffin Bay and explore the bay from the water, or perhaps a boat would suit you better. You could even do a spot of fishing.
Where to stay – I suggest either the Longbeach Apartments or the Coffin Bay Caravan Park. Alternatively, Coffin Bay is so close to Port Lincoln you could also do this as a day trip and return to your accommodation there if you prefer.
One thing not to miss – Absolutely try the fresh oysters, even if you don't think you like them, give them a go. You might be surprised.
Day Six – Coffin Bay to Elliston (including Greenly Beach)
Driving Distance – 140km
Today you will start the drive north along the western coast of Eyre Peninsula.
Along this stretch, you can stop and explore some of South Australia's most spectacular beaches.
If I had to pick just two, I would say Greenly Beach (a beautiful and popular surf beach) and Locks Well Beach are the ones you should definitely see, but there are many more that are just as stunning.
Time it so that you arrive in Elliston in time for lunch. We picked up a delicious light lunch at Elliston Bakery to fuel us for the rest of the day. If you want a more substantial meal give the Elliston Hotel a go.
After lunch, spend the afternoon walking along the Elliston Coastal Trail. Follow the whole 13km trail, or just walk a section or two of it.
If walking is not your thing, then most of the trail is near the road so it's possible to drive along it, stopping at the viewpoints, sculptures and other points of interest.
Don't miss the sweeping views from the Leo Cummings Monument Lookout.
While moving around town, look out for the Elliston Community Hall and take a look at the mural painted on the building. It represents the history of Elliston, both from an agricultural and marine aspect.
Where to Stay – Elliston Waterloo Bay Caravan Park is right in town and a good place to stay. Other options include holiday houses, such as this one.
One thing not to miss – the sculpture of the thongs on the cliff! Is there anything more Australian?
Day Seven – Elliston to Streaky Bay (via Venus Bay, sea lions and Talia Caves)
Driving Distance – 125km
While it might seem like only a short distance to drive today, I recommend taking all day to drive between Elliston and Streaky Bay. There are dozens of places to stop off to admire the incredible coastline in this part of the world.
There are three scenic drives along the way too that show off the main attractions – I've always loved the rock pools at Smooth Pools on the Westall Way Loop – the perfect seaside swimming pool! Here are just a few suggestions:
Walkers Rock Beach – one of the longest beaches on the Eyre Peninsula
Talia Caves (including the popular Woolshed Cave)
Venus Bay & the Needle Eye Lookout
Baird Bay – one of the best places in SA to swim with sea lions with the Baird Bay Ocean Eco Experience
Point Labatt sea lion colony
Yanerbie sand dunes
Murphy's Haystacks – incredible granite rock formations
For lunch, get a takeaway sandwich from Elliston to eat along the way or stop into Venus Bay for lunch. Other than that, there are not a lot of other options until you reach Streaky Bay.
For dinner, I suggest doing what the locals do and heading to the pub. The Streaky Bay Hotel has a pretty good pub menu available, catering to all sorts of dietary requirements.
Where to stay – the Streaky Bay Hotel Motel is a solid option, or stay at the Discovery Parks – Streaky Bay Foreshore for cabins, caravans or camping.
One thing not to miss – Murphy's Haystacks. They are even more spectacular at sunrise and sunset.
Day Eight – Streaky Bay to Ceduna
Driving Distance – 110km
Spend the morning taking a look around Streaky Bay. Depending on the day of the week there are a couple of small museums in town worth a look. If it's warm, take a swim in the calm waters of the bay, or throw out a line to catch a fish or two. Grab lunch at the Bayfunktion Cafe before hitting the road.
It's not a long drive to Ceduna and there are only a couple of places I recommend calling into, but one is my favourite all-time little coastal town – Smoky Bay.
Before you get there though, stop off and take a look at Perlubie Beach. You can drive down onto the sand here, and it's a great location to enjoy a walk along the beach or another quick swim. Kids in particular will love it here as the water is shallow and calm.
And then it's on to Smoky Bay! This is where I spent my summers as a kid and whenever I have visited as an adult it has been just as amazing.
I admit a quick afternoon visit may not show you all this town has to offer, but I hope it will inspire you to return sometime, spend a week here and really soak up Eyre Peninsula's serenity.
Smoky Bay is yet another great place to swim in the pristine waters or go fishing – we were catching King George Whiting from the jetty on my last visit. There's plenty of Australian salmon, tommy ruffs, trevally and other fish too.
If you didn't do an oyster tour at Coffin Bay, or even if you did and you want to try even tastier oysters, then you can do an oyster tour here too. I recommend contacting them in advance as their tour times revolve around the tides so are unpredictable.
After Smoky Bay, it's onto Ceduna. While easily the biggest town in the region, Ceduna doesn't offer a lot for the traveller. There is a Big Oyster here though if you are a fan of ticking off Australia's Big Things.
Ceduna is a good place to take a quick look around town, stock up on any supplies you need, and then rest up before two much longer driving days coming up next.
Where to stay – choose the Ceduna Foreshore Hotel Motel or the Big4 Ceduna Tourist Park for your accommodation tonight.
One thing not to miss – Great White Shark replica. Before leaving Streaky Bay, call into the Shell Service Station to see this replica of the largest shark ever caught by rod and reel – she was 5m long.
Day Nine – Ceduna to Kimba
Driving Distance – 310km
Today you start the drive back to Adelaide – but there is still plenty to see along the way.
The first town you come to along the highway is Wirrulla. Call in here to see the only inland jetty in Australia! Okay, to be honest, that's all there is to see in Wirrulla, but this is where I grew up and I always like to give them a shout-out.
It's a tiny community relying on farming on marginal lands, so if you grab a snack from the shop it will always be much appreciated. (I would also suggest stopping into the pub, but since you will likely be passing through in the morning it's probably a little too early)
The next place to stop and take a look is South Australia's wave rock, just outside of Minnipa. Spend a little time exploring Pildappa Rock and marvelling at the incredible shape nature has produced.
While you could climb to the top of Pildappa Rock, I don't recommend it this time, because the next stop you should make is Mount Wudinna – and you should climb to the top here for 360-degree views over the surrounding farmlands. The views are particularly beautiful in spring with the patchwork colours of the various crops.
If it's time for lunch, the Golden Wattle Roadhouse in Wudinna does great food. While you are in town take a look at the huge "Australian Farmer" sculpture, made entirely from local granite, to tick off another of South Australia's "big things".
If you have time, Wudinna is where you leave the highway and head into the Gawler Ranges National Park. Most of the roads are 4WD tracks though, and you would need a good few hours to visit, so I recommend adding on another day if you would like to explore.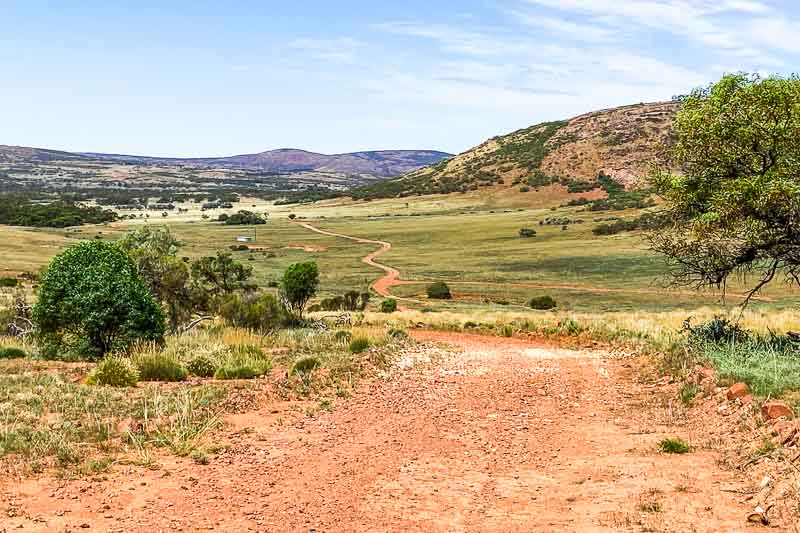 Then it's on to Kimba. There are plenty of things to do in Kimba to keep you busy for the rest of the afternoon. You won't be able to miss the fantastic silo art, one of the biggest to be done in Australia.
Also, look out for the "Big Galah" too. Visit the White Knob scenic lookout above the town and learn about Edward John Eyre, the peninsula's namesake.
There are some walks around the town, a local museum, and some great little shops to browse through too.
It might sound a bit strange, but trust me, the best food in town is an Indian curry from the Roadhouse Restaurant. I've heard of people driving 100+km just to eat here.
Where to stay – for accommodation in town try the Kimba Gateway Hotel, or the Kimba Motel Roadhouse & Caravan Park (yes, the same place as the Indian food!).
Or if you have a caravan or are camping, stay in one of the best free camps anywhere at the Kimba Recreation Reserve.
One thing not to miss – Make sure you grab a photo with the iconic "Half Way across Australia" sign
Day Ten – Kimba to Adelaide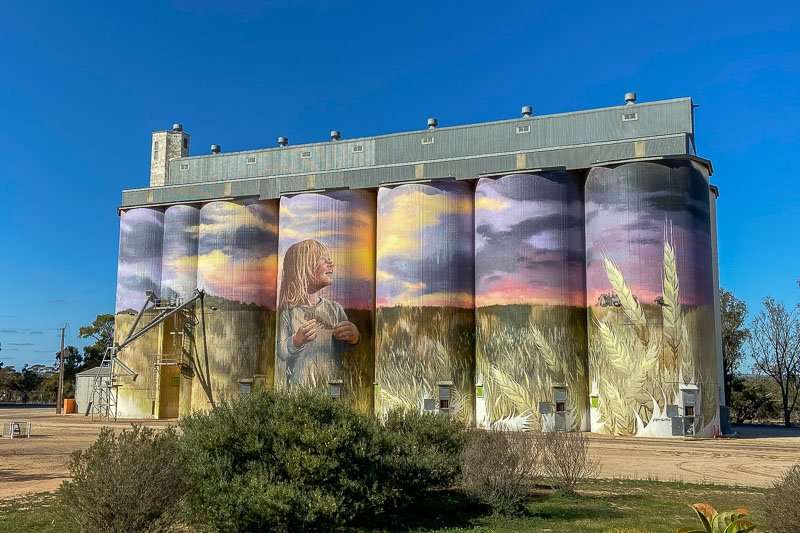 Driving Distance – 465km
Today is essentially your return drive to Adelaide. For much of the drive, you will be backtracking over the same path as you took on day one.
This gives you the opportunity to perhaps call into some of the towns or attractions you did not have time to do on the way over.
You are possibly just ready to be home from your epic Eyre Peninsula road trip, so you can drive straight through (with rest stops of course) to Adelaide.
9 Day Eyre Peninsula Adventure Tour
Love the idea of this road trip but want a tour instead? Take a look at this fantastic 9-Day Eyre Peninsula Tour that covers almost the same path as I suggest above.
As an extra, there is even a trip out to Head of the Bight to see the whales. Click through now to take a look at the full itinerary.
More South Australia road trips?
Read these South Australia travel guide posts next
Exploring the Far West Coast, South Australia
Driving from Adelaide to Flinders Ranges
Outback Road Trip Itinerary
Adelaide to Mount Gambier Road Trip
---
Don't forget to come on over and join the Facebook group for more South Australian inspiration and to get all your questions answered. Click here to join now.
---
Please share this post and pin it for later