Some of the other Australian states have really well-known holiday destinations and it's fairly easy to pick which places to visit during your time there. But what about South Australia? What are the favourite South Australia holiday destinations?
---
Have Questions? – Come and join the Facebook Group and ask any questions you may have about travel in South Australia. We can provide answers, make further suggestions and update you with the latest information. Click here to join now.
---
Before the South Australia Holiday Destinations…
… a little bit about the state.
South Australia is located in the south of the country, in between the eastern and the western states. It is almost one million square kilometres in size.
The whole state has a population of about 1.7 million people, with more than 1.3 million of those living in and around the capital, Adelaide. So while there is a huge amount of land, it is quite sparsely populated, the second biggest city being Mount Gambier at under 30 000 people.
So what are the things to see in South Australia? South Australia tourist attractions include plenty of conservation parks with stunning natural environments, from towering coastal cliffs to the moon-like desert landscape of the interior.
The longest river in Australia, the Murray River, flows through the state and it also houses the largest lakes in Australia.
South Australia is home to some of the best wines in the world, with Adelaide being named as one of the Wine Capitals of the World.
But our unique produce doesn't stop there, with almost everything you can think of growing here, from fruit and vegetables, meat and seafood, some using innovative methods and new technologies.
Do you need a rental car to get around South Australia?
Use Discover Car to save time and money by searching and comparing
dozens of car hire companies all in one search
CLICK HERE TO SEARCH FOR YOUR RENTAL CAR
Places to Visit in South Australia
Whether driving through on your Australian road trip or coming here for South Australia holidays, there are a wide variety of places to visit and unique experiences to have while you are here.
These are just a few suggestions to get you out to explore South Australia.
Adelaide
No visit to South Australia is complete without a day or two in the capital. Adelaide is located on the southern coast of South Australia. It sits on the Adelaide Plain, nestled between the protected waters of St Vincent Gulf and the Mt Lofty Ranges
With dozens of things to do in Adelaide, South Australia, there is no way you will be bored.
From visiting museums to beaches, hiking in the hills and parks to festivals, markets and wine tasting, shopping in Rundle Mall or the Adelaide Central Market, taking in a show at Adelaide Oval or the Adelaide Festival Centre, there are Adelaide tourist attractions to suit everyone.
The best time of year to visit Adelaide is "Mad March" for not only beautiful weather but for the second largest Fringe Festival in the world and multiple other events. But don't worry, there are plenty of reasons to visit all year round – even winter offers some unique experiences.
Where to stay in Adelaide
Adelaide has a wide range of accomodation from five star hotels such as the Hilton, the Intercontinental and the Mayfair Hotel, mid range favourites such as Holiday Inn Express, Ibis and Quest, and budget options like Adelaide Backpackers & Travellers Inn, and Adelaide Central YHA.
Want more on Adelaide accommodation? Read these reviews
Crowne Plaza Adelaide Review
Hotel Indigo Adelaide Markets Review
Hotels in Adelaide
Adelaide Hills
Another must-see when you visit South Australia are the Adelaide Hills, a section of the Mount Lofty Ranges surrounding the city. Only minutes up the freeway from the city centre, there is another world with small towns, rolling hills and amazing food and wine.
First stop on the way should always be Mount Lofty, for great views back over Adelaide, then take a stroll through the Mount Lofty Botanic Gardens – particularly spectacular in Autumn.
While in the Adelaide Hills, there are a multitude of small towns to visit. One of the most popular is Hahndorf, a town with German origins that still has that flavour to it today.
See half timbered buildings and shop for cuckoo clocks and beer steins. Eat you fill of wurst and other traditional German food at the German Arms pub.
In the town of Birdwood visit the National Motor Museum, which has over 400 vehicles of every kind on display, with stories about many of them and how they have shaped local history. To meet our native animals call in to Cleland Wildlife Park.
If you are visiting in December, make sure you take an evening stroll through Lobethal to see the spectacle of the best Christmas light displays in South Australia.
There will be bands and food trucks and all sorts of entertainment going on to enhance the festive atmosphere.
And of course the Adelaide Hills region is also well known for it's wine. This area focuses more on cool weather wines such as chardonnays and pinot noirs. There are dozens of cellar doors to drop into to taste the wines and learn about the region.
Where to Stay in the Adelaide Hills
There are so many wonderful accommodation options in the Adelaide Hills to recommend. I will mention a few, but have a look around at some of the others available too.
One place that is popular is The Manna by Haus right in the centre of Hahndorf. I recently stayed there and you can read my review here. Stay in a castle at The Manor Basket Range, or on a working farm at Cherry Farm Studio.
I loved my B&B stay at the Longview Vineyard, with another B&B option at Aldgate Valley Bed and Breakfast. For traditional motel style accommodation, Birdwood Motel looks good, or for a budget option, perhaps the The Lodge.
Barossa Valley
The Barossa Valley is located about one hour north of Adelaide. It can be easily visited for a day trip from the city centre, but it is just as worthwhile to spend a day or two in the region and explore it more thoroughly. It is one of the best places to visit in South Australia
The main reason to come to the Barossa Valley is its renown as a premiere wine region. Many premium wines are produced here, with brands known world wide such as Penfolds, Wolf Blass and Jacobs Creek.
There are over 150 world-class wineries and 80 cellar doors located in the Barossa Valley and this is a popular location for wine tours from Adelaide.
If you get sick of wine tasting (is that possible???) then there are many other things to do in the Barossa Valley, including local markets, visiting viewpoints and historical sites, and eating fantastic food at fine dining restaurants, local pubs and boutique food outlets.
Where to Stay in the Barossa Valley
This is a great opportunity to stay in a homestay or small B&B in one of the little Barossa towns. Some suggestions are the Barossa Bed & Breakfast in Tanunda or the Stoneleigh Cottage Bed & Breakfast in Angaston.
For some five star luxury The Louise at Marananga is perfect or traditional hotel style accommodation can be found at Novotel Barossa Valley Resort.
For budget options there are cabins at Discovery Parks – Barossa Valley along with camp sites and caravan spaces, or a basic motel room at Barossa Gateway Motel.
Victor Harbor
The town of Victor Harbor is located about 90 minutes south of Adelaide (through the McLaren Vale wine region!) on the south coast of the Fleurieu Peninsula.
It's popular with Adelaide residents who often visit for a day trip to enjoy the beach and holiday atmosphere or spend a whole weekend in the area. This is one of the best South Australia holidays to take during the summer.
Most people will spend their day taking the horse drawn tram across to Granite Island. Once there it's a great walk around the small island, enjoying the sculptural artworks and natural scenery along the way.
If you are really lucky you may also see some of the fairy penguins who live on the island too, but mostly they are only spotted at dusk.
During winter this area is also a well known whale watching location. Recently the cafe on the island has reopened, so grab a snack or a coffee while looking for the Southern Right Whales that often pass by.
Apart from Granite Island, there are many other attractions in town too. Take the Cockle Train to Goolwa, which is usually a restored steam train and a fun return trip along the foreshore.
Visit the near by towns, including Port Elliot, where you should get lunch at the incredibly popular bakery.
Visit the South Australian Whale Centre or Urimbirra Open Range Wildlife Park. You could indulge in some hiking, heading to the top of The Bluff for amazing ocean views, or simply enjoy one of the many restaurants and cafes in town for a relaxed lunch with friends.
Where to Stay in Victor Harbor (Fleurieu Peninsula)
For a budget option for Victor Harbor accommodation, try the Grosvenor Hotel or a cabin at the Victor Harbor Holiday & Cabin Park or the Victor Harbor Beachfront Holiday Park.
For more luxurious accommodation, try the four star McCracken Country Club.
There are also plenty of holiday homes and self-contained apartments available in Victor Harbor. Try the Wintergarden Beach Cabin or Seascape Retreat. We stayed at the mid-ranged The Bluff Apartments and were very happy with our choice.
Clare Valley
The Clare Valley is situated around ninety minutes drive north of Adelaide. The main town – and the valley's namesake – is Clare, which sits at the northern end of the valley.
At the southern end of the valley is Auburn, with other small towns, such as Watervale and Leasingham, along the Horrocks Highway between the two making up the area.
A little further afield is the historical town of Burra. Nearly all of the little towns are worth a visit, and there are accommodation and restaurant options in all of them.
The Clare Valley is another of South Australia's wine regions and that is the main drawcard for visitors to the area. This area is best known for its Riesling's, but there are also Shiraz and Cabernet Sauvignon reds here too.
Here you will find wineries such as Annie's Lane, Pikes Wines and Taylors Wines. The Clare Valley is one of the best locations for short stays South Australia has on offer.
A popular activity is walking or cycling along the Reisling Trail, an old rail corridor that has been "renovated" to make it an easy walking or riding trail. It is 33km long, so can be done in a whole day if you are particularly keen.
Alternatively, a short section can be tackled, or it can be done over multiple days, which is what I recommend. This will give you more opportunities to stop in at all the cellar doors the trail passes to taste the wines and fresh produce along the way.
Where to stay in the Clare Valley
For a budget or family stay in the Clare Valley, consider a cabin at the Discovery Parks – Clare. For a more traditional luxury hotel stay try the Clare Country Club or for an aparthotel, The Mill Apartments Clare Valley.
For something a bit different try glamping at Bukirk Glamping. Watervale Retreat offers self-contained cottage accommodation, and Jack's House B&B Clare for bed and breakfast style.
Yorke Peninsula
The Yorke Peninsula is located to the north west of Adelaide. Depending on where you are planning to go, it can take from between 90 minutes and 3 hours to drive there. It is popular for being one of the best South Australia family holiday destinations.
Yorke Peninsula is the place to go to get out amongst nature without travelling too far from the city. It's long, white beaches with relatively protected waters offer great places for families to swim without the fear of huge waves.
At the foot of the peninsula, the beaches change to surf beaches, providing waves for the avid surfers. A favourite past time on Yorke Peninsula is fishing, from throwing a line it on any one of the dozens of jetties and beaches (such as Port Broughton), to catching crabs or chartering a fishing tour.
The top of the peninsula is best known as the Copper Coast for its history of copper mining. Visit the towns of Moonta, Kandina and Wallaroo to learn about this history, and of course enjoy some more fabulous beaches.
Dhilba Guuranda-Innes National Park provides a haven for local wildlife, and visitors will easily spot kangaroos, emus and many other birds and animals in the wild. There are historic ruins to visit, including ghost towns and shipwrecks and plenty of natural beauty to enjoy.
While this is one of the areas you will be unlikely to find any wineries, there are plenty of great food options and even a craft brewery at Watsacowie. Look out too for silo art in various locations from Wallaroo to Yorketown
Yorke Peninsula has recently set up some fantastic walking trails, under the banner of "Walk the Yorke".
There are over 500km of continuous walking and cycling paths available for day hikes, or if you are really keen, you can walk the whole length of the peninsula, down one side and up the other!
Where to Stay on the Yorke Peninsula
The biggest town on the Yorke Peninsula is Kadina, but that is located right in the middle of the peninsula. Instead choose a town that is on the beach to take advantage of the sea. Try some of these suggestions in the various towns:
Flinders Ranges
The Flinders Ranges start about 200km north of Adelaide and then run north for a further 430km, so they cover a large area. This is where you go to see the "outback", another of the great South Australia attractions.
It's also home to some of South Australia's best-known national parks, including the Ikara-Flinders Ranges National Park.
The Flinders Ranges are all about dramatic ancient scenery, Australian wildlife, indigenous culture and just getting away from it all.
There are some great hiking trails such as climbing some of the peaks, and many opportunities to learn about the local Aboriginal culture through tours and classes.
Take a scenic flight over the stunning Wilpena Pound and learn it's dreamtime creation story.
Visit the town of Parachilna to eat "feral food" at the Prairie Hotel, or visit an old mine at Blinman. At Quorn you can hop aboard one of the historic Pichi Richi steam trains or you can stay at a working cattle station to experience this unique way of life.
Where to Stay in the Flinders Ranges
With the Flinders Ranges spread over such a huge area, there are also many options for accommodation. Here are just a few suggestions.
The most popular place to stay is the Wilpena Pound Resort. There are many accommodation options here, from camping sites to motel rooms and luxurious glamping tents. The Prairie Hotel is another option for accommodation after your feral food meal.
For a station stay, try the Skytrek Willow Springs Station.
In the town of Melrose, at the foot of Mt Remarkable, stay at the quirky Under the Mount. In Quorn stay at the Great Northern Lodge or the Flinders Ranges Motel.
Renmark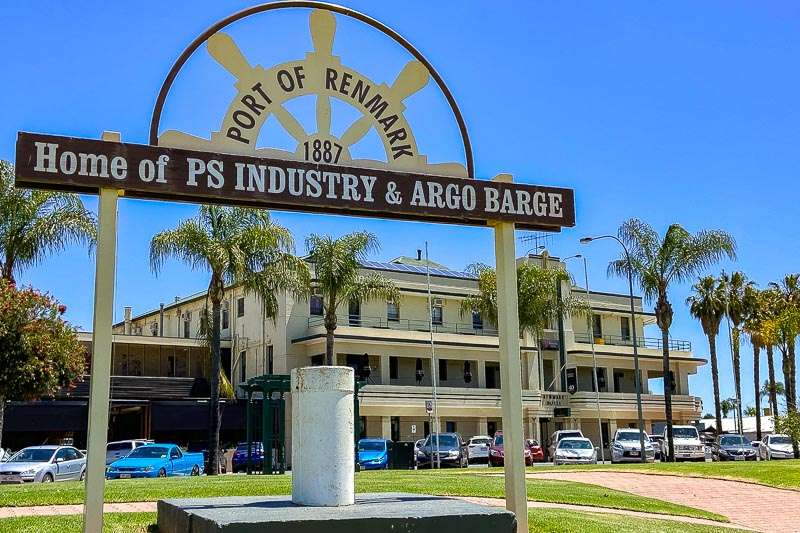 Located three hours to the north east of Adelaide, Renmark is another one of the places to go in South Australia. It's on the banks of the mighty Murray River, the longest in Australia, and it's a great place to stop if you are travelling to or from New South Wales.
The most popular things to do in Renmark, not surprisingly, revolve around the river.
Here you can hire your own paddle boat for a few days of exploring the river, or book a berth on a larger paddleboat for some unique accommodation. There's kayaking or fishing or water skiing available too.
The area around Renmark is well known for being a fantastic fruit growing area. That means while you are visiting, it's an ideal time to taste as much of the fresh produce as you can.
Keep your eyes open for local markets as well as wineries, a gin distillery, olive oil producers and many other fresh producers where you can taste.
Renmark also happens to be the location of the largest rose garden in the Southern Hemisphere, Ruston's Rose Garden. In October each year, you can visit for the rose festival.
Where to Stay in Renmark
If you would like to stay somewhere truely special, have a look at the five star accommodation at The Frames. For the mere mortals amongst us with a more modest budget, try the Renmark Hotel Motel or the Citrus Valley Motel.
For apartment accommodation there's the Renmark Holiday Apartments and if you have your pets along, an option is the Rivershack Pet Friendly. The Renmark Riverfront Holiday Park looks perfect for kids.
Port Augusta
Port Augusta is about 3.5 hours drive north of Adelaide at the top of the Spencer Gulf. It is often called the "Crossroads of Australia" since it is at the intersection of the main north-south route and east-west route.
Port Augusta is probably one of the lesser known places to stay in South Australia as many people stop for lunch then just drive straight through to their destination but it is worth spending a night here to have a look around.
Port Augusta is home to the Australian Arid Lands Botanic Gardens, a truely unique garden that has so many plants native to only this and the surrounding areas. There are some great hiking paths through the gardens to see not only the flora, but the local fauna too.
Make sure you try some of the Australian native bush tucker in the cafe before you leave.
While in town also pay a visit to the Wadlata Outback Centre to learn the history of the area, firstly from the local indigenous people and then the history of European settlement in the area.
If you are visiting this area from May to July, do not miss seeing the giant cuttlefish, about an hour along the highway towards Whyalla.
If you are heading north or west from Port Augusta, this will be the last decent sized town for a while, so this is also a good opportunity to stock up on all your supplies.
Where to Stay in Port Augusta
While most of the accommodation in Port Augusta is standard motel style, there are a couple that stand out from the crowd. The Crossroads Ecomotel is relatively new and built from rammed earth and has many other eco-friendly features.
For apartment accommodation, try the Majestic Oasis Apartments. Another reasonable option looks to be the Augusta Courtyard Hotel. If you are travelling with kids, the Discovery Parks Port Augusta is a good choice.
Mount Gambier
Mount Gambier is about a 4.5 hour drive south of Adelaide on the Limestone Coast, right near the border with Victoria. It is the perfect place to stop if you are driving from Adelaide to Melbourne, or continuing on the do the Great Ocean Road.
Mount Gambier is home to some of the best South Australia natural attractions with the Blue Lake which turns an amazing cobalt colour in summer. In May and June it is time to go searching for the glow-in-the-dark ghost mushrooms down Ghost Mushroom Lane.
There are multiple caves to visit in the area, one even right in town. During summer the beach is only a few kilometres away, and keep an eye out for some popular music events that happen in town at various times of the year.
Driving to Mount Gambier from Adelaide also includes some good things to do in South Australia. Check out the Naracoorte Caves, or go wine tasting in the Coonawarra wine region
Where to Stay in Mount Gambier
Last time I was in Mount Gambier we stayed at Pine Country Caravan Park, first in one of their glamping tents, then in our own tent. I loved our stay and this is a great option for anyone looking for a holiday park.
The time before that we stayed in The Old Mount Gambier Gaol. Rooms vary from budget dorms to a three bedroom cottage. I loved our stay there, it's something a little bit quirky but still very comfortable. The owners are fantastic and full of local knowledge.
If staying in a gaol is not your style, then perhaps you would prefer more luxury at The Barn.
The Mid City Motel is right in the centre of town, and the Comfort Inn The Lakes is walking distance to the beautiful Blue Lake. If you would like a B&B, Colhurst House is a good choice.
Streaky Bay
Located on the west coast of the Eyre Peninsula, Streaky Bay is one of the best places to visit in South Australia to get away from the rat race of the city for a few days.
I don't think it can be called one of the hidden places to visit in South Australia any more, but there certainly are some very tucked away little beaches along the stunning coastline that will make you feel like there is no one else on earth.
It's starting to get really remote at Streaky Bay, with some of the most pristine coastline in all of Australia.
Visitors can swim with sea lions at nearby Baird Bay, organise a fishing trip into the Great Australian Bite or take a surf lesson on one of the iconic surf beaches.
You can even organise scenic flights over the coastline and the Nullabor Plains. Look out for small museums, including the National Trust Museum (where you will find a tribute to my own family in the grounds) and the Powerhouse Museum.
Where to Stay in Streaky Bay
For traditional hotel style accommodation stay at the Streaky Bay Hotel Motel. If it's apartment style accommodation you are after, then choose doi's Ocean Front Apartments which are right on the beach in the centre of town. I
f you want some luxury head 17km down the road to the stunning Perlubie Sea and enjoy sunset and the serenity of no one else around.
Port Lincoln
Located on the southern tip of Eyre Peninsula, Port Lincoln is another of the places in South Australia to visit. It will take about seven hours to drive here, or it is possible to get a flight from Adelaide which takes less than an hour.
Port Lincoln is the South Australian seafood capital, with a large fishing fleet. Tuna has mostly been caught here, but there are many other fish available fresh here too.
Here in Port Lincoln you can access one of the top rated tourist attractions in South Australia – cage diving with great white sharks. If shark cage diving with big scary fish isn't your thing, you can try all sorts of big game fishing, or simply fishing from the beach or jetty instead.
There's plenty of bushwalking and pristine beaches in the area, and koalas in the wild! Nearby towns such as Coffin Bay are worth a visit.
Of course you need to eat at one of the fabulous foreshore restaurants to taste the seafood straight out of the sea and there are also local breweries and wineries for some more liquid tastings too.
Port Lincoln is the home of the Tunarama Festival, so if you visit while that is on you will see unique traditions such as the tuna throwing competition.
Where to Stay in Port Lincoln (Eyre Peninsula)
For the budget traveller, Port Lincoln YHA offers dorm accommodation as well as budget private rooms. At the other end of the scale is the Bay 10 Suites and Apartments for a more comfortable holiday home right on the beach.
The Port Lincoln Hotel is right in the middle of town with great rooms and a restaurant serving up that amazing seafood.
For more places to stay in Port Lincoln see my full post here
Coober Pedy
Coober Pedy is the most northern of the places to see in South Australia, and perfect for road trips. It lays on the Stuart Highway that goes from the Northern Territory into South Australia.
It will take almost nine hours to drive here from Adelaide, but it is also possible to fly on certain days of the week.
So why drive all that way? Coober Pedy is probably the most unusual of South Australia attractions – an underground town. Known as the "Opal Capital of the World", the town of Coober Pedy exists thanks to the opal deposits under the earth.
But this place is hot and inhospitable. The earliest settlers learnt that the best way to combat the oppressive heat was to live in underground homes.
So now you can come and look at this town and see almost nothing above ground. Here you can visit an underground church and stay in an underground hotel.
The area around Coober Pedy is desolate, almost martian like, and has been the film set for movies such as Mad Max.
But that means it has a unique beauty and there are some lovely vistas such as the colourful Breakaways that are worth visiting. Add this to your list as one of the most unique places to visit in South Australia.
A bonus to visiting Coober Pedy – it's well and truly into the South Australian Outback.
Where to Stay in Coober Pedy
For a budget option try Radeka Downunder Underground Motel. If you prefer a B&B, then the Underground Bed and Breakfast looks good or you could give the Dug Out B&B Apartments a go.
For a more traditional hotel, try the Comfort Inn Coober Pedy Experience and if you prefer to sleep above ground, the Desert Cave Hotel has rooms to suit.
Kangaroo Island
Kangaroo Island is located not far off the coast of Adelaide and is easily one of the best South Australia destinations. Recognised internationally, it is possible to fly to Kangaroo Island directly from Sydney as well as from Adelaide.
An alternative method to get to Kangaroo Island is to drive from Adelaide down to the tip of the Fleurieu Peninsula and take the ferry from Cape Jervis. You can also take your car, caravan or camper trailer to give you more options once on the island.
Kangaroo Island is a natural paradise. Wildlife abounds here, with fur seals, wallabies, koalas, penguins and many more easily found in the wild.
There are also incredible rock formations in Flinders Chase National Park such as Admirals Arch and Remarkable Rocks to amongst the natural wonders.
Not to be excluded from the South Australian wine scene, there are plenty of local wineries here to visit, and many other local products to try and buy. Being an island there is also plenty of fresh seafood served up in local restaurants too.
Kangaroo Island is also now a popular cruise ship stop on Australian cruises and a great place to visit with a guided tour too.
Where to Stay on Kangaroo Island
Kangaroo Island is a great place for a luxury getaway with many stunning, secluded accommodation options. Consider the Sea Dragon Lodge for that special stay. You can really get away from it all at the Emu Bay Stay holiday home.
For traditional hotel accommodation stay at the Mercure Kangaroo Island Lodge or the Aurora Ozone Hotel. For a budget stay try Western KI Caravan Park, or stay at The Fig Tree B&B if bed and breakfast is more your style.
Head of the Bight
Head of the Bight is the most remote location to visit in South Australia. Located in the middle of the Great Australian Bight, not too far from the Western Australian border, it's an eleven hour drive to get here from Adelaide.
There are not too many reason to come to Head of the Bight (unless you are continuing across the Nullarbor Plain to Western Australia) but one reason is so compelling it's a must do.
Each winter hundreds of whales come to the area to give birth and get their calves ready for the long trip back to Antarctica. Standing on the cliffs watching dozens of whales is truely captivating.
On the drive over visit one of Australia's incredible pink lakes at Lake MacDonnell (very popular on Instagram!), see the Windmill Museum at Penong and the famous Dingo Fence.
You could also place a few holes of the longest golf course in the world, starting at Ceduna and finishing at Kalgoorlie in WA.
Where to Stay at Head of the Bight
There are not a lot of options for accommodation near Head of the Bight. The closest option is the Nullarbor Roadhouse. It's a couple of hundred kilometres each way before the next towns, of Eucla in the west and Fowlers Bay in the east.
FAQs about Holiday Destinations in South Australia
1. What are the must-visit holiday destinations in South Australia?
South Australia offers a diverse range of destinations, from the city of Adelaide to the scenic Adelaide Hills, the wine-rich Barossa Valley, coastal gems like Victor Harbor, the picturesque Clare Valley, the tranquil Yorke Peninsula, the rugged Flinders Ranges, unique Coober Pedy, Kangaroo Island's natural paradise, and more. Each place has its charm and attractions, making it challenging to pick just one favourite.
2. When is the best time to visit South Australia?
The ideal time to explore South Australia depends on your preferences. "Mad March" is a fantastic time to visit Adelaide due to its pleasant weather and the famous Fringe Festival. However, South Australia has something to offer year-round. Spring and autumn are lovely for outdoor activities, while winter can be an excellent time for food and wine enthusiasts as many festivals occur during this season.
3. What are the must-try local foods and wines in South Australia?
South Australia is a culinary paradise with a range from gourmet foods to favourite treats. Don't miss the opportunity to sample its renowned wines, especially in the Barossa Valley and Clare Valley, where you'll find exceptional Shiraz and Riesling. Taste local produce like seafood, including fresh oysters and King George whiting, and enjoy delicious cuisine featuring native ingredients like kangaroo and quandong.
4. Is a rental car necessary to explore South Australia?
While public transportation is available, having a rental car provides more flexibility and convenience, especially if you plan to explore the state's diverse regions. It allows you to venture off the beaten path and discover hidden gems.
5. What unique experiences can I have in South Australia?
South Australia offers a wide range of unique experiences, such as swimming with sea lions at Baird Bay, cage dive with great white sharks in Port Lincoln, hiking through the stunning Flinders Ranges, exploring the underground town of Coober Pedy, and witnessing the breathtaking whale migration at Head of the Bight. These experiences will create lasting memories of your South Australian adventure.
Remember to plan your trip according to your interests and the activities that excite you the most. South Australia's diverse landscapes and attractions ensure there's something for every type of traveller to enjoy!
So Where Are You Going First?
With all these options, there is no reason to not know what to do in South Australia, either as a local looking for new ideas for South Australia getaways, or a visitor wondering where to go.
Click here for more information on South Australia tours and tickets
Looking for more South Australian content? Try these posts
Adelaide 3-Day Itinerary
Must Try South Australian Food and Drinks
Glamping South Australia – The Ultimate Guide to Camping in Style
Tourism Australia
---
Don't forget to come on over and join the Facebook group for more South Australian inspiration and to get all your questions answered. Click here to join now.
---
Please share this post and pin it for later