Let's explore all the things to do in Port Augusta, a common road trip fuel stop for anyone travelling north or west of Adelaide in South Australia.
As a kid, I lived on "the other side" of Port Augusta. We regularly drove through on the way to "the big smoke!" We stopped, filled the car up with fuel, grabbed some snacks, used the toilet and took off again.
It has only been during my visits as an adult that I have discovered there is more to the town than that highway through the middle. Next time you are passing through, stop and take a look at some of these things to do in Port Augusta.
---
Have Questions? – Come and join the Facebook Group and ask any questions you may have about travel in South Australia. We can provide answers, make further suggestions and update you with the latest information. Click here to join now.
---
Port Augusta is about a 3.5-hour drive north of Adelaide at the top of the Spencer Gulf.
It is often called the "Crossroads of Australia" since it is at the intersection of the main north-south route between Adelaide and Darwin, and the east-west route between Sydney and Perth.
It's a really common place to stop while travelling through this area because there are not a lot of other reasonably sized towns in almost any direction.
With so many travellers passing through to or from Western Australia or the Northern Territory, many of them stop to stock up on supplies at the Port Augusta shops and stay the night before moving on.
While in town, here are some great Port Augusta attractions to check out before you move on.
Things to do in Port Augusta
It might be the brunt of many jokes in Australia and one of the questions you might be asking is – is Port Augusta worth visiting? The answer is yes.
Not just to restock, regroup and rest either before or after a long drive through the vast country areas, but to learn a little about the history of this area, the resilience of the people who live here and the incredible flora and fauna that can survive in this harsh environment.
With a population of around 13000 people, Port Augusta is a good-sized country town. Along with the Port Augusta attractions below, the town has all the facilities you would expect of a centre this size.
There are plenty of shopping opportunities and sporting facilities such as a golf course and bowling green. There's a skatepark and plenty of playgrounds and parks for the kids.
Stop into the library for wifi and other local information. Watch a movie at the local cinema (particularly good to escape the heat on hot days!) or just visit a local pub for a good meal and good stories from the locals.
But before that – here are the best attractions in Port Augusta South Australia.
Australian Arid Lands Botanic Gardens
Located just outside Port Augusta on the road to Coober Pedy is the Australian Arid Lands Botanic Gardens, one of the best Port Augusta things to do. Here you can see all of the unique flora that the desert areas of South Australia (and some other states) have to offer.
I grew up in a desert area so I thought I knew the kind of plants to expect, but I was surprised to see how weird and wonderful some of our Australian natives are. There are plants here that are being cultivated because they are endangered, and others that showcase bush tucker.
During your visit take a walk along one of the walking trails. Some are only short, others go for kilometres through the gardens.
Keep an eye out on your walk for the native animals too as there are plenty of them that call the gardens home. Dedicated bird watchers can find information on local birds and spend some time in the hides to see what comes along.
After your walk, go into the cafe and taste some of those bush tucker fruits grown in the gardens. Try some scones with quondong jam, or perhaps some native lime ice cream.
You will also find vegan and gluten-free items on the menu here to suit those of us who require them.
Even if you don't walk all the way there, ensure that as you leave you drive around to the Matthew Flinders Red Cliff Lookout for views of the red cliffs falling into the Spencer Gulf.
The colours are particularly vivid early in the morning as the sun hits the cliffs.
Wadlata Outback Centre
When looking for things to do Port Augusta has the enviable position of being a gateway to the outback. So right in the centre of Port Augusta is the Wadlata Outback Centre.
This is the Port Augusta tourism centre in town, and the staff can help you out with all sorts of local information about Port Augusta sightseeing.
While here, take a look at the "Tunnel of Time", a fantastic display that walks visitors through the history of Port Augusta.
From back when time began, through the Aboriginal creation stories, to local Aboriginal culture, discovery and exploration by the Europeans, to the building of the local communities and life today.
I found it to be a great summary of the area and worth the entry fee.
Hint: For a small discount on tickets, buy them online on the Wadlata website before you go.
Make sure you have a look at the gift and bookshop here. There are some great souvenirs and local crafts for sale. The cafe also serves good coffee, and while I didn't eat, there were plenty of others enjoying light meals.
Port Augusta Heritage Walk
While at Wadlata Outback Centre pick up a map for the Port Augusta Heritage Walk (or you can download it here in advance).
This self-guided walk will take you around the small town centre and show you some of the historical and significant buildings while explaining their history and purpose.
The walk takes about 60-90 minutes at a leisurely pace and is one of the free things to see in Port Augusta.
Water Tower Lookout
This is another one of the free things to do in Port Augusta. On Mitchell Terrace in Port Augusta West, you will find another of the Port Augusta tourist attractions, an old, disused, water tower.
You can climb the 90 steps to the top of the tower to enjoy 360-degree views over the town and the Spencer Gulf, all the way to the Flinders Ranges.
The tower is set in a nice garden location, so spend a few minutes resting after your climb enjoying the gardens and surroundings.
Pichi Richi Railway
If you are visiting Port Augusta between March and November take advantage of the cooler weather to ride one of the historic steam trains on the Pichi Richi Railway.
Either drive to the town of Quorn to catch one of the various train services, or do a return journey from Port Augusta to Quorn on the "Afghan Express".
Steam train rides are available only on certain days of the week and only when there is no fire danger. Sometimes diesel engines will be substituted if there is deemed to be a fire risk, but it is still a great trip through the Pichi Richi Pass.
Royal Flying Doctor Tours
The Royal Flying Doctor Service is the medical service that covers all of the remote interior of Australia.
Its services cover over 7.5 million square kilometres and thousands of people rely on the service for vital medical and emergency care. There are 23 bases all over Australia, and one of them is in Port Augusta.
While there are fantastic visitor centres in both Alice Springs and Darwin, here it is possible to visit an operational base for a short 30-minute visit.
You will be shown a video about the service and then get to have a look at one of the planes that are used. Tours are run Monday to Friday at 10:30 am and 2:30 pm, and entry is a gold coin donation.
It is best to give them a call on 08 8648 9500 the day before (or even the morning of) to confirm that the space and plane are available and it's not off doing a rescue.
Swim with Giant Cuttlefish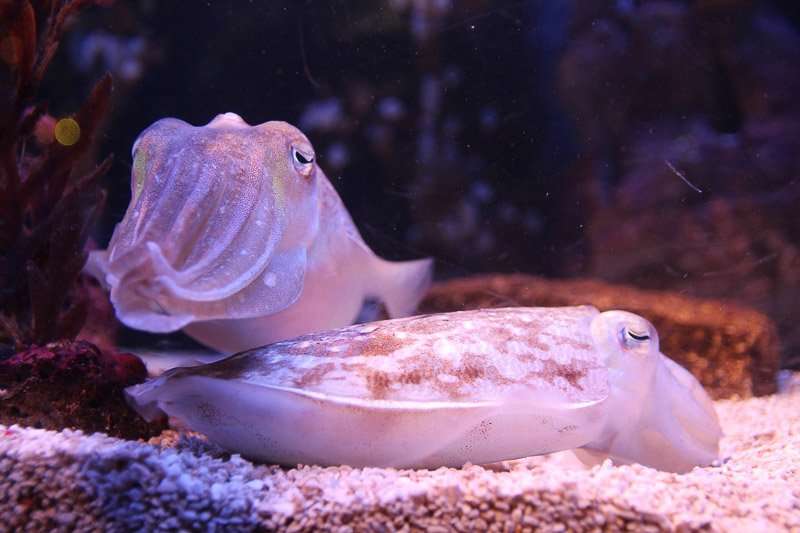 While you are in Port Augusta you are so close to a unique phenomenon that happens nowhere else in the world – thousands of giant cuttlefish congregate between June and August to breed about one-hour southwest of the city, near Stony Point.
While snorkelling in frigid waters in the middle of winter may not sound too enticing, how magical must it be to see these amazing creatures up close?
You don't have to get wet to see the cuttlefish though if you don't want to, you can now go out in a glass bottom boat instead.
Yarta Purtli Gallery
The Yarta Purtli Gallery, also called the Port Augusta Cultural Centre, is the location of many art displays and other cultural events.
There are various facilities available from galleries to theatres which will host various events and collections.
While what is on offer changes regularly over time, this is a great place to see some local artwork or to catch a visiting show.
To see what is on now and what is coming up, see their Facebook page here.
Go Fishing
This is another of the free things to do in Port Augusta – and you may even end up with a free meal too. The Upper Spencer Gulf waters around Port Augusta are well sheltered.
Combine this with mangroves and swamps, and this is a particularly good location for year-round fishing. At various times anglers can catch garfish, whiting, tommy ruff, kingfish and snapper, just to name a few.
Within Port Augusta, you can through out a line from The Wharf or the Westside Jetty. There are also numerous nearby locations just outside of Port Augusta that provide great fishing.
Ask in town during your visit to see if any of the locals will offer up their favourite secret spot!
Look for the Port Augusta Street Art
If you are looking for things to see, Port Augusta street art is worth a look. In recent times a few new street art murals have popped up through Port Augusta, with more likely in the future.
Look out for Jimmy C's mural underneath the Joy Baluch Bridge or the mural by local indigenous artists on the pipeline along the highway to the south of the town.
There are plenty more examples to be found in the centre of the town down by local and international artists too.
RSL Military Museum
The Port Augusta RSL Military Museum is home to possibly the largest collection of military memorabilia in regional South Australia.
You will find plenty of medals, military decorations and other bits and pieces, including the stories of some of the local people who have served. Out the front, there is a great old tank to examine and admire.
After the museum, why not grab a meal at the RSL too? It has a great community vibe and you might even hear more war stories that aren't in the museum.
Take a Swim
If it's warm – and it usually is – then make your way to the family-friendly beach right in the centre of town next to the Joy Baluch Bridge.
There's a great pontoon in the water to jump from that the kids (both big and small!) will love, and the Port Augusta beach backs onto a shady park with toilets and BBQs for when the kids are done in the water.
If you prefer to swim in a pool, the Ryan Mitchell Swim Centre has been recently renovated. Not only does it have a large pool, but there is a great splash area for the kids too.
Port Augusta Train Park
If you are looking for what to do in Port Augusta with kids this could be a great option. The Port Augusta Model Engineers Society have been running the Port Augusta Train Park for years.
They offer rides on small sit-on trains to the public on the first and third Sunday of each month. When I did my initial research, the park was closed as it moved locations.
Covid didn't help matters, but they are up and running again now. You can see details on their Facebook page here, and I will update again once I can visit myself.
Take a Scenic Flight
Local company Arid Air offers scenic flights from Port Augusta airport to a few of the other regions in the area.
Why not take advantage of this and see Wipena Pound in the Flinders Ranges from the air or spend a day flying over Lake Eyre and some of the adjacent desert and landscapes?
This flight would be particularly special when Lake Eyre is full of water and life. Other options include a day trip to Coober Pedy, and a 2-day trip to even more outback locations.
For more information visit their website here.
The Westside Markets
On the first Sunday of every month make your way to the Church Hall on the corner of Mildred & Hartley Streets for the Westside Markets.
Between 8:30 am and 12:30 pm, there is a range of stalls set up to sell everything and anything. Look out for fresh produce, plants, crafts and handmade gifts. Pick up a bargain or unique souvenir of your visit.
Day Trips from Port Augusta
Port Augusta is quite isolated, but there are still a few opportunities to take day trips and use it as a base. Of course, everyone has different amounts of driving they like to do in a day, so I've limited this to places that can be reached within two hours.
The most obvious of the things to do near Port Augusta is to head into the Flinders Ranges. But the Flinders cover a really large area, so here are some particular areas I suggest:
Melrose, Wilmington and the Mount Remarkable National Park – including Alligator Gorge
You could take a look at a little of the eastern coast of Eyre Peninsula by taking a drive to Whyalla. The main highway is not very exciting, but it is possible to see some of the coastline by exploring the tracks around Point Lowley.
Otherwise, spend the day enjoying the things to do in Whyalla.
Drive south towards Adelaide and visit the town of Port Germein, home to the second longest wooden jetty in the Southern Hemisphere at over 1500m long. Take a walk right to the end, and spend some time learning about the jetty and the history of the area.
More information on day trips can be found at the Port Augusta Visitor Information Centre at the Wadlata Outback Centre.
Getting to Port Augusta
Port Augusta is about three and a half hours from Adelaide by road, and that certainly is the easiest way to get between the two places.
It's along the main Highway One that circles Australia. It's a busy road to drive on, but mostly only a single lane each way so it's important to take care when driving.
Click here to check out car rental prices
If you won't be driving, there are some other ways to get there from Adelaide too.
Bus to Port Augusta
Two different coach companies run buses that stop in Port Augusta.
Premier Stateliner runs up to three buses a day from Adelaide to various locations that pass through Port Augusta.
Greyhound Australia runs one service a day that goes through to Alice Springs and stops along the way.
For travel from other locations, I recommend using the website Rome2Rio to show all the available options.
Port Augusta Accommodation
With so many people driving across the country, you may be looking for a Port Augusta Caravan Park. Discovery Parks – Port Augusta is the best-rated park, with a huge selection of cabins and facilities such as a swimming pool on site too.
If you look at Port Augusta hotels, the Crossroads Ecomotel is relatively new, built from rammed earth, and has many other eco-friendly features. For apartment accommodation, try the Majestic Oasis Apartments. Another reasonable option looks to be the Augusta Courtyard Hotel.
Visiting more great South Australian locations? These posts might help
Adelaide 3 Day Itinerary
Things to do in the Flinders Ranges
Things to do in Coober Pedy
---
Don't forget to come on over and join the Facebook group for more South Australian inspiration and to get all your questions answered. Click here to join now.
---
Please share this post with your friends and pin for later