So many of the popular holiday destinations in South Australia revolve around the water, with our fantastic beaches and the Murray River. While they are all perfect to visit during summer, in the cooler months they are not quite so attractive. Here is a list of all the best places to visit in South Australia in winter.
Feature image photo credit: South Australia Tourism Commission, Kangaroo Island
---
Have Questions? – Come and join the Facebook Group and ask any questions you may have about travel in South Australia. We can provide answers, make further suggestions and update you with the latest information. Click here to join now.
---
Best Places to Visit in South Australia in Winter
The winter in South Australia weather tends to be relatively mild. It is usually between 10 and 20 degrees Celcius, with cooler temperatures in the south of the state, on Kangaroo Island and in the hills, and warmer temperatures in the north.
The Adelaide weather tends to sit somewhere in the middle.
Don't be fooled by warmer days in the north though, it is likely the nights could still go below zero. There will probably be some rainy days, but snow would be very unlikely.
If it does snow it will only be a dusting in the hills – and all the South Australian locals will be out looking at it.
Frequently Asked Questions
Q – How cold does Adelaide get in winter?
A – The average daytime temperature during winter ranges from around 14 to 16 degrees Celsius (59 to 61F).
However, it's worth noting that temperatures can vary significantly from day to day and regularly drop below 10 degrees Celsius (50F) at night.
The city also experiences some rainy and windy days during winter, so it's always a good idea to check the weather forecast and pack accordingly if you're planning to visit during this time.
Q – Where to see snow in South Australia
A – Snowfall is a rare occurrence in South Australia, as the state is mostly known for its arid landscapes and warm weather.
However, there are some locations where snowfall can sometimes be seen during winter: the Mount Lofty Ranges, Mount Remarkable in the Flinders Ranges, and occasionally other places too.
It's important to note that snowfall is never guaranteed, and even when it does occur, it is often very light and short-lived. If it does snow, reports of it will be all over the local news, showing locals taking the rare opportunity to enjoy it.
Q – So when actually is winter in South Australia
A – As a reminder to our Northern Hemisphere visitors, winter in South Australia is the opposite of your winter.
While officially it runs from 1st June until 31st August, the temperatures can be cool from May until October, and many of the winter activities occur for all of those months. July and August tend to be the coldest months.
Things to do in South Australia in Winter
No matter where you choose to go in South Australia in winter, it's the best time for beautiful sunrises and sunsets, so take the time to enjoy them on your travels.
The best part, the shorter days mean you don't even have to get up so early to see the sun come up.
Winter is also a great time to see the local wildlife. Because the weather is cooler, the animals tend to be more active rather than hiding from the heat of the day.
So keep your eyes open as you explore the best places to visit in South Australia during winter.
Visit the Wine Regions
There is nothing better than a relaxed tasting of some amazing full-bodied red wines while sitting around a warm and toasty open fire in any one of the cellar doors.
While the Barossa Valley, McLaren Vale and Adelaide Hills are popular, with eighteen wine regions in South Australia, there are plenty of different locations to choose from.
Perhaps choose one of the lesser-known regions to explore this winter, like Padthaway, the Southern Flinders Ranges or Kangaroo Island.
Look out too for wineries in other locations – there are four around Port Lincoln, for example, that are not officially in a wine region.
If you need a reason to visit a wine region (and I'm sure you probably don't) the Winter Reds Festival happens in the Adelaide Hills over a weekend in July.
In 2023 it will be held from Friday 28th – Sunday 30th of July at wineries all over the region.
Looking for cellar door suggestions? Click here to download the list.
Stay Underground at Coober Pedy
Coober Pedy might just be the warmest place in South Australia in winter – even though it is much cooler than it is in summer.
The whole reason Coober Pedy is almost entirely underground is due to the intense summer heat, so it makes sense to visit during the winter.
Seeing the sights in the area is much more bearable when it's not insanely hot.
The temperatures underground are a nice 23 degrees day and night all year round, and outside in winter, it is a much more palatable 18 degrees compared to temperatures well into the 40s in summer.
Activities such as trying your hand at opal mining are so much more appealing in winter.
The winter can also provide amazing sunrises and sunsets over some of the attractions such as The Breakaways, making them even more breathtaking.
Explore the Flinders Ranges
There are dozens of different activities to do in the Flinders Ranges during winter, and again, to escape the summer heat, this is the best time to visit.
It's possible to do some of the longer hikes in the area that are not open in the summer or tick off those last few legs on the Heysen Trail.
Visit the acclaimed Prairie Hotel at Parachilna and eat their feral food during their winter opening times (they are closed in summer).
Take a tour through the Arkaroola Wilderness Sanctuary, or visit the town of Blinman and learn about the mining history of the area. View Wilpena Pound from the air with a scenic flight.
Do a station stay to appreciate daily life in the area, or go glamping in the safari tents at Wilpena Pound Resort for a spot of luxury.
Go Whale Watching at Head of the Bight
Winter is when the whales appear in the waters of the Great Australian Bight. Hundreds of Southern Right Whales come to this area yearly to give birth.
They can be seen from around May through to October. At Head of the Bight, up to 70 whales playing in the seas below the cliffs is not uncommon.
The best time to see the calves is in August and September, but the adult whales will be around the whole time.
While the best whale watching is at Head of the Bight and it is worth the trip, if you can't get there, then check out these other places in South Australia where you can see the whales.
Staycation in Adelaide
Winter in Adelaide is a great time to play tourists in the city. Spend your days exploring the galleries and museums, doing a spot of shopping and warming up in the great cafes.
Relive your childhood with a visit to Adelaide Zoo and take a ride on Popeye. In the evenings check out the laneway bars and restaurants.
Time your stay for when there is a football game on at Adelaide Oval and go along for the show. To do it in style, consider watching from the top of the Southern Stand with an Adelaide Oval Roof Climb.
Make sure you visit the Winter Village at the Torrens Parade ground to enjoy a magical winter wonderland.
Read about more things to do in Adelaide here
Ride the Steam Trains
There are a few options to ride steam trains in South Australia, but they generally only run during winter due to the risks they pose during the bushfire season over the summer.
Head to Quorn in the Southern Flinders Ranges to ride the Pichi Richi Railway, or down to Victor Harbor for the Cockle Train.
The Steamranger also offers various services from Mount Barker including special dinner services or wine trains.
Read more about the Pichi Richi Railway here or all the SA Steam Trains here.
Hunt for Ghost Mushrooms in Mount Gambier
This is possibly my favourite of the winter holidays in South Australia. In May and June each year Ghost Mushroom (Omphalotus nidiformis) emerge all through the pine forests in the South East.
These glow-in-the-dark mushrooms are an incredible phenomenon and worth the drive to see them.
Just outside of Mount Gambier, there is a particular area that has a good concentration and has been set up as a location to view them.
It's called Ghost Mushroom Lane, and the best place to get information about it is to visit the tourist information centre in town. They will be able to tell you if the mushrooms are doing their thing and give you all the directions to find them.
Read about more things to do in Mount Gambier here
Swim with Giant Cuttlefish near Whyalla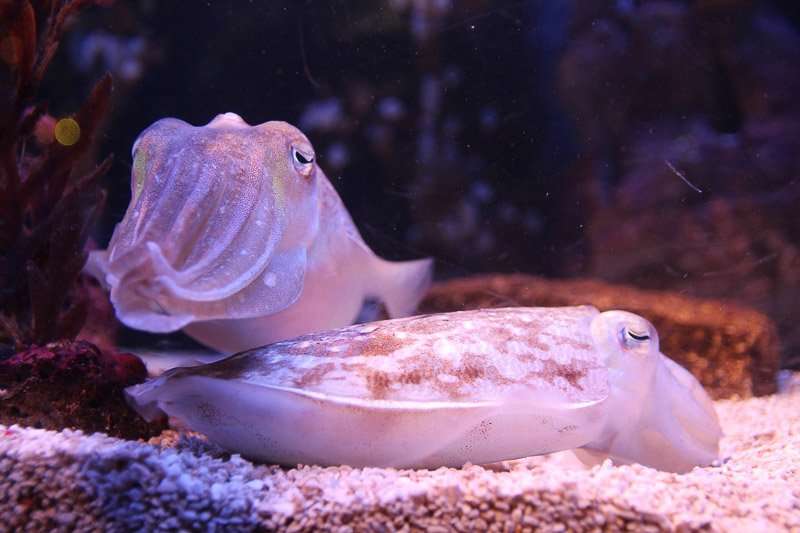 Getting in the water in a South Australia winter may not be too appealing but this is the only time you can have this amazing experience. Between May and August, the Giant Cuttlefish come into the area around Stony Point on Eyre Peninsula to breed.
Once you have donned your super thick winter wetsuit, you can simply wade into the water and by the time you are waist deep the cuttlefish will be all around you.
Don't have a wetsuit? See the dive shops, such as Whyalla Diving Services to hire everything you need.
If you really can't face getting in the water, there is also a glass-bottom boat offering tours which will also allow you to view these unique creatures. You will also learn more about them and their habitat.
Read more about things to do in Whyalla here
See the Beauty of Lake Eyre
South Australia is home to the largest lake in Australia but for much of the time Lake Eyre is an expanse of salt. The best time to visit it is during one of the floods that happens every few years, and the most common time for that to happen is towards the end of winter in South Australia.
Of course, even if you are not visiting at the time of a flood, a visit during winter in SA will be most comfortable to avoid the intense heat of summer.
While it is possible to visit Lake Eyre by car, by far the best way to experience the beauty and expanse of the lake is to take a scenic flight over it. Flights leave from Maree, William Creek or even Coober Pedy.
Warm up at Dalhousie Springs
While you are in the Outback, travel a little further to Dalhousie Springs in the Witjira National Park. The natural hot springs are a constant 37 degrees, set against a backdrop of red earth, sand dunes and desert landscapes, offering a relaxing and rejuvenating experience.
Visiting in winter means cooler temperatures, making it an ideal time to explore the park's walking trails and appreciate the unique wildlife and plant species that call this arid environment home.
You might spot a curious emu or a cheeky dingo as you explore the park, or marvel at the colourful wildflowers that bloom during the cooler months – especially if you visit a few weeks after a big rain.
The park also has significant cultural value, as it has been a special place for the Low­er South­ern Arrernte and Wangkan­gur­ru peo­ple for thousands of years.
With its combination of natural beauty and cultural significance, a trip to Dalhousie Springs is an opportunity to experience something truly special.
Go Camping
Stick with me here before you scroll straight to the next suggestion! You might be thinking I've gone mad suggesting camping when it's freezing cold outside, but honestly, it's the best time for it in South Australia.
I am always cold, a real summer person, but I regularly go camping in a tent during winter.
Just imagine nights sitting around the campfire with friends and family, sipping hot chocolate (or perhaps red wine!) and toasting marshmallows.
You can't do this in summer because the fire danger usually means campfires are not allowed. Just grab yourself a fantastic sleeping bag (I have this one that is rated to -7 Celcius and love it) and plenty of layers of clothes and enjoy!
Some of my favourite places for winter camping are the Flinders Ranges, Melrose, Burra and anywhere on the Eyre Peninsula!
Embrace the Cold with a Winter Festival
Each year there seem to be more and more winter festivals popping up around South Australia – it's not called the Festival State for nothing!
Some of the best things to do in winter are the alpine villages that pop up, mimicking winter in Europe and embracing the cold.
Think igloo villages and ice skating rinks, sheepskin rugs and mulled wine, snow machines and "Christmas" markets. Each year there are a few different ones across the city.
Another festival that started in 2021 and looks to be even bigger and better in 2023 is Illuminate Adelaide. For July, there will be many events using light, art and technology.
That means it runs over the winter school holidays, making this a perfect activity for winter family holidays in South Australia.
Take a look at the free City Lights installations throughout the city or attend one of the paid events like Light Creatures at the Adelaide Zoo or Resonate in the Botanic Gardens.
Hit the Rooftop Bars
Don't let the cold stop you from enjoying Adelaide's rooftop bars. They know that the weather is likely to be cold, and many of them have ways to enclose the space. They add outdoor heaters, and warm blankets and put just the right drinks on the menu – mulled wine, anyone?
My favourite rooftop bars are the original 2KW Bar & Restaurant and the new kid on the block, Merrymaker, but you can find quite a few in the city, like Hennessy at the Mayfair Hotel.
Book a Luxury Getaway
When it comes to short winter getaways South Australia has some great options. Why not use winter as a good excuse to book a luxury hotel and just stay in for the whole time you are there?
Take advantage of all the hotel facilities, which you usually rush past on the way out to do something. Enjoy the pool, relax in the sauna, and book a spa day.
Or just sit back and enjoy the comfortable surroundings in front of an open fire with a good book!
Try enjoying that luxury at Thorngrove Manor, Sequoia Lodge, or perhaps even the new Sofitel in the city.
Take a Walk in Mount Lofty Botanic Garden
It's always a good time to go for a walk in the Mount Lofty Botanic Garden. The cooler temperatures bring a different kind of beauty to the gardens, with misty mornings and frosty leaves creating a magical atmosphere.
The garden boasts a diverse collection of plant species, including many that are unique to the Adelaide Hills region.
You'll discover an array of colourful flowers, stunning foliage, and towering trees that provide a peaceful and serene environment for visitors.
The garden also has several walking trails that offer spectacular views of the surrounding hills, making it a perfect spot for a winter hike – and if you start at the top carpark, you will be very glad of the cooler weather once you have walked back up.
Now you know where to go in South Australia in winter…
From stunning natural wonders to charming towns and cities, there is something for everyone in this beautiful region.
Whether you're looking for adventurous outdoor activities or cozy indoor experiences, South Australia has got you covered.
So why not grab your warmest coat and head south this winter? You won't regret it!
Is it raining in Adelaide? Here are some things to do when it's wet
What to do in Adelaide in the Rain
Want more free travel inspiration? These posts might help
Adelaide 3-Day Itinerary
Best Places for South Australia Whale Watching
Glamping South Australia – The Ultimate Guide to Camping in Style
---
Don't forget to come on over and join the Facebook group for more South Australian inspiration and to get all your questions answered. Click here to join now.
---
Please share this post with your friends and pin it for later